Reports of the GOP's death have been greatly exaggerated
Don't believe the headlines: Republicans are anything but doomed in 2014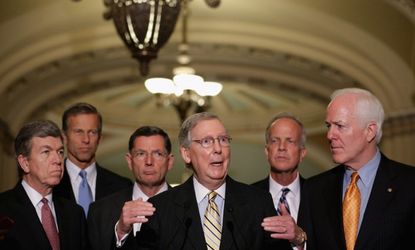 (Image credit: Chip Somodevilla/Getty Images)
The Republican Party is in big, big trouble. Or at least, that's what you'd think from reading certain headlines lately.
"GOP prepares to self-destruct over nothing," declared Salon. "Eve of Destruction," thundered Politico. "'Grassroots' egging on GOP suicide mission," gloated Daily Kos.
Now, it's true that Republicans have done a substandard job of cozying up to the minority, young, gay, and swing voters the party was presumably courting after its "autopsy" of the 2012 elections. And there is plenty of discord within the GOP. Sen. Rand Paul (Ky.) and New Jersey Gov. Chris Christie, both likely presidential candidates, are engaged in a seemingly never-ending spat. Sen. Ted Cruz (R-Texas) is leading the charge against establishment Republicans like Senate Minority Leader Mitch McConnell (R-Ky.) over whether to shut down the government in a quixotic attempt to defund ObamaCare.
Subscribe to The Week
Escape your echo chamber. Get the facts behind the news, plus analysis from multiple perspectives.
SUBSCRIBE & SAVE
Sign up for The Week's Free Newsletters
From our morning news briefing to a weekly Good News Newsletter, get the best of The Week delivered directly to your inbox.
From our morning news briefing to a weekly Good News Newsletter, get the best of The Week delivered directly to your inbox.
Sen. Marco Rubio (R-Fla.), meanwhile, spearheaded immigration reform in the Senate — and was promptly cast aside by conservative members of the House and Republican voters in multiple polls.
Taken at face value, it seems that this disarray could dampen the GOP's hopes of gaining seats in the Senate, or even cost Republicans their robust majority in the House.
And yet...
There is one little problem with this idea, argues New York's liberal columnist Jonathan Chait. "Most voters don't pay attention to Congress" because they "hold the president accountable for everything." (See: "The Green Lantern theory.") The result is "that the in-party only really gets punished if voters are mad at the president and they're the same party."
In this view, Republicans could be creating long-term problems for themselves in 2016 or 2020, but they're unlikely to experience much of a backlash in 2014. Indeed, both history and math say that Republicans are pretty safe in 2014.
Democrats would need to score a highly improbable 17-seat swing to take control of the House, where the GOP has a healthy 233-200 advantage. (Two seats are vacant.) That's a tall order considering, as The Washington Post's Jonathan Bernstein points out, that "the party holding the White House tends to lose seats in midterm elections — as Democrats did in 2010 — especially in the sixth year of a two-term presidency, as Republicans did in 2006." Plus, thanks to Republican-friendly gerrymandering, scores of congressional districts would be all but impossible to flip from red to blue.
As for the Senate, where Democrats currently have an effective 54-46 advantage, 21 of the 35 seats in play in 2014 are held by Democrats, with many of them in Republican-leaning states. That puts a lot of pressure on Democrats to play defense, and all but ensures that Republicans will turn some blue seats red.
Ultimately, broad speculation about the fate of the Republican Party beyond 2014 just isn't very useful, writes Ed Rogers at The Washington Post:

Continue reading for free
We hope you're enjoying The Week's refreshingly open-minded journalism.
Subscribed to The Week? Register your account with the same email as your subscription.