The GOP primary is a lot like the NCAA tournament
No, really!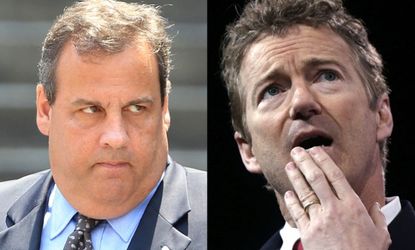 (Image credit: John Munson/Star Ledger/Corbis, Alex Wong/Getty Images)
This much is clear: The Republican nomination fight will look more like the rigid, bracketed NCAA men's basketball tournament than a free-for-all scrum.
People can talk all they want about the dramatically different foreign policy philosophies of Chris Christie and Rand Paul, but that's getting ahead of ourselves. Before that fight will happen in earnest, each man must win his "bracket." For Christie, that means defeating Marco Rubio. And for Paul, this means dispatching Ted Cruz.
Someone will have to "own" the establishment vote, otherwise, establishment candidates will all split their vote and lose. This is Marco Rubio, Chris Christie, and Jeb Bush if he runs (which I don't think he will). Meanwhile, someone will become the "libertarian populist" candidate, otherwise they split their vote and lose. But will it be Rand Paul or Ted Cruz?
Subscribe to The Week
Escape your echo chamber. Get the facts behind the news, plus analysis from multiple perspectives.
SUBSCRIBE & SAVE
Sign up for The Week's Free Newsletters
From our morning news briefing to a weekly Good News Newsletter, get the best of The Week delivered directly to your inbox.
From our morning news briefing to a weekly Good News Newsletter, get the best of The Week delivered directly to your inbox.
These will be the first (and ugliest) tests of the 2016 race — scrapes amongst "friends" competing to dominate the same niche of voters (and donors).
Our assumption is almost always that our real enemy is our opposite. But this is rarely true (see Chuck Klosterman on the difference between a "nemesis" and an "archenemy"). During the 2012 primary battle, populist Rep. Michele Bachmann was much more friendly toward moderate establishment candidate Mitt Romney (her nemesis) than she was to conservative Rick Perry (her archenemy).
This shouldn't make sense, but it does. Bachmann was marking her territory. As Anthony Trollope wrote, "The apostle of Christianity and the infidel can meet without a chance of a quarrel; but it is never safe to bring together two men who differ about a saint or a surplice."
Likewise, on the surface, Cruz and Paul are friendly toward one another — which is exactly why (at some point) they will try to destroy each other. In reality, Christie is merely Paul's nemesis. But Cruz is likely to become Paul's archenemy.
Here is one predictable example of how things might play out on the ground in places like Iowa: If you're Team Cruz, you basically put this message out there via a whisper campaign: "Sen. Cruz loves Rand, but let's be honest. Rand just can't win with that Southern Avenger thing hanging over his head. And have you read his dad's newsletters?"
View the initial stage of this primary contest as a sort of tournament. The early rounds are often the most heated battles because this is a fight over turf dominance — not some "esoteric" (to use Christie's line) struggle over ideas and such.
Of course, this is not a new idea. In fact, I stole it. Back in 2010, National Journal's Ron Brownstein made a similar point, arguing that the nomination fight would be between "populists versus managers." Today, a similar dynamic is at play. But there are differences. In 2012, the "populists" consisted of candidates like Rick Perry, Michele Bachmann, and Sarah Palin (if she had run). In terms of experience and gravitas, I think it's safe to say that we have upgraded this category with the inclusion of two U.S. senators (Paul and Cruz).
Meanwhile, the "manager" rubric probably isn't as accurate these days. Mitt Romney was known as a manager, and other potential contenders (like former RNC chair and Gov. Haley Barbour) were thought of as excellent managers. Louisiana Gov. Bobby Jindal would certainly qualify here in 2016 (though I haven't included him in the top tier because of his charisma deficit), but the label isn't perfect for Christie and Rubio. As such, I'm going with "establishment." (Note: This is also a debatable label — and is not meant to be a pejorative.)
I would throw in a third tier, too. Aside from the establishment bracket and the populist bracket, we need a wild card bracket. There is usually someone surprising who emerges to make it into a later round. In recent years, this has been a populist-leaning social conservative (think Mike Huckabee and Rick Santorum). Were I betting on a long shot to fill this space in 2016, my money would be on Mike Pence, or perhaps Scott Walker.
In any event, the purpose of this column is to help focus in on what the pros will be watching early on. Yes, we may eventually see the huge Christie-Paul fight as an epic battle of ideologies. And yes, there will be trash talk and columns written about this struggle of ideologies. But don't be fooled. The first real tests — the nastier fights — are almost always the turf battles that precede the epic ideological struggles.
There are essentially three games to watch: 1. Rubio vs. Christie, 2. Paul vs. Cruz, and 3. Wild card (someone who surprises us). If you want to sound smart at a party, you'll bring this up when all the hoi polloi start taking about Christie's swipe at Paul.
Editor's note: Matt Lewis' wife formerly worked as a consultant for Ted Cruz.

Continue reading for free
We hope you're enjoying The Week's refreshingly open-minded journalism.
Subscribed to The Week? Register your account with the same email as your subscription.