D.C. is obsessed with scandal. America isn't.
No wonder the nation is disillusioned with its lawmakers.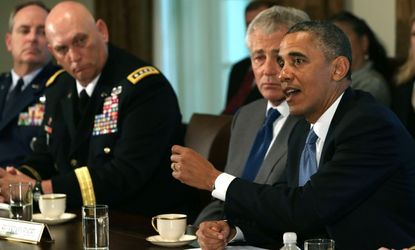 (Image credit: Mark Wilson/Getty Images)
Sign up to our 10 Things You Need to Know Today newsletter
A free daily digest of the biggest news stories of the day - and the best features from our website
Thank you for signing up to TheWeek. You will receive a verification email shortly.
There was a problem. Please refresh the page and try again.
We just had a week that showed, once again, why the American people are right to hold their elected leaders in contempt, and why trust in government is so low. It really does seem like our lawmakers spend all their time trying to put the political screws to the other party — while the people's business goes undone.
Let's take the ongoing Benghazi saga. The White House, trying for a change to get in front of the controversy, released more than 100 pages of emails sent in the frantic aftermath of the Sept. 11, 2012, terror attack. They showed that Republicans, trying to fan the flames of scandal, created a scandal of their own by doctoring key portions of text that had been leaked to the media. Republicans fired back that there were key gaps in what the administration actually released.
There's no question that with a tight election looming, the Obama administration's strategy in the wake of the terror attack had three elements: Play down the incident, change the narrative, and run out the clock. Politicians do this all the time. They cherry pick facts, spin data, and develop slick talking points for media consumption. Everyone from the president on down to your mayor does it. That's what politicians do. And that's what the White House did. Press secretary Jay Carney said on Nov. 28 that the White House only made "stylistic" edits to Susan Rice's talking points. That's probably a crock.
Subscribe to The Week
Escape your echo chamber. Get the facts behind the news, plus analysis from multiple perspectives.
SUBSCRIBE & SAVE
Sign up for The Week's Free Newsletters
From our morning news briefing to a weekly Good News Newsletter, get the best of The Week delivered directly to your inbox.
From our morning news briefing to a weekly Good News Newsletter, get the best of The Week delivered directly to your inbox.
But does the fact that Team Obama bungled its response to the Sept. 11 attack make it the worst scandal in American history — as 41 percent of Republicans in one recent survey believe?
To me this suggests something entirely different: How little these Americans know about American history, which is littered with far worse scandals dating back to the founding of the republic. It also shows a broader ignorance: 39 percent can't even place Benghazi on a map. Where is it? Guesses included Egypt, Iran, Cuba, Syria, and Iraq. One percent even think the Libyan city is in that well-known hotbed of Islamic extremism, North Korea.
But why let such ignorance stop one from being an expert on what the government should have done to save the four brave men who died on Sept. 11? Robert Gates (Defense Secretary under Bush and Obama and CIA director under Bush Sr.) and Leon Panetta (CIA and Defense Secretary under Obama) both said military action was unfeasible, but what do they know compared to armchair generals like Sean Hannity?
Still, here's the bottom line: Obama's second term is off to a bumbling start, and he's in charge. His image is increasingly one of an aloof, out-of-touch man with poor management skills. Gleeful Republicans will keep stirring the pot.
It's not exactly hurting Obama, though. A CNN/ORC poll taken Friday and Saturday shows Obama's approval actually climbing two points and disapproval falling two points from its prior poll of early April. Gallup gives Obama a 50-43 advantage (1 month ago: 51-42) and Rasmussen shows his approval-disapproval tied at 49, unchanged from a month ago. Obama may be aloof, insular, arrogant and not the best manager of the executive branch we've ever had, but his suits appear to be made of teflon.
What about Congressional approval? It remains at "friends and family" levels: 16.6 percent of Americans approve. Given the polling discrepancy between what the American people think of Obama — even after several weeks of this GOP fishing expedition — and what they think of Congress, lawmakers may want to step back and ask whether they're serving the American people or not.
One reason Republicans are so obsessed with exploiting these "scandals" is because the one issue that Americans truly care about — jobs and the economy — is getting better. Republicans talk about three things — Benghazi, the IRS and the AP — because they don't want to talk about these three things:
1. Unemployment
Since bottoming out in 2010, the economy has created 5.8 million jobs; on Friday, as everyone was focusing on scandal, the Labor Department said that jobless rates fell in 40 states in April, while rising in just three.
2. Housing
Home prices are up at the fastest pace since the housing bubble burst in 2006. The S&P Case-Shiller index, which measures the top 20 markets, showed prices up 9.3 percent between February 2012 and February 2013. The January-to-January gain was 8.1 percent, meaning price gains are accelerating.
3. Confidence
The closely-watched Thomson-Reuters/University of Michigan consumer confidence survey showed Friday that Americans' confidence in the economy rose in May to its highest levels in nearly six years.
Benghazi, a couple of rogue IRS employees in Cincinnati (working under a Bush appointee), or the Justice Department seizing records from the Associated Press (after Republicans asked the Justice Dept. to investigate leaks). They are all serious issues. But it seems Americans, at least for now, have bigger fish to fry.
Continue reading for free
We hope you're enjoying The Week's refreshingly open-minded journalism.
Subscribed to The Week? Register your account with the same email as your subscription.
Sign up to our 10 Things You Need to Know Today newsletter
A free daily digest of the biggest news stories of the day - and the best features from our website
An award-winning member of the White House press corps, Paul Brandus founded WestWingReports.com (@WestWingReport) and provides reports for media outlets around the United States and overseas. His career spans network television, Wall Street, and several years as a foreign correspondent based in Moscow, where he covered the collapse of the Soviet Union for NBC Radio and the award-winning business and economics program Marketplace. He has traveled to 53 countries on five continents and has reported from, among other places, Iraq, Chechnya, China, and Guantanamo Bay, Cuba.