Obama doesn't have a 'juice' problem. He has a Republican problem.
The president still thinks he can win over his GOP opponents. He couldn't be more wrong.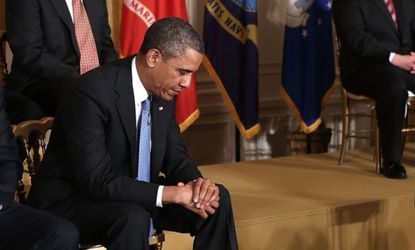 (Image credit: Alex Wong/Getty Images)
The big question in Washington this week comes from ABC's Jonathan Karl, who asked President Obama at a press conference: "Do you still have the juice?"
Juice, in this context, means the energy and wherewithal to have your way, to get the job done. (Karl's "still have" presumes Obama had the juice to begin with, which is increasingly debatable.)
Karl also asked about the president's failure to end the sequester or get a gun bill through the Senate (it would have died in the House anyway), and implied that these episodes showed how powerless and ineffective Obama is just 100 days into his new term.
Subscribe to The Week
Escape your echo chamber. Get the facts behind the news, plus analysis from multiple perspectives.
SUBSCRIBE & SAVE
Sign up for The Week's Free Newsletters
From our morning news briefing to a weekly Good News Newsletter, get the best of The Week delivered directly to your inbox.
From our morning news briefing to a weekly Good News Newsletter, get the best of The Week delivered directly to your inbox.
Obama knew he was outgunned by the NRA and its Congressional cronies from the beginning, but he stuck his neck out anyway. That he lost the gun-control fight says not so much about his power (or lack thereof) as it does about ongoing, implacable Republican resistance to his wishes. Karl didn't ask about that. His question implied that Obama's weakness was solely to blame for these legislative failures. That's simply not the case.
What of this GOP stubbornness? If anything, it's greater than ever today.
Why? Because Senate Minority Leader Mitch McConnell — whose most fervent hope was that Obama would be a one-term president — now knows with absolute certainty that Obama will be gone in three-and-a-half years.
In fact, the Kentucky senator has less incentive to deal now then ever before, because there's a good chance that Republicans will win the Senate next year. The Senate is 54-45 in favor of Democrats now (one independent, Bernie Sanders, caucuses with Democrats). But of the 35 Senate seats up for grabs in November 2014, 21 are held by Democrats, including several long-timers who are retiring. No sitting president's party has ever gained seats in the midterm of a second term, and if the GOP wins the Senate, and hangs onto the House (a good bet), the president would be completely shut out on Capitol Hill — and the lamest of ducks.
This whole Obama/juice flare-up is, of course, part of a broader meme that's popular inside the Beltway: that Obama is aloof, insular. If only he was more of a people person, a back-slapper type, the meme goes, things would be different. Much more of his agenda would be getting through.
I don't buy it. Obama drinks. He plays golf. He watches sports. He eats out a lot. He's done all of these guy things with Republicans, and it hasn't made a lick of difference. They simply don't want to cross the aisle.
The problem is not that Obama lacks "juice." What he lacks, here in his fifth year in office, is an understanding that he's never going to get anywhere with Republicans. At a California fundraiser last month, he said he's going to keep trying — even though he acknowledged that it's irritating his base — because the country needs it. He thinks that eventually, Republicans will do, as he puts it, "the right thing." Who is he to say what's right? Obama got 51 percent of the vote in November — not exactly a mandate. Republicans, as they see it, are doing the right thing. And unlike Obama, they're not irritating their base. They're playing to it.
The president still thinks he can change Washington. He can't. This isn't a failure. The forces against him — deeply entrenched, heavily financed, well-organized — were here long before he came to town all bright-eyed and bushy-tailed. They'll still be around when he leaves 45 months from now.
So what can Obama do? He can stop defining his opponents in terms of who he thinks they are — stubborn men who will eventually see the brilliance of his ways — and start defining them as who they really are: implacable foes, enemies who are out to trip him, defeat him, destroy him. He can campaign against them, raise money for their opponents, unleash the grassroots database he used to destroy Mitt Romney on them. He can stop playing nice, stop hoping for the best, and start toughening up. That's the Chicago way.

Continue reading for free
We hope you're enjoying The Week's refreshingly open-minded journalism.
Subscribed to The Week? Register your account with the same email as your subscription.