4 big budget cuts Congress left untouched while fixing air traffic delays
Easing flight delays: Check. Reinstating social welfare funding for the needy: Not so much.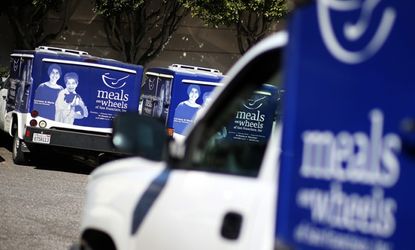 (Image credit: Justin Sullivan/Getty Images)
Who says Congress can't get anything done?
With airport delays linked to the federal furlough of air traffic controllers mounting this week, Congress moved rapidly to address the problem. The furloughs started thanks to the automatic budget cuts that kicked in this year as part of the so-called sequester. With travelers complaining across the country, lawmakers, in the span of just two days, rushed through a bill to restore funding.
The move may well please many travelers. But plenty of liberal critics are lamenting the fact that lawmakers moved swiftly to address the airport issue while doing nothing to address many social welfare programs that are feeling the sequester's pinch. (Salon's Alex Pareene summed up the sentiment with an article headlined: "Senate fixes the (part of the) sequestration (that affects rich people)!"
Subscribe to The Week
Escape your echo chamber. Get the facts behind the news, plus analysis from multiple perspectives.
SUBSCRIBE & SAVE
Sign up for The Week's Free Newsletters
From our morning news briefing to a weekly Good News Newsletter, get the best of The Week delivered directly to your inbox.
From our morning news briefing to a weekly Good News Newsletter, get the best of The Week delivered directly to your inbox.
Here are four programs liberals are highlighting to make their point.
1. HEAD START
Thanks to the sequester, early childhood education program may have to drop 70,000 openings nationwide, according to the National Head Start Association. The NHSA, in an explainer on what the sequester means for the program, said they were forced to choose between either scaling back services or reducing enrollment.
At the state level, Head Start programs are finding different ways to stretch their funds. According to CNBC, Columbus, Ind., used a lottery system to determine which students could stay in the summer program there. Another program in California simply sliced two weeks off the Head Start school year, while another in Missouri lopped off three weeks.
Elsewhere, a program in Pennsylvania furloughed 60 employees; others have stopped hiring, or said they may eliminate staffers.
The biggest impact, though, is on enrollment. Of the estimated 70,000 slots that could ultimately be lost to the sequester, hundreds have already evaporated in states across the country.
2. MEDICARE
While Medicare outlays were largely spared the sequester's ax — most programs were hit with a 5 percent cut to Medicare's 2 percent — patients who rely on Medicare are still feeling the pain in a very literal sense.
Thousands of cancer patients have been turned away at hospitals because the drugs they need are too expensive.
"If we treated the patients receiving the most expensive drugs, we'd be out of business in six months to a year," Jeff Vacirca, chief executive of North Shore Hematology Oncology Associates in New York, told the Washington Post's Sarah Kliff. "The drugs we're going to lose money on we're not going to administer right now."
That clinic ultimately decided to drop about one-third of their 16,000 Medicare patients.
So why did Medicare, a program intended to help pay sick bills for the needy, not step in to cover the those cancer drug costs? Kliff explains:
As a result, clinics are scaling back their offerings to Medicare patients, with one practice in Manchester, Conn., that specializes in cancer screenings announcing they've stopped seeing Medicare patients entirely. According to a survey from the Community Oncology Alliance, 72 percent of the nation's local oncology practices said they would have to change how they handle Medicare patients thanks to the budget cuts.
3. LOW-INCOME HOUSING
The automatic budget cuts mean federal housing assistance programs will be trimmed by $2 billion this year, according to the Center on Budget and Policy Priorities. The group estimated that cut would leave 140,000 families without housing vouchers.
"The severity of the shortfall in voucher renewal funding caused by sequestration is unprecedented in the history of the program," a report from the CBPP states. "Facing such large shortfalls, agencies will be forced to take steps to reduce program costs quickly, even as they spend down reserves. Most agencies will be unable to avoid instituting measures that adversely affect low-income families."
Those cuts are already being felt at the state level. The Housing Authority of New Orleans recalled 700 hundred Section 8 housing vouchers, and other cities are planning to take similar actions.
From CNBC:
4. MEALS ON WHEELS
The program that delivers food to needy seniors may serve 4 million fewer meals this year because of budget cuts, according to the White House. The Meals on Wheels Association offered a less rosy projection, saying they may have to cut 19 million meals.
The program is largely funded by private donations, so it's impossible to say just yet how hard-hit it will be as the year goes on. But already, programs in many states have said they're cutting back. One North Carolina county said they're planing to trim 12,000 meals there, while across the country, California's Meals on Wheels of Contra Costa has said they'll drop 200 seniors from their roster.

Continue reading for free
We hope you're enjoying The Week's refreshingly open-minded journalism.
Subscribed to The Week? Register your account with the same email as your subscription.