10 things you need to know today: April 5, 2013
Roger Ebert dies, China slaughters birds as flu deaths rise, and more in our roundup of the stories that are making news and driving opinion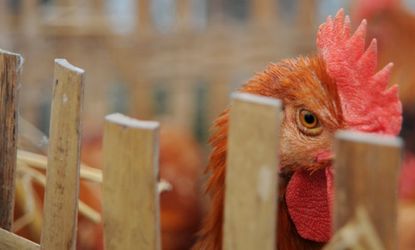 (Image credit: China Photos/Getty Images)
1. ROGER EBERT DIES
Legendary film critic Roger Ebert died Thursday at age 70, after a long battle with cancer. Ebert was considered the nation's most influential film critic, reviewing films in the Chicago Sun-Times for 46 years and on TV for 31 years. He passionately celebrated movies he admired, and, with an observant eye and sharp wit, tore down those he found lacking. "No good film is too long," he once wrote. "No bad movie is short enough." In 2006, Ebert, fighting cancers of the thyroid and salivary glands, lost part of his lower jaw and the ability to speak, but he continued writing and stayed in the public eye, chronicling his illness and winning new admirers. [The Week (2), Chicago Sun-Times]
………………………………………………………………………………
Subscribe to The Week
Escape your echo chamber. Get the facts behind the news, plus analysis from multiple perspectives.
SUBSCRIBE & SAVE
Sign up for The Week's Free Newsletters
From our morning news briefing to a weekly Good News Newsletter, get the best of The Week delivered directly to your inbox.
From our morning news briefing to a weekly Good News Newsletter, get the best of The Week delivered directly to your inbox.
2. OBAMA PLANS TO OFFER COMPROMISE IN HIS BUDGET
President Obama is preparing to unveil an annual budget proposal next week that includes politically risky cuts to Social Security and Medicare, administration officials say. House Republicans have dismissed Obama's past budgets as spending wish lists, but this time around he's including the compromise offer on entitlement program cuts that he made to House Speaker John Boehner before their negotiations broke down late last year. Administration officials say Obama is showing that he's willing to meet Republicans half way to get a long-term budget reduction deal, although his plan also calls for higher taxes on the wealthy that most Republicans still oppose. [New York Times]
………………………………………………………………………………
3. NORTH KOREA'S LATEST MILITARY MOVES STOKE ANXIETY IN SOUTH KOREA
South Korean media said Friday that North Korea had stepped up its threatening military posturing by hiding two mobile missiles on its east coast, where they could theoretically be fired at Japan or U.S. bases in the Pacific. The increasingly ominous war threats from Pyongyang, coming after joint U.S.-South Korea military exercises, sent South Korean stocks falling on Friday, as jittery foreign investors sold off holdings. South Korean economic officials held an emergency meeting to come up with a plan in case the conflict destabilizes the country's markets. [Reuters]
………………………………………………………………………………
4. CHINA SLAUGHTERS BIRDS AS FLU DEATHS RISE
Chinese authorities slaughtered more than 20,000 birds at a Shanghai poultry market on Friday in an increasingly aggressive effort to contain an outbreak of a new strain of bird flu. The market, where the H7N9 virus was detected in pigeons, was shut down, and other Shanghai live poultry markets will be closed starting Saturday. The death toll from the virus rose to six, with 14 cases overall, up from 10 a day earlier. The outbreak is sparking concern abroad, but Chinese officials say patients diagnosed early can be cured with the flu drug Tamiflu. [Reuters]
………………………………………………………………………………
5. OBAMA COMMENT RENEWS BOYS-CLUB TALK
President Obama faced renewed questions about whether his administration is too influenced by men after he praised California Attorney General Kamala Harris at a fundraiser by saying she's brilliant, tough, dedicated — and "by far, the best looking attorney general in the country." The remarks prompted opposing responses on social media, with some commenters appalled and others dismissing the criticism as undeserved. Shortly before the furor, Valerie Jarrett, one of Obama's most influential advisers, had said, "When people say it's a boys club, it's a little insulting to the women who are actually playing very critical roles." [Washington Post]
………………………………………………………………………………
6. DOCTOR WARNED HOLMES WAS DANGEROUS BEFORE AURORA MASSACRE
A psychiatrist who treated James Holmes warned police that he had confessed to having homicidal thoughts and was a danger to the public — 38 days before the July attack that left 12 people dead and 58 injured in an Aurora, Colo., movie theater. The psychiatrist, Dr. Lynne Fenton, also told an officer that Holmes, now on trial for the shooting rampage, had stopped seeing her and was sending her threatening text messages and emails, according to search-warrant affidavits made public this week. The documents indicate that the police officer deactivated Holmes' key-card access to secure areas of University of Colorado medical campus, where he had studied. [Denver Post]
………………………………………………………………………………
7. MISSING CALIFORNIA HIKERS FOUND
Rescuers found two teenage hikers who had been lost since Sunday in Southern California's Cleveland National Forest. A search team found Kyndall Jack clinging to a rock outcropping on a nearly vertical slope, severely dehydrated and drifting in an out of consciousness. "She wouldn't have made it much longer," said sheriff's Deputy Jim Moss, a paramedic who was dropped to her by helicopter to airlift her out. "She's really lucky." Jack was found hours after her companion, 19-year-old Nicolas Cendoya, was found 500 feet from a gravel road. The pair got separated shortly after calling 911 on Sunday before their cellphone died. [Associated Press]
………………………………………………………………………………
8. DEADLY BUILDING COLLAPSE NEAR MUMBAI
At least 41 people were killed in India when a building under construction near Mumbai collapsed on Thursday night. The dead included construction workers as well as women and children — work crews often live with the families in shacks at construction sites. Rescuers were still pulling survivors from the wreckage early Friday. The collapsed structure was being built on protected forest land, highlighting India's problem with illegal, shoddy construction in fast-growing areas. "Because these buildings come up so quickly," a local official said, "the quality is always very bad." [New York Times]
………………………………………………………………………………
9. COP, SUSPECT KILLED IN POLICE BUILDING
An Alabama detective and a murder suspect he was interviewing were killed on Thursday inside the Jackson, Miss., police headquarters. Officers outside the room heard gunshots and rushed in. Both men — Detective Eric Smith, a tall, fit veteran homicide detective, and the 23-year-old murder suspect, Jeremy Powell — were dead. Both had been shot several times. Police did not immediately say how they believed the tragedy happened. [ABC News]
………………………………………………………………………………
10. FUKUSHIMA NUKE PLANT COOLING SYSTEM FAILS
The cooling system for a storage pool for spent fuel at Japan's tsunami-damaged Fukushima nuclear plant failed on Friday. It was the second such incident in a month at the shuttered plant, which suffered multiple meltdowns after the March 2011 tsunami knocked out the primary and backup power systems for all cooling systems, including those for the reactors themselves. The outage didn't pose any immediate danger — the cooling pools can be turned off for two weeks before temperatures reach dangerous levels. But the incidents stoked fears about the safety of nuclear power that have risen in Japan since the disaster. [CBS News]

Continue reading for free
We hope you're enjoying The Week's refreshingly open-minded journalism.
Subscribed to The Week? Register your account with the same email as your subscription.