The costs of the GOP's Chuck Hagel filibuster
Republicans managed to make history, blocking a Cabinet nominee with majority support. What's the damage?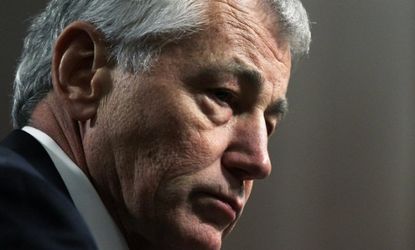 (Image credit: Alex Wong/Getty Images)
Sign up to our 10 Things You Need to Know Today newsletter
A free daily digest of the biggest news stories of the day - and the best features from our website
Thank you for signing up to TheWeek. You will receive a verification email shortly.
There was a problem. Please refresh the page and try again.
Well, they did it: Thursday evening, Senate Republicans staged what amounts to the first-ever successful filibuster of a presidential Cabinet nominee, mustering enough votes to leave Defense Secretary-designate Chuck Hagel — himself a former Senate Republican — one aye short of confirmation. Four Republicans voted with all 55 members of the Democratic caucus to proceed to an up-or-down vote that Hagel is sure to win — Senate Majority Leader Harry Reid (D-Nev.) changed his vote to "no" at the end, a procedural move that will allow him to bring up the vote after the upcoming recess. But President Obama, Hagel, the Pentagon, and outgoing Defense Secretary Leon Panetta now have to wait at least 10 days until Senate Democrats get another shot at ratifying a new defense chief.
David Weigel at Slate, who has been a tireless guide through the labyrinthine Hagelian drama, argues pretty persuasively that everybody (but Hagel himself) won something in Thursday night's vote. The anti-Hagelian "troika of the Washington Free Beacon, Breitbart.com, and Jennifer Rubin," for example, have gained at least 10 more days to dig up (or invent) a disqualifying skeleton in Hagel's closet. But while Republicans successfully "humiliated the administration, yet again," and "humbled" Hagel, whom most Republicans have grown to dislike, they've also become "villains on a vote they'll eventually lose." So, let's count the costs — to the GOP, the nation, and the military — of the GOP's filibuster of Chuck Hagel:
1. Republicans come out looking pretty shabby
Subscribe to The Week
Escape your echo chamber. Get the facts behind the news, plus analysis from multiple perspectives.
SUBSCRIBE & SAVE
Sign up for The Week's Free Newsletters
From our morning news briefing to a weekly Good News Newsletter, get the best of The Week delivered directly to your inbox.
From our morning news briefing to a weekly Good News Newsletter, get the best of The Week delivered directly to your inbox.
"The impressive thing about the anti-Hagel effort is how politically tone-deaf it is," says Daniel Larison at The American Conservative. Republicans in Washington "are desperate for a winning issue, but Senate Republicans seem to be missing the point that stalling Hagel's confirmation (which will happen eventually) isn't a winning issue for them." Quite the opposite, in fact. "In the short-term, they will take a justified beating in the press for their ridiculous tactics," but they're also "making sure that all of the moderates, independents, and realists that they have alienated over the last 10 years will keep running away from them." Laurence Vance at the libertarian LRC Blog seems to agree: "I am no fan of Hagel," he says, but it's clear that Republicans are throwing up roadblocks just "because Hagel is not seen as being as bloodthirsty and war-crazed as they are. The GOP cannot be reformed."
2. They've set a dangerous precedent
Filibustering Hagel, simply put, "is just insane," says Kevin Drum at Mother Jones. "If there's one thing practically everyone agrees about, it's that presidents should basically get to pick their own Cabinets." You only try to derail nominees in extreme circumstances, and that's hardly the case here. Hagel is "a standard issue D.C. pol with no skeletons in his closet, no bizarre views, and no scandals in his background," and normally his nomination wouldn't even be controversial.
The "potentially serious short- and long-term consequences" of this filibuster "should worry both parties," says Steve Kornacki at Salon. Once you "shatter tradition" by pulling this maneuver once, it very well "might lead to similar filibusters in the future — both for Obama's nominees and for nominees of future presidents from both parties." Yes, "future Republican Cabinet nominees for major posts are now much more likely [to be] treated in the same way," says The American Conservative's Larison. "That won't be good for future Republican administrations or the government as a whole."
3. This could revive filibuster-neutering efforts
Sen. Jeff Merkley (D-Ore.), who lost a fight to radically scale back the Senate filibuster last month, reminded his Democratic colleagues that they could have avoided this setback if they'd agreed to the stronger measures he proposed. "It is deeply disappointing that even when President Obama nominates a former conservative colleague of the GOP caucus, the minority is abusing the rules and the spirit of 'advise and consent,'" he said. "If our step we took last month is to be successful, extraordinary stunts like today's filibuster can't happen."
Well, "if this isn't enough to get Reid to revive the threat of filibuster reform, nothing will be enough," says Greg Sargent at The Washington Post. Agreed, says Ed Kilgore at Washington Monthly. Reid is an institutionalist who is loath to take away senators' privileges, but "he needs to pick up the threat for real, shake it at Senate Republicans, and mean it."
4. The military is stuck in limbo
Panetta didn't have any plans to work past this week, and now he has to lead the U.S. military for at least another week and a half, including a trip to a big NATO summit he assumed Hagel would attend. Nobody knows "what foreign challenge will face this country perhaps within the next 10 days," Reid warned his colleagues Thursday. "It would be nice if we had a secretary of defense." The White House made a similar argument, noting pointedly that "we have 66,000 men and women deployed in Afghanistan, and we need our new secretary of defense to be a part of significant decisions about how we bring that war to a responsible end," the focus of the NATO summit. "This waste of time is not without consequences." But the sentiment wasn't only from Democrats. With all the challenges the Pentagon faces, including looming budget cuts, "I just think it's important to have a secretary of defense in place," said Sen. Mike Johanns (R-Neb.), one of the two Republicans who've committed to voting for Hagel.
The damage from this standoff could be more far-reaching than the temporary water-treading at the Pentagon, though. The GOP filibuster and breakdown in longstanding comity on defense issues, especially in the Senate Armed Serviced Committee "is way over the line — disgraceful!" military expert and former SASC staffer Charles Stevenson tells The Atlantic's James Fallows. Republicans are poisoning the Senate but "also hurting the institution of the office of Secretary of Defense and thus undermining our system of civilian control." This pitiful hounding of Hagel shows that "the Republican Party has abrogated its role — really, abandoned any interest — in shaping or seriously discussing American foreign policy," says Fred Kaplan at Slate.
Why risk incurring those costs to probably just delay Hagel's confirmation? That's what Senate Democrats, and plenty of observers, want to know. "What more are you trying to get out of this?" asked a frustrated Sen. Barbara Boxer (D-Calif.) on the Senate floor. Senate Republicans aren't providing very good answers. Sens. Lindsey Graham (R-S.C.) and John McCain (R-Ariz.) said they wouldn't block Hagel's confirmation if the White House answered their question about whether Obama spoke with Libyan officials on the night of the Sept. 11 attacks in Benghazi — the White House answered the question, McCain said he was satisfied with the response, then he and Graham voted to block the confirmation anyway.
But if Senate Republicans aren't giving persuasive answers — Graham says he'll "feel better about it" in 10 days, while McCain told Fox News that "there's a lot of ill will towards Senator Hagel because when he was a Republican, he attacked President Bush mercilessly.... He was anti–his own party and people" — The Washington Post's Chris Cillizza got some straight talk from "a handful of smart Republican types, both inside and outside the Senate." They collectively give three reasons for filibustering Hagel:
Continue reading for free
We hope you're enjoying The Week's refreshingly open-minded journalism.
Subscribed to The Week? Register your account with the same email as your subscription.
Sign up to our 10 Things You Need to Know Today newsletter
A free daily digest of the biggest news stories of the day - and the best features from our website
Peter Weber is a senior editor at TheWeek.com, and has handled the editorial night shift since the website launched in 2008. A graduate of Northwestern University, Peter has worked at Facts on File and The New York Times Magazine. He speaks Spanish and Italian and plays bass and rhythm cello in an Austin rock band. Follow him on Twitter.