5 outraged reactions to Obama's gun proposals
Most gun-rights activists met President Obama's executive actions on gun violence with a yawn. Others, not so much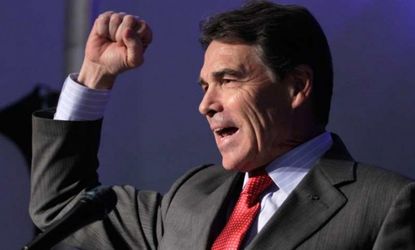 (Image credit: Joe Raedle/Getty Images)
On Wednesday, President Obama unveiled his proposals to reduce gun violence in an emotional address before a group of children who'd written him letters after the Sandy Hook Elementary School killings, urging him to beef up gun-control laws. There's considerable doubt about the political viability of Obama's big measures, like a new ban on assault rifles, which require congressional action. But he also laid out 23 actions he can take without Congress. And despite heated fears that Obama might try to seize weapons from lawful gun owners, his executive memos and decrees were "so modest" they caused "little more than a fizzle among gun advocates," says Josh Gerstein at Politico. Even the NRA, which hours earlier had enraged the White House by releasing an ad using Obama's daughters to make its point, issued a relatively mild response. But not every gun-rights supporter was so blasé about Obama's words and actions. Here, five people who found the president's big unveil outrageous, or worse:
1. Gov. Rick Perry: Obama's disgusting proposals won't work; prayer will
The Texas Republican was decidedly unimpressed with Obama's executive orders, noting in a statement that "very few of his recommendations have anything to do with what happened" in Newtown, Conn., last month:
Subscribe to The Week
Escape your echo chamber. Get the facts behind the news, plus analysis from multiple perspectives.
SUBSCRIBE & SAVE
Sign up for The Week's Free Newsletters
From our morning news briefing to a weekly Good News Newsletter, get the best of The Week delivered directly to your inbox.
From our morning news briefing to a weekly Good News Newsletter, get the best of The Week delivered directly to your inbox.
That is some "powerful stuff, from a leader who is, apparently, fearless," says John Hinderaker at PowerLine. And "Perry has presided for some years now over America's most successful state," so when he weighs in on Obama's gun policy, "his voice should be listened to."
2. Matt Drudge: Obama = Hitler + Stalin
Drudge's influential website pointedly "noted the creepy antecedents of Obama's abuse of children to serve his political agenda with these images," says PowerLine's Hinderaker:
(via Drudge Report)
Alex Jones has more examples of "other tyrants who have used children as props" at Infowars. "Not all uses of children by politicians are contemptible," Hinderaker adds, "but this one certainly was." For anyone confused as to Drudge's disregard for Godwin's law — the first person to bring up Nazis in an argument loses — here's the reasoning behind the comparison, via RedState's Erick Erickson:
3. Sen. Rand Paul: "King" Obama's orders need to be nullified
Most of Obama's critics talk tough, but the Kentucky Republican has plans to do something about Obama's executive orders. On Wednesday night, Paul outlined legislation he's preparing to introduce next week, explaining to Fox News' Sean Hannity, "We will nullify anything the president does that smacks of legislation," adding: "And there are several of the executive orders that appear as if he's writing new law. That cannot happen."
4. Wayne LaPierre: Obama just started "the fight of the century"
Unlike the NRA's official more-in-sorrow-than-anger response to Obama's unveiling, NRA's executive vice president sent a more pugnacious letter around the floor of the nation's largest gun show, going on this week in Las Vegas. Obama's package of gun measures isn't "about protecting your children," LaPierre wrote. "It's not about stopping crime. It's about banning your guns... PERIOD!"
5. Mark Levin: Obama's orders are "fascistic"
The conservative radio talk show host told Fox News' Neil Cavuto on Wednesday that Obama's "weird collection of proposals" won't do any good, and have plenty of downsides: "There are some things in his executive orders that are un-American. In some ways they're even fascistic." Levin especially took aim at Obama's actions to strengthen mental health reporting to the federal gun background-check database:

Continue reading for free
We hope you're enjoying The Week's refreshingly open-minded journalism.
Subscribed to The Week? Register your account with the same email as your subscription.