Is Obama's gun plan doomed?
President Obama proposed the most sweeping gun-control measures in a generation. There's only one problem: Congress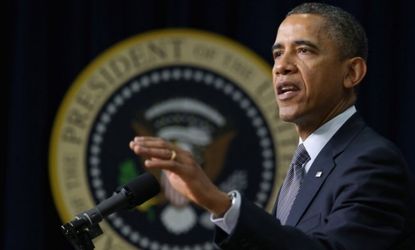 (Image credit: Chip Somodevilla/Getty Images)
"President Barack Obama is seeking to defy both history and congressional reality in calculating that shifting public opinion will ease passage of the most expansive gun-control agenda in a generation," say Heidi Przybyla and Lisa Lerer at Bloomberg. On Wednesday, Obama outlined 23 executive actions he will take to strengthen existing federal background checks for gun sales, bolster mental health screening and services, and boost research on gun violence, among other unilateral initiatives. But the most ambitious parts of his plan — a ban on assault weapons and on magazines that hold more than 10 bullets, universal background checks on all non-family gun sales, and a crackdown on gun trafficking — require congressional action. After the Sandy Hook Elementary School massacre, Obama said, "I intend to use whatever weight this office holds to make them a reality."
The problem is, it will be "virtually impossible for any bill on gun control to even get to the committee or sub-committee stage" in the GOP-run House, much less come to a vote, says Doug Mataconis at Outside the Beltway. And if the House won't act, "it's unlikely that the Senate will either." At least six red-state Democrats are up for re-election in 2014, and even with Obama's urging, Majority Leader Harry Reid (D-Nev.) won't want to put those senators at risk by taking tough votes on gun control measures that will die in the House. So "if anything does make it through Congress, it's likely to be something very minor and, in the end, inconsequential."
Not necessarily, says The Washington Post in an editorial. Obama's entire sweeping package of proposals "is probably politically unrealistic," but the Senate is reportedly going to consider each element individually, and some of them, like closing the "gun-show loophole" by requiring universal background checks, "should be able to win bipartisan support." Like the expanded background check, most Americans also support the 10-round-magazine limit, and "it's reasonable to expect that Congress would, too." The assault-weapons ban, on the other hand, faces very poor odds of passage. All of Obama's major proposals for Congress "command majority support in public-opinion surveys," says Nate Cohn at The New Republic. "But the more ambitious elements of his proposal don't hold the support of a majority of Republican voters," which means House Republicans have no incentive to support them.
Subscribe to The Week
Escape your echo chamber. Get the facts behind the news, plus analysis from multiple perspectives.
SUBSCRIBE & SAVE
Sign up for The Week's Free Newsletters
From our morning news briefing to a weekly Good News Newsletter, get the best of The Week delivered directly to your inbox.
From our morning news briefing to a weekly Good News Newsletter, get the best of The Week delivered directly to your inbox.
"Instituting a universal background check is actually a higher priority for many gun-control advocates" than an assault-weapons ban, says Greg Sargent at The Washington Post. But that ban is a vital bargaining chip. "You could easily see just enough Republicans opposing it in order to give themselves cover to support some of the other proposals." And as for the House GOP smothering any action in committee, "history suggests otherwise" — after the Columbine shootings, House Republicans were pressured into at least holding a floor vote on a gun-control bill that had passed the Senate. That bill failed, "but that doesn't mean all efforts will fail this time."
The gun lobby and its conservative handmaidens may block all of Obama's initiatives in the short run, but "in the long run, they're cooked," says Michael Tomasky at The Daily Beast. "They're going to lose." Rush Limbaugh, the NRA, and the rest of the "crazies" are grossly misreading the political winds after Sandy Hook.
What liberals fail to realize is that the Founding Fathers enshrined the Second Amendment in the Bill of Rights just so meddling presidents and Congresses couldn't mess with it, says Erick Erickson at RedState. The right to bear arms isn't subject to a popularity contest, and it isn't even really about hunting, sports, or recreation.
The old Obama probably wouldn't have even proposed the assault weapon and high-capacity-magazine bans, says Chris Cillizza at The Washington Post. But the new Obama is shooting for the moon, asking for everything he wants and compromising only "in the final moments of the debate (if at all)." Democrats will love this new approach, "Republicans will hate it," and the only question is "whether it will work to get something done." Obama "has always preferred winning ugly to losing nobly," so his new willingness to go all-in on legislation that stands little chance of passage is a pretty stark change, says Glenn Thrush at Politico. In some ways, "Obama has no alternative but to push ahead, given the magnitude of the Newtown tragedy and his emotional reaction to it." Whether he wins or not, "he can't bide inaction" on what he's framed as a moral imperative.

Continue reading for free
We hope you're enjoying The Week's refreshingly open-minded journalism.
Subscribed to The Week? Register your account with the same email as your subscription.