Why conservatives should make government simpler, not smaller
Emphasis on simplicity and clarity offers more advantages to more Americans than a dogmatic commitment to small government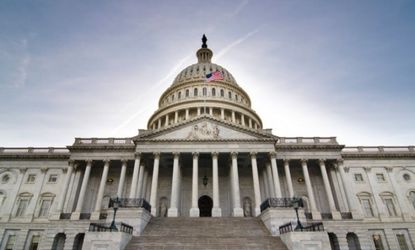 (Image credit: ThinkStock/iStockphoto)
The last year has presented a tableau of conservative disarray. The problems began in the presidential primaries, when a series of gaffes by unappealing candidates led many voters to question Republicans' seriousness. The challenges continued as Mitt Romney struggled to solidify his support by feigning a "severe" conservatism that had little basis in his record. Following Romney's decisive defeat, conservatives in the House of Representatives tried to force President Obama to make concessions on taxes and spending. They failed to do so in the fiscal cliff negotiations — and are likely to fail again when it comes to the debt ceiling.
Some of these setbacks can be blamed on contingent factors, including the weakness of the presidential field, the brilliance of Obama's campaign, and increasing residential polarization. But the most basic problem is rooted in the genetic code of conservatism itself. Since the 1950s, American conservatives have emphasized the goal of shrinking government. The trouble is, most Americans don't actually want smaller government, especially when they understand that means major cuts to popular entitlements like Social Security and Medicare.
As long as conservatives remain fixated on small government, we will continue to lose national elections. But there is a better approach that remains compatible with conservative principles of populism, fiscal discipline, and personal responsibility. Instead of trying to shrink government, conservatives should focus on making government simpler and more transparent.
Subscribe to The Week
Escape your echo chamber. Get the facts behind the news, plus analysis from multiple perspectives.
SUBSCRIBE & SAVE
Sign up for The Week's Free Newsletters
From our morning news briefing to a weekly Good News Newsletter, get the best of The Week delivered directly to your inbox.
From our morning news briefing to a weekly Good News Newsletter, get the best of The Week delivered directly to your inbox.
Americans like big government when identifiable contributions can be linked clearly to defined benefits. They object, however, to opaque spending that shifts resources from ordinary taxpayers to shadowy groups of beneficiaries who know how to navigate the political, legal, and tax structures.
The paradigmatic example of simple and relatively transparent big government is Social Security. By providing payroll taxpayers with an annual statement of earnings and estimated benefits, the Social Security system gives a clear account of who pays, who benefits, and by how much.
Under the current funding formula, Social Security costs a fortune: About 20 percent of overall federal spending. Nevertheless, it's overwhelmingly popular, with 79 percent of respondents in one poll describing Social Security as good for the country. More striking, over half of respondents in a separate poll preferred raising taxes to reducing benefits. There is simply no constituency for big cuts here.
Medicare, which along with Medicaid and CHIP comprises another one-fifth of federal spending, is a tougher case because it pays for services rather than cutting checks to individuals. But here, too, Americans seem to appreciate the relatively clear relationship between automatic withholding and the guarantee of treatment. That's among the reasons that Medicare, like Social Security, remains so popular. Republicans know this as well as Democrats: Remember attacks on President Obama during the campaign for cutting $716 billion from the program?
To be clear, I am not arguing that Social Security and Medicare are entirely healthy programs. As Paul Ryan has argued, both need reform if they are to survive an aging population and increasing medical costs. But these reforms should not and will not take the shape of major benefit reductions or partial privatization, as Ryan and others have proposed. That's because those plans threaten the implicit contract that defines simple but effective "big" government: Voters have to pay, but are assured of getting something in return.
How can conservatives reconcile themselves to this bargain while pursuing fiscal discipline and personal responsibility? By applying the logic that governs the payroll tax system to the income tax.
Conservatives often fixate on high marginal income tax rates as a damper on economic activity. But rates are only part of the problem. The complexity of the tax code is at least as serious an obstacle to work and entrepreneurship. According to Bloomberg News, Americans annually devote 6.1 billion hours to doing their taxes, while compliance costs are estimated between $105 billion and $175 billion per year. That's a lot of time and a lot of money that could be devoted to more productive purposes.
Conservatives can appeal to taxpayers by getting serious about simplifying the code, so that taxpayers can easily calculate what they will owe each year. Closing loopholes and reducing tax expenditures (by lowering the cap on the mortgage interest deduction, for example) will also raise revenue, helping close the budget deficit. Done right, comprehensive tax reform could lead to a system characterized by lower marginal rates but fewer deductions, credits, and exemptions.
Conservatives could also apply the principles of simplicity and transparency to the military, which also consumes about 20 percent of total federal spending. Waste, pork, and sheer improvidence can be found throughout the federal budget. But fiscal conservatives must acknowledge that no element of government rips off taxpayers more effectively than the Pentagon. In 2012, the annual appropriation for the much-maligned National Endowment for the Arts came to $146 million. Compare that to the $560 million cost of one of the Navy's new Littoral Combat Ships, which are apparently unfit for serious combat.
Protecting basic entitlements while accepting effective tax increases on some taxpayers and cutting the military may not seem conservative. Although it doesn't fit well with the present Republican agenda, however, such a strategy reflects conservative principles in three ways.
First, a program of government simplification is populist. That's because it levels the playing field between ordinary citizens and people with the expertise to work the system — or the money to get lawyers, accountants, and lobbyists to do it for them.
Second, reforms that clarify the real costs and benefits of federal programs promote fiscal discipline. We can't expect voters to make hard choices about how much to tax and spend until they have a better idea of what they're paying and where it goes. To that end, the IRS should produce and distribute a kind of "tax report card," breaking down federal receipts and expenditures. One reason for the perennial absurdity of our fiscal debates is that voters have little idea how big the budget is — and how it actually breaks down.
Finally, stabilizing expectations about how much we'll have to pay and what services taxpayers can count on receiving will enhance personal responsibility by securing relatively minimal guarantees around which Americans can organize their economic and family lives.
Conservatives rightly argue that we can't make good decisions under conditions of uncertainty. That's why proposals to replace Social Security with private savings accounts or transform Medicare into a voucher system are so perverse. Although intended to extend individual freedom, these proposals would burden citizens with more options, more information, and more risk than most are prepared to handle. And the record of the financial industry in recent years gives little reason to expect that the professionals would advise them wisely or honestly.
There's a lot of work to be done on specific ways to reform our vast and expensive government. But emphasis on simplicity and clarity offers more advantages to more Americans than the dogmatic commitment to small government that characterizes the rhetoric, although not always the behavior, of self-identified conservative politicians. Finding the right balance between stability, transparency, and size is the key to developing a conservatism that can win — and, just as importantly, one that deserves to.
Samuel Goldman blogs for The American Conservative. Follow him on Twitter: @swgoldman.

Continue reading for free
We hope you're enjoying The Week's refreshingly open-minded journalism.
Subscribed to The Week? Register your account with the same email as your subscription.