Will Obama cave on the debt ceiling?
The president repeated again on Monday that he won't negotiate with Congress over the debt ceiling. History suggests otherwise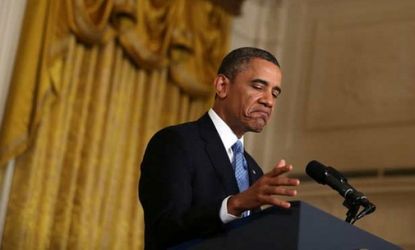 (Image credit: Getty Images)
At his press conference on Monday, President Obama insisted repeatedly that he wouldn't negotiate with congressional Republicans over raising the debt ceiling, demanding that Congress allow him to pay the bills it has racked up. The House GOP "will not collect a ransom in exchange for not crashing the American economy," he said. For many liberals, this looks like a more politically savvy use of the bully pulpit than Obama has demonstrated previously, the idea being "that he can simply continue to say, 'Do your job,' to Congress when and if they come to him seeking concessions in exchange for it, and refuse to have any further conversation," says Molly Ball at The Atlantic. But "that's a little difficult to believe," given that "Obama has often drawn supposed lines in the sand before only to negotiate them away."
That's the heart of Obama's "credibility problem" in these hostage negotiations, says Matthew Yglesias at Slate. The most recent example of the White House caving is the fiscal-cliff compromise. "I think it was a good deal," but "it wasn't the deal that Obama said he would agree to." The White House insisted on a $250,000 cutoff point for re-upping the Bush tax cuts and on taking the debt ceiling off the table, "but when push came to shove, they decided neither of those things were red lines." So watching Obama say that he's unwilling to pay ransom now to free the debt limit, "I find it impossible not to confront the point that as of now nobody seems to believe him."
Fair enough, says Jonathan Chait at New York. "In these games of chicken, [Obama] always seems ready to swerve at the last moment," but this time might be different. The president seems to understand that allowing the debt ceiling to routinely be held hostage to extract policy concessions — something that "never happened before Obama allowed it in 2011" — would lead to "an endless series of Russian roulette games that will ultimately lead to the gun going off." So he's "leaving himself no room to backslide," unilaterally waving off all his outs — using the 14th Amendment, minting a platinum coin. Now, if Obama "pays the ransom, he'll leave himself humiliated and exposed in a way he never has."
Subscribe to The Week
Escape your echo chamber. Get the facts behind the news, plus analysis from multiple perspectives.
SUBSCRIBE & SAVE
Sign up for The Week's Free Newsletters
From our morning news briefing to a weekly Good News Newsletter, get the best of The Week delivered directly to your inbox.
From our morning news briefing to a weekly Good News Newsletter, get the best of The Week delivered directly to your inbox.
Taking the trillion-dollar coin and 14th Amendment power play off the table "is itself reckless, insofar as it increases the likelihood that GOP hard-liners will plunge the economy back into recession," says Timothy Noah at The New Republic. Obama seems determined to be the reasonable party here, but as 500 years of political science have demonstrated, "when governing, it is generally preferable to demonstrate that you're willing to be an even bigger son-of-a-bitch than your opponents are." It's all well and good for Obama to piously say he absolutely won't negotiate over America's creditworthiness, but "sainthood won't raise the debt limit."
Here's Obama's problem, says Jon Healey at The Los Angeles Times: Despite his "succinct and inarguable" point about the insanity of Congress racking up bills then refusing to let him pay them, "Congress can do that," and there are plenty of House Republicans who are not only willing to say no to raising the debt ceiling but "simply don't buy the argument that it would be a bad thing." That doesn't mean we'll default on our obligations, necessarily.

Continue reading for free
We hope you're enjoying The Week's refreshingly open-minded journalism.
Subscribed to The Week? Register your account with the same email as your subscription.