Obama's second inaugural speech: 6 things he should say
The second inaugural is rarely memorable, but President Obama can defy history on Jan. 21, and maybe even change it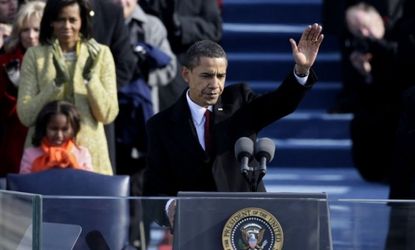 (Image credit: Alex Wong/Getty Images)
President Obama will stand on the steps of the U.S. Capitol on Jan. 21 and deliver his second inaugural address, giving him a chance to reach one of the largest audiences of his second term. The stakes are high — as Obama faces a nation still struggling to emerge from a brutal recession and riven by political polarization — but the expectations really aren't. Abraham Lincoln's second inaugural "was perhaps the greatest speech of any kind," Martin Medhurst, an expert on presidential rhetoric at Baylor University, tells the Pittsburgh Tribune-Review. But very few presidents have delivered even very good ones, and "of the 20th century presidents, it's not so much that their second inaugurals were terrible, it's just that they are not memorable." If Obama wants to aim more for Lincoln than, say, Richard Nixon, here are six things he should do or say to start off his second term on a high note:
1. Obama has to say something new and exciting
"If you are an eloquent president, as I think Obama is, the second inaugural presents a big challenge because if you've given a really good first inaugural — which I think he did — that sets the standard," says Baylor's Martin Medhurst. He'll have to deal with political reality, of course, and "basic gridlock between the executive and legislative branches is a fact of life" that can't be ignored. But for the speech to be memorable, Obama must "have a new idea, an idea that is fresh and different and forward-looking." And for that idea to stick, he has to express it "in language that is unusual."
Subscribe to The Week
Escape your echo chamber. Get the facts behind the news, plus analysis from multiple perspectives.
SUBSCRIBE & SAVE
Sign up for The Week's Free Newsletters
From our morning news briefing to a weekly Good News Newsletter, get the best of The Week delivered directly to your inbox.
From our morning news briefing to a weekly Good News Newsletter, get the best of The Week delivered directly to your inbox.
2. He should lay down a marker against political nihilism
The big idea Obama has to get across is a pledge to "commit himself and his administration to a second-term that will rise above politics and work to help Americans moving forward," says Mark Kogan at PolicyMic. But he can't do that by himself, so he also needs to "address the blatant obstructionism coming from the political Right but without castigating the whole party." After a first term "marred by an image of a leader who backed down when confronted by Republican opposition and failed to flex his muscle to push through his agenda," Obama needs to "make it clear that anyone who wants to play politics with America's future is going to be met aggressively by an administration and a president with a zero tolerance policy for political nonsense."
3. He needs to reach out a bipartisan hand
"My advice to President Obama's speechwriters," says Mary Kate Cary at U.S. News, is to clear the air of partisan rancor by "offering a hand" to his Republican opponents. "The inaugural address is a great opportunity for the president to persuade without insulting, to make his best case, and most of all, to understand and appeal to the values of those on the other side — something he's really never done." Specifically, Obama should "invite Republicans to join him in bipartisan votes on the big challenges facing our country," like immigration and the fiscal crisis, and "take their views into account and meet them halfway." I suspect Obama will "try to find some kind of uniting theme to bring the country together," Liz Marlantes of The Christian Science Monitor said on The Chris Matthews Show. But the speech will only be remembered in light of "what the president does" in his second term.
4. Obama should lay out his second term priorities
Obama's not "going to use the entire speech on Inauguration Day to try to bridge all of the cultural and social divide in the country," Howard Fineman told Chris Matthews. At this point, Obama realizes he's "not going to be able to bring over" the Tea Partiers, for example. In his big address, "I think he has a to-do list." The window to get things done in second terms is notoriously narrow, says Susan Page in USA Today. "That means Obama's major legislative initiatives for his second term probably need to be spotlighted in his inaugural address next week and detailed in the State of the Union speech that follows next month."
5. He should address America's social inequality
Obama certainly faces a "gargantuan rhetorical dilemma" in his second inaugural, says Rev. William H. Lamar IV at The Huffington Post. To deliver on his promise, he must "say words that challenge us like Lincoln and inspire us like Kennedy," offering hard truths but also "a compelling vision for a future that beckons us forward together." Two areas that need his attention are America's "abhorrent" poverty rate and the yawning inequality in good public education. When historians look back, "may it be said that the words of your second inaugural address were beautiful, but the work of your second administration made America a more just nation and the world a more peaceful place."
6. He needs to orchestrate a "wow" moment
It's more likely that Obama will address "the theme of middle-class empowerment that was the backbone of his 2012 election message," says Jake Parent at PolicyMic. But words are only part of the equation. For this to be a memorable second inaugural, Obama should take a page from Ronald Reagan and "hit the American people over the head with something they've never seen before." In Reagan's first inaugural, the TV cameras for the first time panned out away from the speech toward Arlington and the rest of America — "in the eye of the viewer, it was a magical moment that highlighted Reagan's call to move power away from Washington." If Obama can mix message with medium that deftly, expect "a speech that will be remembered for years to come."

Continue reading for free
We hope you're enjoying The Week's refreshingly open-minded journalism.
Subscribed to The Week? Register your account with the same email as your subscription.