7 controversial Chuck Hagel quotes and votes
The Nebraska Republican's blunt assessments are the reason President Obama tapped him for defense secretary — and the reason he may not get the job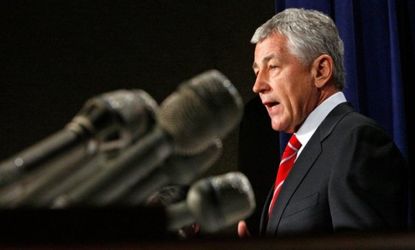 (Image credit: Win McNamee/Getty Images)
If you want to understand why Sen. John Kerry (D-Mass.) is expected to breeze through Senate hearings into his next act as secretary of state while his former Republican colleague, Chuck Hagel (R-Neb.), will face a grueling confirmation battle against largely Republican opposition, says Peter Beinart at The Daily Beast, a good starting point is contrasting Kerry's "political caution" with Hagel's "uncommon honesty." For better or worse, President Obama's nominee for defense secretary "says in public what others only say in private." Walter Russell Mead at The National Interest persuasively argues that "people who want to follow news seriously" should save themselves time and energy by "skipping the froth and frenzy" of journalists and bloggers sifting through Hagel's record for "disqualifying blemishes."
But any "serious observers" who take Mead's advice — "it's a great time to pick up a good book" — will miss a great show, as conservatives take umbrage at Hagel's insensitivity on gay rights and opposition to abortion while liberals support "an old-school western conservative with a history of opposing much of what Democrats stand for," as The New Yorker's John Cassidy categorizes Hagel. Here's a guide to some of the things Hagel has said that are being used against him, fairly or unfairly, as he battles to be the next Pentagon chief:
1. "The Jewish lobby intimidates a lot of people"
Subscribe to The Week
Escape your echo chamber. Get the facts behind the news, plus analysis from multiple perspectives.
SUBSCRIBE & SAVE
Sign up for The Week's Free Newsletters
From our morning news briefing to a weekly Good News Newsletter, get the best of The Week delivered directly to your inbox.
From our morning news briefing to a weekly Good News Newsletter, get the best of The Week delivered directly to your inbox.
The quote: "The political reality is that... the Jewish lobby intimidates a lot of people up here.... I've always argued against some of the dumb things they do, because I don't think it's in the interest of Israel.... I'm not an Israeli senator. I'm a United States senator. I support Israel, but my first interest is, I take an oath of office to the Constitution of the United States, not to a president, not to a party, not to Israel."
The context: Hagel's politically problematic reference to the influence of "the Jewish lobby" comes from a 2006 interview with former State Department official Aaron David Miller for his 2008 book The Much Too Promised Land. They form the core of the argument that Hagel is insufficiently pro-Israel — critics also point to various letters Hagel declined to sign — and this thinly veiled (or just plain bald) charge of anti-Semitism is the "emotional center" and "primal source of the antagonism to Hagel," says Scott McConnell at The American Conservative. The accusation is also, to be kind, highly questionable.
2. The Iraq troop "surge" is a "dangerous foreign policy blunder"
The quote: The plan to revive the Iraq War by sending in a "surge" of 30,000 troops (and instituting a counterinsurgency strategy) is "the most dangerous foreign policy blunder in this country since Vietnam, if it's carried out. I will resist it."
The context: A skeptic of the Iraq War from the start, Hagel made this statement in a 2007 Senate hearing, suggesting that the surge could expand the conflict to Iran and Syria. A year earlier, Hagel had said that the U.S. "must begin planning for a phased troop withdrawal from Iraq." These statements put Hagel "on the right side of conventional wisdom," says Bret Stephens at The Wall Street Journal, but on the wrong side of his party and, arguably, history: "The surge turned out to be George W. Bush's finest hour," and "rescued the U.S. from humiliating defeat."
3. And so is the Afghanistan surge
The quote: Obama's plan to send 30,000 troops into Afghanistan is "not sustainable at all; I think we're marking time as we slaughter more young people.... I'm not sure we know what the hell we are doing in Afghanistan."
The context: Hagel's consistent opposition to sending troops into nebulous conflicts is widely attributed to his experience fighting in Vietnam, and this quote is from a 2009 interview with National Journal. In 2011 he elaborated on his surge-aversion to the Financial Times: "I disagreed with President Obama, his decision to surge in Afghanistan, as I did with President Bush on the surge in Iraq. It wasn't a matter of could we win at that moment. Of course, no force in the world can stand the sophisticated power of American military. Nobody can stay on the field with you, but that's not the issue. That never was the question. The question is then, what happens next? Where is this going? What is the end game?"
4. "I think the Pentagon needs to be pared down"
The quote: "The Defense Department, I think in many ways has been bloated.... We've taken dollars, we've taken programs, we've taken policies out of the State Department, out of a number of other departments and put them over in Defense.... The abuse and the waste and the fraud is astounding. It always is in war.... I think the Pentagon needs to be pared down. I think we need the Pentagon to look at their own priorities."
The context: This quote, from the same September 2011 Financial Times interview, is clearly relevant to Hagel's nomination to lead the Pentagon, especially in an era where the defense budget will likely shrink. "Hagel's willingness to talk about Pentagon bloat, and by extension to oversee some defense cuts, is also both a big problem for the reflexive right and a big reason Obama wants him," says Michael Tomasky at The Daily Beast. Defense cuts are coming, and "a Republican can more credibly stand up and say no, we don't need X weapon system or two more carriers or whatever it is than a Democrat can."
5. U.S. ambassadors shouldn't be "openly, aggressively gay"
The quote: U.S. ambassadors "are representing America.... They are representing our lifestyle, our values, our standards. And I think it is an inhibiting factor to be gay — openly, aggressively gay like Mr. Hormel — to do an effective job."
The context: In this 1998 interview with The Omaha World-Herald, Hagel is opposing President Bill Clinton's nomination of philanthropist James Hormel as ambassador to Luxembourg — Clinton ended up giving Hormel the job in a vote-free recess appointment. In December, Hagel apologized to Hormel and all "LGBT Americans" and said his 14-year-old comments were "insensitive" and "do not reflect my views or the totality of my public record." His change of heart and mea culpa, which included a pledge to be "fully supportive of 'open service' and committed to LGBT military families," seem to have defused opposition from many gay-rights advocates, although the GOP-affiliated Log Cabin Republicans took out a full page ad in The Washington Post criticizing the Hagel nomination and calling his apology "too little, too late."
6. Warrentless wiretapping was fine
The quote: The National Security Agency struck "a very delicate balance, an important balance, and an effective balance, of protecting our national security and protecting our constitutional liberties" when it exceeded the law to eavesdrop on Americans.
The context: "Even as Hagel was making himself George W. Bush's least favorite Republican," says Spencer Ackerman at Wired, he was broadly supportive of Bush's efforts to expand presidential wartime powers, including "scooping up Americans' communications without judicial authorization," as this 2006 MSNBC interview shows. He also helped block an investigation into the illegal wiretapping, and backed Bush's push to try terrorism suspects in military tribunals. Just because Hagel is skeptical of "military adventurism," especially in Iraq, it "doesn't make him a dove."
7. Hagel voted largely like a conventional Republican
The quotes are illuminating to some degree, but let's assume that actions speak louder than words and focus for a minute "on Hagel's overall voting record in the Senate between 1997 and 2010," says The New Yorker's John Cassidy. He earned an 84 percent approval rating from the American Conservative Union for his faithful support of "pro-corporate, trickle-down policies"; a zero rating from abortion-rights group NARAL and a 100 percent National Right to Life Committee ranking for his consistent opposition to abortion; a 100 percent thumbs-up from the Christian Coalition for, among other things, his support for teacher-led prayer in schools; and an A rating from the NRA. He was also a big supporter of missile defense programs, favored sending troops into Kosovo, and — although he was presciently skeptical of the Iraq War — voted in favor of the resolution authorizing it.
"Hagel feared the resolution would lead to a war that would go badly," says David Corn at Mother Jones, "but didn't have the guts to say no to the leader of his party." None of this disqualifies Hagel — "he's been nominated to run a war-fighting machine, not the Justice Department or the White House domestic-policy shop," says Cassidy — but it does raise the question: "What has Obama got against nominating a Democrat as secretary of defense?"
Sources: AEI Ideas, American Conservative, American Interest, The Associated Press, Bloomberg, BuzzFeed, CNN, The Daily Beast (2,3), The Financial Times, Lincoln Journal Star, The Guardian, The Huffington Post, MJ Rosenberg, Mother Jones, MSNBC, The New Yorker, On The Issues, Slate, The Wall Street Journal, The Washington Free Beacon, The Weekly Standard, Wired

Continue reading for free
We hope you're enjoying The Week's refreshingly open-minded journalism.
Subscribed to The Week? Register your account with the same email as your subscription.