7 Republicans running from Mitt Romney's 47 percent remark
Plenty of GOPers second Romney's comments about government-dependent moochers. Republicans who have to face voters are a little more leery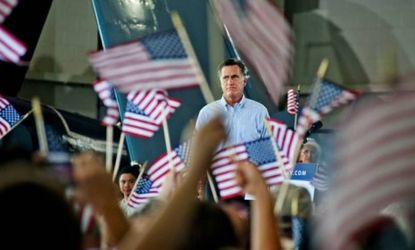 (Image credit: AP Photo/Rich-Joseph Facun)
Sign up to our 10 Things You Need to Know Today newsletter
A free daily digest of the biggest news stories of the day - and the best features from our website
Thank you for signing up to TheWeek. You will receive a verification email shortly.
There was a problem. Please refresh the page and try again.
Republican presidential nominee Mitt Romney isn't exactly walking away from his damaging comments, captured by a hidden camera at a Florida fundraiser in May, that he won't even try to win over the "entitled" 47 percent of voters who pay no income tax and who refuse to "take personal responsibility and care for their lives." And plenty of conservative commentators have his back. It's a different story with GOP lawmakers and candidates, though. Many Republican officeholders are following the tack of Romney's running mate, Rep. Paul Ryan (R-Wis.), who said the comments were sound but Romney was "obviously inarticulate in making his point." But others are going the "Romney who?" route, especially those facing close elections or voters in blue and purple states. "Depending on how this plays out, I'd expect to see some other Republicans follow suit with this distancing," says Doug Mataconis at Outside the Beltway. Here are seven Republicans who have already decidedly disowned Romney's "47 percent" argument:
1. Linda McMahon (GOP Senate candidate, Conn.)
McMahon, a wealthy former pro-wrestling executive who lost Connecticut's 2010 Senate race, is performing better than expected in her second bid, essentially tied with former Rep. Chris Murphy (D). She was first out of the gate, posting this statement to her website early Tuesday: "I disagree with Governor Romney's insinuation that 47 percent of Americans believe they are victims who must depend on the government for their care. I know that the vast majority of those who rely on government are not in that situation because they want to be."
Subscribe to The Week
Escape your echo chamber. Get the facts behind the news, plus analysis from multiple perspectives.
SUBSCRIBE & SAVE
Sign up for The Week's Free Newsletters
From our morning news briefing to a weekly Good News Newsletter, get the best of The Week delivered directly to your inbox.
From our morning news briefing to a weekly Good News Newsletter, get the best of The Week delivered directly to your inbox.
2. Sen. Scott Brown (R-Mass.)
Brown, up for re-election to his first full term, is running neck-and-neck with Harvard Law professor Elizabeth Warren, and although he hails from Romney's adopted home state and shares advisers with the GOP nominee, he disavowed Romney's comments in this statement to The Hill: "That's not the way I view the world. As someone who grew up in tough circumstances, I know that being on public assistance is not a spot that anyone wants to be in. Too many people today who want to work are being forced into public assistance for lack of jobs."
3. Sen. Dean Heller (R-Nev.)
Heller, like Brown, is up for his first full term in a close race against Rep. Shelley Berkley (D). On Wednesday, Heller told Politico: "You got to understand, I grew up with five brothers and sisters. My father was an auto mechanic. My mother was a school cook. I just don't view the world the same way [Romney] does.... Every vote in Nevada counts, every vote. And as a United States senator, my job is to represent every one of those votes, whether they voted for me or against me."
4. Gov. Susana Martinez (R-N.M.)
Martinez, a first-term governor who spoke at Romney's convention, isn't up for election for another two years, but she still criticized Romney's dismissal of almost half the electorate and government programs to help the poor: "We have a lot of people that are at the poverty level in New Mexico, but they count just as much as anybody else.... There is a net that does allow them to be caught and taken care of, whether it be through medical services, whether it be food services, whether it be with funding for apartments, for housing.... I think, certainly the fact that New Mexico provides that safety net is a good thing."
5. Ovide Lamontagne (GOP gubernatorial candidate, N.H.)
In a gubernatorial debate Wednesday against Democrat Maggie Hassan, Lamontagne promised he would not "be a partisan governor," and took pains to disagree with Romney's comments: "The governor of New Hampshire needs to be a governor for all the people. And there's no 47 percent in New Hampshire as far as I'm concerned. Every citizen deserves to have a responsible government, one that understands the limits of the Constitution and the power of the free markets and can lead us into a new era of prosperity."
6. Mark Meadows (GOP House candidate, N.C.)
In a debate against Democrat Hayden Rogers for the western North Carolina House seat being vacated by Rogers' boss, Rep. Heath Shuler (D), Meadows put some healthy distance between himself and his party's presidential nominee: "It might come as a surprise, but Mitt Romney didn't call me before he made those comments and ask for my advice.... I'm concerned about all 750,000 people.... I am here to represent the people of this district."
7. Senate GOP leadership
House Republican leaders are stepping gingerly around Romney's "47 percent" comments, but their Senate counterparts are almost literally running from them. At their first weekly news conference since Romney's video went viral, Senate Republican leaders fled the podium without taking any questions on camera — "an unusual departure from normal practice," according to The Hill — and equally unusual, Senate Minority Leader Mitch McConnell (R-Ky.) left halfway through, after making a brief statement about Senate inaction. Majority Leader Harry Reid (D-Nev.), holding his weekly press conference right before the GOP's, wasn't so circumspect. He jabbed Romney for being "out of touch" and taunted the GOP, saying Republicans "have a long line of people who are running from Romney as if the Olympics are still on."
Sources: ABC News, Albuquerque Journal, AP, Asheville (N.C.) Citizen-Times, Concord Monitor, The Hill (2), Outside the Beltway, Politico (2), Reuters, Talking Points Memo, ThinkProgress (2)
Read more political coverage at The Week's 2012 Election Center.
Continue reading for free
We hope you're enjoying The Week's refreshingly open-minded journalism.
Subscribed to The Week? Register your account with the same email as your subscription.
Sign up to our 10 Things You Need to Know Today newsletter
A free daily digest of the biggest news stories of the day - and the best features from our website