Mitt Romney's claim that 47 percent of Americans don't pay taxes: True or false?
The Republican says nearly half of the U.S. doesn't pay federal income taxes, a common conservative complaint that glosses over several relevant details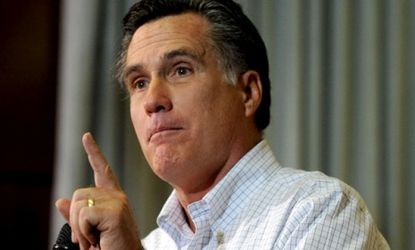 (Image credit: Dennis Van Tine/Retna Ltd./Corbis)
Sign up to our 10 Things You Need to Know Today newsletter
A free daily digest of the biggest news stories of the day - and the best features from our website
Thank you for signing up to TheWeek. You will receive a verification email shortly.
There was a problem. Please refresh the page and try again.
Mitt Romney is facing a potential campaign killer this week, after Mother Jones posted a surreptitiously filmed video of a private fundraiser in which the GOP standard-bearer belittles the 47 percent of Americans who will allegedly vote for President Obama "no matter what." These members of the electorate, Romney claimed at the May event, pay no federal income taxes, and have grown too "dependent on government." My job, the Republican nominee for president said, "is not to worry about those people." In invoking the 47 percent figure, Romney was repeating a conservative trope that has often been hoisted as evidence of the expansion of the welfare state, and once even inspired a short-lived "53 percent movement." But is it true? Here, a guide to the claim that nearly half of Americans don't pay federal income taxes:
Is Romney's claim true or false?
Technically speaking, it's true. According to a 2011 study by the Tax Policy Center, 46.4 percent of households in the U.S. paid no federal income tax in 2011. The Americans who fall into this category either make too little to be taxed, or qualify for tax credits that mitigate their income tax. This chunk of the electorate is composed largely of seniors on Social Security, students, the disabled, and the poor.
Subscribe to The Week
Escape your echo chamber. Get the facts behind the news, plus analysis from multiple perspectives.
SUBSCRIBE & SAVE
Sign up for The Week's Free Newsletters
From our morning news briefing to a weekly Good News Newsletter, get the best of The Week delivered directly to your inbox.
From our morning news briefing to a weekly Good News Newsletter, get the best of The Week delivered directly to your inbox.
So half of America lives tax-free?
No. The federal tax system is progressive (meaning the wealthy are taxed more than the poor), but state tax systems are less so. The households that pay no federal income taxes still pay state and local taxes, as well as sales taxes. In addition, all Americans working full-time pay federal payroll taxes for Social Security. In other words, "it's factually incorrect for Mitt Romney to dismiss 47 percent of Americans as members of a dependency class," says Brian Beutler at Talking Points Memo.
Did more people used to pay federal income taxes?
Yes. The Great Recession pushed millions of workers out of the labor market, or left them making too little to be taxed. Furthermore, the Bush tax cuts "doubled the child tax credit, increased a number of other deductions and exemptions, and lowered marginal tax rates," thereby erasing "millions of families' federal income tax liabilities," says Annie Lowrey at The New York Times.
Do Republicans want low taxes for the poor?
They used to. Indeed, this was once a consistent area of bipartisan agreement, stretching back to the presidencies of Richard Nixon and Ronald Reagan. Conservatives liked the idea of tax credits for low-income families with children, as opposed to showering the poor with more federal spending. They saw tax credits as an "extremely low-cost way to recognize the fact that raising the next generation constitutes an expensive investment in human capital that will yield dividends for society as whole," says Reiham Salam at The National Review. But there is now a strong conservative movement to reform the federal tax code so that everyone "pays their fair share."
Does the 47 percent really support Obama?
No. There are plenty of Republican seniors, for example, who pay no federal income taxes. "Romney seems to have contempt not just for the Democrats who oppose him, but for tens of millions who intend to vote for him," says William Kristol at The Weekly Standard. Still, this "maker's and taker's narrative seems fairly popular among wealthy Republicans," says Megan McArdle at The Daily Beast.
Sources: The American Conservative, The Daily Beast, Economist's View, The National Review (2), The New York Times, Slate, Talking Points Memo, The Washington Post, The Weekly Standard
Continue reading for free
We hope you're enjoying The Week's refreshingly open-minded journalism.
Subscribed to The Week? Register your account with the same email as your subscription.
Sign up to our 10 Things You Need to Know Today newsletter
A free daily digest of the biggest news stories of the day - and the best features from our website