5 ways Mitt Romney can fix his flailing campaign
The GOP candidate is at a decided low point in his run for the White House, but it's not too late to get Team Romney back in the game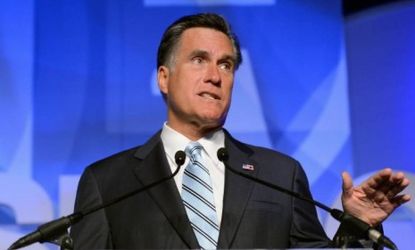 (Image credit: Kevork Djansezian/Getty Images)
Sign up to our 10 Things You Need to Know Today newsletter
A free daily digest of the biggest news stories of the day - and the best features from our website
Thank you for signing up to TheWeek. You will receive a verification email shortly.
There was a problem. Please refresh the page and try again.
"In politics when it rains, it pours," says Chris Cillizza at The Washington Post, and GOP presidential nominee Mitt Romney is caught in a deluge. After a brutal two-week period in which he lost ground in polls, had his pollster issue a defensive "don't panic!" memo, jumped the gun with an aggressive statement on the crisis in Egypt and Libya, saw his campaign's dirty laundry aired in a gossipy Politico article, and had to defend a damaging video from a May fundraiser in which he bluntly writes off 47 percent of voters as government moochers, Romney is "weathering his darkest days as a candidate." There are still 50 days until the election, though, and everybody loves a good comeback story. What can Romney do to right his wayward ship? Here, five suggestions:
1. Get more specific about his plans
Team Romney in fact announced a campaign retooling of its own on Monday, promising a "pivot to specificity," says John Dickerson at Slate. Romney's policy vagueness has been a frequent bone of contention with "conservative wise men," and if this isn't just a rhetorical "sop to pundits" — if Romney is really going to start detailing his governing plans and how they affect voters — that could help him recover. Yes, "to win, Romney must give voters a reason to vote for him — not just a reason to oppose Obama," says Matt Lewis at The Guardian. We need to see his larger vision, but his old "notion that he can skate by without providing details — that he can run out the clock and hope we don't check his homework — won't fly."
Subscribe to The Week
Escape your echo chamber. Get the facts behind the news, plus analysis from multiple perspectives.
SUBSCRIBE & SAVE
Sign up for The Week's Free Newsletters
From our morning news briefing to a weekly Good News Newsletter, get the best of The Week delivered directly to your inbox.
From our morning news briefing to a weekly Good News Newsletter, get the best of The Week delivered directly to your inbox.
2. Romney has to fire up his base
The polls show that, especially in major battleground states, "the portion of the electorate that is truly undecided in this race is tiny, and shrinking," says McKay Coppins at BuzzFeed. So while keeping the same economy-focused message for national audiences, Romney and his advertising will aim to trash President Obama and give the conservative base a reason to turn out in November. Voters seem pretty turned off, so it really could "shape up as a relatively low-turnout election," says Dan Riehl at Riehl World View. And with "both bases being less than fully engaged," the candidate who "taps into his the deepest may well win the thing."
3. Team Romney needs to be more nimble
Romney has already "earned the admiration of the base," but he's done a terrible job at controlling the news cycle, says Jennifer Rubin at The Washington Post. "When a big event occurs (e.g., a credit downgrade, more than 20 embassies under siege)," Team Romney puts out an email. "That is not the optimal way to run a presidential campaign in a 24/7 new media environment." Seriously, "news cycles come and go without Romney managing to staple his agenda and ideas to the passing events," says Jim Geraghty at The Guardian. Last week's Muslim uprising would have been a great time for Romney to discuss what he "really thinks of the Arab Spring," for example.
4. Romney needs to let down his hair a little
Forget white papers and big policy speeches: Plenty of Republicans think "personality, not policy, may hold the key to reassuring wary voters," say The Associated Press' Charles Babington and Brian Bakst. Among those Republicans is Romney's running mate, Rep. Paul Ryan (Wis.), who told a convention of "values voters" last week that he's "not the only one who has told Mitt that maybe he needs to talk more about himself and his life."
5. He should pull a Bush: Charm the political press
"The good news for Romney is that the press, contrary to Republican belief, has mostly fallen out of love with Obama," says Alex Pareene at Salon. But they aren't too enamored of Romney, either. There's a simple solution for that: "Talk like Jon Huntsman." The mainstream press loved the centrist-talking Huntsman, as it does every "Rare Moderate Republican," even though Huntsman's actual policies were identical to Romney's. That means leave the attack-dog stuff to surrogates and super PACs and instead "Offer Straight Talk" and vague bipartisan ideas, and "say 'civility' a lot." In fact, "we already have a model for how this could work": The 2000 campaign. George W. Bush "charmed the hell out of the press and never talked like a crazy right-winger, even as he made sure to dog-whistle to the crazy right-wingers." Notice how we didn't get a President Gore.
Read more political coverage at The Week's 2012 Election Center.
Continue reading for free
We hope you're enjoying The Week's refreshingly open-minded journalism.
Subscribed to The Week? Register your account with the same email as your subscription.
Sign up to our 10 Things You Need to Know Today newsletter
A free daily digest of the biggest news stories of the day - and the best features from our website