How Paul Ryan helps and hurts Mitt Romney
The Wisconsin congressman could force an adult conversation on national debt, but he could also raise fears of a massive deficit for years to come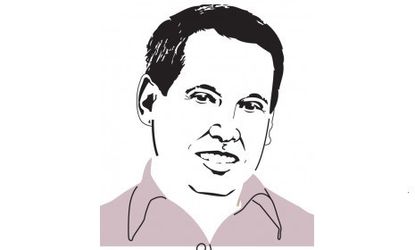 Sign up to our 10 Things You Need to Know Today newsletter
A free daily digest of the biggest news stories of the day - and the best features from our website
Thank you for signing up to TheWeek. You will receive a verification email shortly.
There was a problem. Please refresh the page and try again.
With his talk of fiscal rectitude, Rep. Paul Ryan (R-Wis.) has been described in the past several days as the face of the Tea Party. It's unclear whether his gushing supporters know that this alleged tightwad voted for things completely anathema to them, like TARP (the Bush-era $700 billion Wall Street bailout), the Bush-era auto bailout, or for government intrusion in the form of a confiscatory tax on CEO bonuses. Since when does the Tea Party support government seizure of private property?
It is this — the "Ryan Paradox" — that makes him such an intriguing VP pick for Mitt Romney. It's also intriguing to the Obama campaign, which was expecting the cautious, analytical Romney to opt for a safe but boring choice like Ohio Sen. Rob Portman or former Minnesota Gov. Tim Pawlenty.
Because Ryan proposes steep spending cuts, but also steep tax cuts, his plan means deficits for another quarter-century or longer.
Subscribe to The Week
Escape your echo chamber. Get the facts behind the news, plus analysis from multiple perspectives.
SUBSCRIBE & SAVE
Sign up for The Week's Free Newsletters
From our morning news briefing to a weekly Good News Newsletter, get the best of The Week delivered directly to your inbox.
From our morning news briefing to a weekly Good News Newsletter, get the best of The Week delivered directly to your inbox.
But Ryan is anything but safe and his proposals are anything but boring. What does his selection mean for the two presidential campaigns? For both, it solves some problems while creating new ones. A closer look:
How Ryan helps Romney:
1. Ryan gives Romney right-wing credibility. According to an examination of his voting history by DW-Nominate, the Wisconsin congressman is about as far right as one can go — think Michele Bachmann, says Nate Silver at The New York Times. This offers reassurance to Republicans who have long been skeptical about the flip-flopping Romney and doubted his philosophical commitment to conservative issues. This reassurance, in turn, helps nail down Romney's key base — white, older conservative males — and is likely to boost their turnout on election day. This won't help with other groups, particularly women, but Romney has clearly decided it's older white men he needs above all.
2. He turns attention back to the economy. Romney's entire candidacy is based on jobs, debt, and the economy. His selection of Ryan has changed the narrative overnight. Last week it was the bumbling trip to Europe, verbal gaffes, and tax records. All that moved into the rear view mirror on Saturday morning. Those things won't be forgotten, of course, but for now "America's Comeback Team" is on the offensive, and the spotlight is back on Obama's weaknesses: 8.3 percent unemployment, trillion-dollar deficits each year, and, Republicans charge, rising gas prices.
How Ryan hurts Romney:
1. Ryan's Medicare plan may frighten seniors. Florida, with its 29 electoral votes, is the biggest swing-state up for grabs. Seniors make up approximately 30 percent of the Sunshine State's electorate — and they tend to show up at the polls.
The Obama campaign is working overtime telling seniors that Romney and Ryan would end Medicare as we know it. What is Ryan proposing, exactly? A revised plan released earlier this year wouldn't affect Americans now receiving Medicare. But beginning in 2023, 65-year-olds would choose between insurance plans — traditional and private — on a "Medicare exchange," with the government paying a premium to whatever plan is chosen. If the plan they choose costs more, they'd pay the difference. Here's where the scare tactics come in: Democrats have said seniors could be paying thousands of dollars out of pocket, particularly if health care costs keep rising faster than inflation.
Is this true? An analysis by the non-partisan Congressional Budget Office (CBO) says yes: "Under the proposal, most elderly people who would be entitled to premium support payments would pay more for their health care than they would pay under the current Medicare system."
Ryan also wants to gradually raise Medicare's eligibility age to 67 by 2034. Given America's rapidly aging population and longer life expectancies, he says it's essential to do this. Medicare can be pretty murky stuff, and in a 30-second campaign ad, it's awfully easy to confuse and/or scare folks. Ryan can say what Obama said of healthcare: "If you like your plan, you can keep your plan." But the cost? Ah, the devil's in the details.
2. His budget plan equals decades of deficits. At least that's what the CBO says. Because he proposes steep spending cuts ($6 trillion over a decade), but also steep tax cuts ($4 trillion over a decade), the CBO says Ryan's plan means deficits for another quarter-century or longer. This gives President Obama, who didn't deliver on his own vow to cut the deficit by half in four years, ammo to call Romney and Ryan "budget busters."
An adult conversation on debt
With America's public debt nearing the $16 trillion mark, there has also been talk that the selection of Ryan, the House Budget chairman, will at last force an adult conversation about debt.
There have been many such conversations over the years. Simpson-Bowles, Domenici-Rivlin, the Gang of Six — all three of these groups focused on spending, taxes, and debt. All came up with sober recommendations on what to do — namely cut entitlements while raising revenues — and yet here we are with little to show for it.
All three groups said you can't have serious, long-term deficit reduction without focusing on entitlements. Why? Because they gobble up 41 percent of federal spending and that figure is rising rapidly.
But Ryan served on one of those commissions — Simpson-Bowles — yet voted against its final proposal. The core of Simpson-Bowles (named after former Wyoming Sen. Alan Simpson and President Clinton's chief of staff Erskine Bowles) included a mix of entitlement cuts and revenue hikes — what the White House calls a "balanced approach" — yet Ryan voted no. But this is a wash though, given that the president largely ignored Simpson-Bowles as well.
This fall, it'll be interesting to see how Republicans and Democrats spin their futile efforts to reduce debt, while blaming the other side for contributing to the problem. Obama, Republicans charge, is an out-of-control, big spending liberal. Romney and Ryan, Democrats counter, will line the pockets of their rich friends at the expense of the middle class. Just a dozen weeks 'til election day.
Continue reading for free
We hope you're enjoying The Week's refreshingly open-minded journalism.
Subscribed to The Week? Register your account with the same email as your subscription.
Sign up to our 10 Things You Need to Know Today newsletter
A free daily digest of the biggest news stories of the day - and the best features from our website
An award-winning member of the White House press corps, Paul Brandus founded WestWingReports.com (@WestWingReport) and provides reports for media outlets around the United States and overseas. His career spans network television, Wall Street, and several years as a foreign correspondent based in Moscow, where he covered the collapse of the Soviet Union for NBC Radio and the award-winning business and economics program Marketplace. He has traveled to 53 countries on five continents and has reported from, among other places, Iraq, Chechnya, China, and Guantanamo Bay, Cuba.