Romney's negative image: 5 ways he can fix it
His opponents have successfully characterized him as a greedy capitalist and a foreign-policy bumbler, and Romney is under pressure to cast himself in a positive light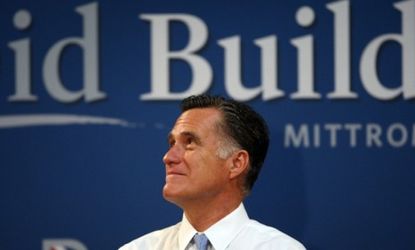 (Image credit: David McNew/Getty Images)
Sign up to our 10 Things You Need to Know Today newsletter
A free daily digest of the biggest news stories of the day - and the best features from our website
Thank you for signing up to TheWeek. You will receive a verification email shortly.
There was a problem. Please refresh the page and try again.
"The best that can be said about how Mitt Romney fared in July is that he survived," says Dan Balz at The Washington Post. After being assailed by Democrats for his refusal to release more than two years of tax returns, and then widely criticized for an international tour in which his foreign hosts called him a "twit" and a "racist," Team Romney hopes that August will help him rehabilitate his image. It hasn't started off well: Just today, President Obama seems to have successfully nicknamed his rival "Romney Hood" or "Robin Hood in reverse," a reference to the GOPer's tax plan, which Obama says takes from the middle class to give to the rich. However, two key events on the horizon — Romney's impending selection of a VP candidate, and the GOP's nominating convention in late August — are seen as his best chances to capture the attention of voters and reintroduce himself. Here, 5 ways Romney can counteract his negative image:
1. Appeal to all Americans
Voters' negative impressions of Romney are "surprisingly high for a presumptive nominee," says Balz. The latest polls show that he is "among the worst-rated presidential nominees in the past seven elections," in the same range as 1996 GOP nominee Bob Dole and President George H.W. Bush in 1992, both of whom went on to lose their elections. Romney polls above 50 percent positive "with only two groups: Republicans and white evangelical Protestants." Romney must appeal to other groups with an eye-catching VP pick (Sen. Marco Rubio of Florida, for example, as opposed to a safe-but-dull choice such as Sen. Rob Portman of Ohio), and "an exceptional acceptance speech" at the convention.
Subscribe to The Week
Escape your echo chamber. Get the facts behind the news, plus analysis from multiple perspectives.
SUBSCRIBE & SAVE
Sign up for The Week's Free Newsletters
From our morning news briefing to a weekly Good News Newsletter, get the best of The Week delivered directly to your inbox.
From our morning news briefing to a weekly Good News Newsletter, get the best of The Week delivered directly to your inbox.
2. Have a "Sister Souljah" moment
"After embracing stridently partisan positions during the primaries, campaigns traditionally etch-a-sketch to the center after securing the nomination," says Nate Cohn at The New Republic. Most candidates do this by adopting "an image that distinguishes them from the most partisan wing of their party": George W. Bush ran as a "compassionate conservative," Bill Clinton was a "New Democrat," President Obama appealed for "post-partisan" change, and Sen. John McCain was famously a "maverick." Yet Romney has failed to come up with a similarly bipartisan message, "running as a generic conservative Republican candidate with a splash of Bain Capital," the private equity firm he founded. He needs to find his version of Clinton's Sister Souljah moment, in which Clinton won over moderates by criticizing extreme racial rhetoric on the left.
3. Escape his caricature as a heartless CEO
"The nation has met Barack Obama's Mitt Romney," says Rick Klein at ABC News. "If it's going to meet Romney's version of himself," he must put a positive spin on his time at Bain Capital. Democratic attacks on his tax returns and the private equity firm are sticking because Romney hasn't offered a firm definition of his career, instead choosing to make the election a referendum on Obama's economic stewardship. The convention gives Romney a chance to become someone more than just a super-wealthy guy, and "put the best shine on his record and his vision."
4. Talk about his faith
"Romney's pressing need to inject some authenticity — or at least some personality — into his campaign is the primary reason he should talk more about his faith," says Michael Gerson at The Washington Post. Mormonism is a central facet of Romney's character, and without it "you are left with Harvard, Bain, and various corporate boardrooms." Romney doesn't need to "quote from the Book of Jarom in his convention speech" — but he should "tell his whole story," and "tether his character and values to an immovable stake."
5. Release his tax returns
Romney's refusal to release more than two years of tax returns "is the root of Romney's dilemma," says Michael Cohen at The Guardian. By acting as if he has something to hide, it gives "real resonance" to speculation that he has huge offshore accounts in the Cayman Islands and has used accounting gimmicks to avoid paying taxes. His experience at Bain Capital, once a shining example of his "business acumen," becomes a "lesson in crony capitalism and how to feather one's own nest at the expense of workers." The tax issue is a "means of projecting onto Romney what the Obama campaign sees as his personal liabilities," and voters will continue to have a negative image of Romney unless he releases his returns.
Read more political coverage at The Week's 2012 Election Center.
Sources: ABC News, Associated Press, The Guardian, The New Republic, The New Yorker, The Washington Post (2)
Continue reading for free
We hope you're enjoying The Week's refreshingly open-minded journalism.
Subscribed to The Week? Register your account with the same email as your subscription.
Sign up to our 10 Things You Need to Know Today newsletter
A free daily digest of the biggest news stories of the day - and the best features from our website