Repealing ObamaCare: GOP fantasy or near-certainty?
Mitt Romney vows to repeal ObamaCare as president, and House Republicans are already trying to vote it away, but do they have the tools, or stomach, to do so?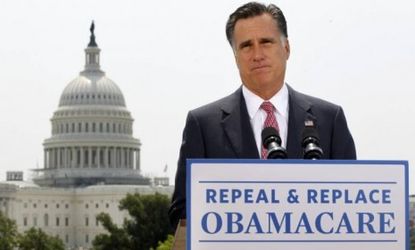 (Image credit: AP Photo/Charles Dharapak)
Reacting to the Supreme Court's big decision to uphold almost all of the Patient Protection and Affordable Care Act (ACA) — ObamaCare — Republican presidential hopeful Mitt Romney stated the obvious: "If we want to get rid of ObamaCare, we're going to have to replace President Obama." The GOP-controlled House will almost certainly vote (again) to "repeal" ObamaCare in July, and even if the Democratic-controlled Senate follows suit (it won't), Obama has the veto pen. But if Romney wins in November and Republicans take control of the Senate (and keep the House), could they really dismantle Obama's biggest domestic achievement — and if so, would they? Here's a look at the possibilities and realities:
Can Republicans repeal ObamaCare?
Yes, if everything goes their way. The slam-dunk scenario is a Romney White House, a GOP-led House, and a Senate where Republicans have a filibuster-proof 60-seat majority. Since no one really expects the GOP to end up with 60 Senate seats, things get tricky for the "repeal" side. Generally speaking, Republicans would have to find a way around the filibuster, do as much damage to the law as possible through executive fiat, or convince Democrats to jettison "the party's greatest achievement since the Johnson Administration," says Ryan Lizza at The New Yorker. That last option is pure "fantasy," but the other two have their cheerleaders.
Subscribe to The Week
Escape your echo chamber. Get the facts behind the news, plus analysis from multiple perspectives.
SUBSCRIBE & SAVE
Sign up for The Week's Free Newsletters
From our morning news briefing to a weekly Good News Newsletter, get the best of The Week delivered directly to your inbox.
From our morning news briefing to a weekly Good News Newsletter, get the best of The Week delivered directly to your inbox.
Could a President Romney kill the law without Congress?
No, but he would have "ample opportunity to dismantle the main elements of the law," says Matthew Yglesias at Slate. Democrats kept the biggest parts of ObamaCare from kicking in until 2014 — a choice they now "may come to rue," since it would give Romney a year to keep key provisions from ever taking effect. His most obvious option is "granting ObamaCare waivers to all 50 states," as he has pledged to do, says Emily Miller at The Washington Times. That would undermine the law in some red states, says David Frum at The Daily Beast, but "not all states will ask for such waivers," and "many will eagerly institute the ACA." More problematically, Romney doesn't really "have the authority to grant such broad waivers," says Igor Volsky at Think Progress. Without action from Congress, the White House can hand out waivers only "if the states meet very specific requirements."
Could Republicans use budget reconciliation as a tactic?
Senate Democrats passed ObamaCare law with 59 votes, using budget reconciliation — a process that shields certain budgetary and tax measures from a filibuster. The idea of undoing the law through reconciliation is getting a lot of buzz on the Right, says Lizza. But while some parts of ObamaCare might fit the requirements for reconciliation, "a lot of it, including the hated individual mandate, does not." That may have been true before, says Timothy Carney at The Washington Examiner, but now that Chief Justice John Roberts has ruled that the individual mandate is a tax, it would only take 51 votes to "simply lower the tax for not having health insurance down to $0.00," effectively killing the mandate. Well no, "since repealing the bill would increase the budget deficit, it should be ineligible for the budget reconciliation process," says Yglesias.
What other options does the GOP have?
Perhaps "Romney's greatest chance at repeal" would be trying to get Democrats to drop all or part of the law as part of a "Grand Bargain" to avoid taxmageddon, or the "fiscal cliff," right as he's taking office, says Lizza. That might work — Roberts has forced ObamaCare squarely into the political, not legal, arena, and that puts "the repeal fight... on GOP turf, not Democrat turf," says Erick Erickson at RedState. Remember, ObamaCare "remains deeply, deeply unpopular with the American people." No, Republicans' best shot is to simply refuse the law's big expansion of Medicaid at the state level, says Alec MacGillis at The New Republic. The Medicaid boost "will account for more than half of the law's newly covered people," but thanks to Roberts, the states can opt out of this great deal without paying any penalty.
So what are the odds Republicans repeal ObamaCare?
It depends who you ask. Scrapping the law "should be a pretty easy lift for Republicans — if they win the election," says Yglesias. Nonsense, says Lizza. The parliamentary hurdles are "probably impossible" to overcome. "Far-sighted conservatives always thought that their great hope for toppling Obama's most important legislative achievement was through the courts. They were correct." Even if Republicans win in November, "they will have to fight inch by bloody inch for changes they could have had for the asking in 2010," if they'd only negotiated with the Democrats. "I'd like to think Romney won't repeal ObamaCare," says Mickey Kaus at The Daily Caller, and even if he does get a GOP Congress, "I suspect he probably wouldn't (he's Romney, remember)." Still, it "seems crazy to predict that with any degree of confidence."
Sources: Daily Beast, Daily Caller, New Republic, New Yorker, Political Wire, RedState, Slate, Think Progess, Washington Examiner, Washington Times, Yahoo News
Read more political coverage at The Week's 2012 Election Center.

Continue reading for free
We hope you're enjoying The Week's refreshingly open-minded journalism.
Subscribed to The Week? Register your account with the same email as your subscription.