Obama's sagging global popularity: 4 theories
When he first took office, President Obama was a rock star overseas. Now those days are gone. Here, a dissection of his fall from grace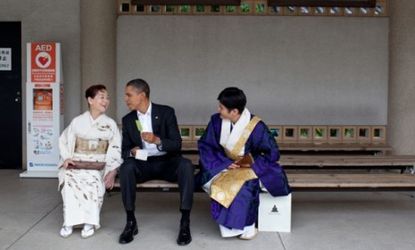 (Image credit: CC BY: The White House)
Back in July 2008, then-candidate Barack Obama "confirmed his rock-star status" by delivering a globally-hyped speech to more than 200,000 adoring, even weeping Europeans in Berlin. Fast-forward four years, and President Obama's once sky-high popularity abroad has dropped — sharply in some countries, according to a new Pew Research Center poll. Confidence in Obama declined by 6 percent in Europe from 2009 to 2012, and 9 percent in Muslim nations. It fell by 13 percent in Mexico, and 24 percent in China. Approval of Obama's international policies dipped even more. What is it about Obama that's turning off the world? Here, four theories:
1. Obama is alienating foreigners with his drone strikes
Surprise, surprise: People get miffed when you send "flying robots of death" to fire missiles at them, says Will Bunch at the Philadelphia Daily News. Drone strikes against suspected Islamist terrorist leaders in Pakistan, Yemen, and Somalia are widely unpopular in Muslim countries. Not only that, but a survey of 20 countries shows that majorities in 17 disapprove of the way Obama has ramped up the attacks since the Bush years. "One of the rationales for electing Barack Obama in 2008 was that he would restore America's tarnished image in the rest of the world." Live and learn.
Subscribe to The Week
Escape your echo chamber. Get the facts behind the news, plus analysis from multiple perspectives.
SUBSCRIBE & SAVE
Sign up for The Week's Free Newsletters
From our morning news briefing to a weekly Good News Newsletter, get the best of The Week delivered directly to your inbox.
From our morning news briefing to a weekly Good News Newsletter, get the best of The Week delivered directly to your inbox.
2. He's not the multilateral anti-cowboy the world expected
Obama's fans overseas were so "glad to be rid of his uncivilized cowboy of a predecessor," says Erika Johnsen at Hot Air, that they threw a Nobel peace prize at Obama before he'd even done anything. "Obama was supposed to stop America from supposedly taking the reins and acting like, heaven forbid, a superpower." But his drone strikes, his infamous "kill list" and "other perceived unilateral actions" have soured the love Europeans and others "once harbored for the broken-promises president." Well, "in retrospect, hopes for an Obama presidency were unrealistically high," says Bruce Stokes at Germany's Spiegel Online. America's "wunderkind" really had nowhere to go but down.
3. Obama hasn't delivered on climate change
Many people around the world are voicing disappointment with Obama's handling of climate change, says Stokes. When Obama was elected, three-quarters of Germans expected him to "get the U.S. to take significant measures to control global climate change." Only a quarter of them think he has delivered. And the French, who had even higher expectations, are even more disillusioned.
4. The lousy economy is staining Obama's image
Obama's international slide coincided with a dimming view of America's economic might, says Howard LaFranchi in The Christian Science Monitor. "Today, often by significant majorities, respondents in survey countries say the U.S. has lost its status as the world's leading economic power to China." If people overseas believed that Obama had put the global economy back on track, his "rock star" status might still be intact. But don't forget: Obama is still more popular overseas than at home, and he scores way higher than George W. Bush did. And despite unmet expectations, large majorities overseas still want to see Obama re-elected.

Continue reading for free
We hope you're enjoying The Week's refreshingly open-minded journalism.
Subscribed to The Week? Register your account with the same email as your subscription.