Do Republicans want to destroy public-sector jobs?
Mitt Romney is piling on Obama for saying the "private sector is doing fine" — while the Republican simultaneously trashes firefighters and police officers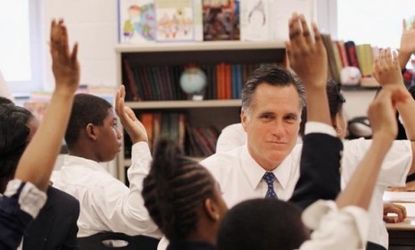 (Image credit: Mario Tama/Getty Images)
President Obama famously claimed last Friday that the private sector of the economy is "doing fine," an instantly regrettable statement that Republicans are touting as proof that Obama is "out of touch" with reality. Mitt Romney, the presumptive GOP nominee, took his criticism of Obama a step further, slamming the president for wanting to expand public-sector jobs, which have dwindled at a steady clip in recent years. "He says we need more firemen, more policemen, more teachers," Romney said. "It's time for us to cut back on government and help the American people." At the same time, another prominent Republican, Indiana Gov. Mitch Daniels, called for the elimination of public-sector unions, a position that has been bolstered in the aftermath of Wisconsin Gov. Scott Walker's successful battle against his state's unions. Are Republicans out to get public-sector workers?
Yes. Attacking unions is part of GOP ideology: Republicans are very clear about this — they want to "shrink the public sector," says David Weigel at Slate. Republican philosophy dictates that if you remove government regulations and privatize services, "you can have higher overall employment with fewer people on the public teat." Of course, Republicans are glazing over the fact that the unemployment rate includes "public-sector as well as private-sector jobs," and that their position defies "pretty rudimentary macroeconomics." But the GOP war on government workers is hardly novel.
"The private sector is doing fine. The political press? Eh…"
Subscribe to The Week
Escape your echo chamber. Get the facts behind the news, plus analysis from multiple perspectives.
SUBSCRIBE & SAVE
Sign up for The Week's Free Newsletters
From our morning news briefing to a weekly Good News Newsletter, get the best of The Week delivered directly to your inbox.
From our morning news briefing to a weekly Good News Newsletter, get the best of The Week delivered directly to your inbox.
But they're usually better at hiding it: When Republicans attack the public sector, "they often take care to exempt cops and firefighters, because they are culturally sympathetic figures," says Greg Sargent at The Washington Post. But with these comments, Romney has shown his true colors, grouping cops in with the government workers who are supposedly "parasites who are destroying the economic conditions of ordinary Americans."
"Mitt Romney: We don't need more cops, firefighters, or teachers"
And voters should be deeply concerned: Romney's dismissal of firemen and policemen is "far more meaningful — and alarming — than Obama's" gaffe about the private sector, says Jonathan Cohn at The New Republic. There is no legitimate economic study showing that "the recent decline in government workers has been good for growth or jobs." In fact, "stabilizing the public-sector workforce or, better still, increasing it, would be among the very easiest things for the federal government to do" to improve the miserable job market.
"The politics of stupid, in real time"
Hold on. Public-sector reform is necessary: It's easy to paint the GOP's position as cold-blooded, but public-sector reform is vital to the country's economic health, says The Wall Street Journal in an editorial. "The cost of worker benefits is growing faster than revenues," meaning local and state governments have "to lay off workers to pay for their rising pension and health bills." If Obama wants to help public-sector workers, he should combine his calls for more government employment with pension reform. Otherwise, he's "asking Congress to tax Americans from every state more, and borrow more from China, to send money" to wasteful entitlements.
Read more political coverage at The Week's 2012 Election Center.

Continue reading for free
We hope you're enjoying The Week's refreshingly open-minded journalism.
Subscribed to The Week? Register your account with the same email as your subscription.