Mitt Romney releases his tax returns: 7 talking points
The GOP presidential hopeful finally caves to political pressure and discloses his taxes — revealing more than $42 million in income in the last two years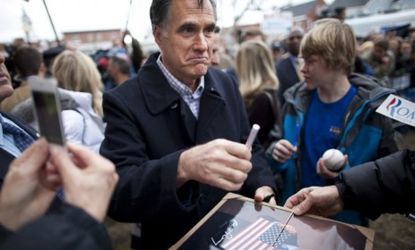 (Image credit: Brooks Kraft/Corbis)
Succumbing to political pressure from his rivals, GOP presidential contender Mitt Romney went public Tuesday with his 2010 federal tax return and an estimate of his 2011 taxes. The documents reveal that Romney, who accrued most of his nine-figure fortune after co-founding the private equity firm Bain Capital, earned more than $42 million over the past two years, and paid $6.2 million in taxes. In 2010, he payed a federal tax rate of less than 14 percent. (Romney's tax rate is so low because most of his income is derived from investments, which are taxed at a much lower rate than normal salaries.) Here, seven takeaways from the 550 pages of documents:
1. Romney pays a lower tax rate than most Americans
Not only is Romney's effective tax rate, 13.9 percent, lower than what most middle-class Americans pay, but "it's also well below what wealthy people pay," says Alex Seitz-Wald at ThinkProgress. The average tax rate for those in Romney's income bracket is 25 percent. Romney's rate is also far lower than Newt Gingrich's, says Kim Dixon at Reuters. Newt recently estimated his tax rate at 31 percent.
Subscribe to The Week
Escape your echo chamber. Get the facts behind the news, plus analysis from multiple perspectives.
SUBSCRIBE & SAVE
Sign up for The Week's Free Newsletters
From our morning news briefing to a weekly Good News Newsletter, get the best of The Week delivered directly to your inbox.
From our morning news briefing to a weekly Good News Newsletter, get the best of The Week delivered directly to your inbox.
2. He pays no payroll taxes
Of the $42 million that Romney earned over the past two years, "none came from wages, the primary source of income for most Americans," says The Washington Post. Instead, Romney's income came from capital investments, interest payments, and stock dividends. That means, says Seitz-Wald, that Romney likely paid no payroll taxes, nor did he "contribute a penny to Social Security or Medicare in 2010," as the payroll tax is only assessed on earned wages.
3. Romney is in the 1 percent… after one week of earnings
"By any fair estimate," Romney's income is not too shabby "for a guy who jokes about being 'unemployed,'" says Steve Benen at Washington Monthy. But perhaps the most eye-opening takeaway is that Romney qualifies to be in the top 1 percent of taxpayers "based solely on the income he makes in one week." "Romney is not just rich, says Kelly Phillips Erb at Forbes. "He's über rich."
4. He's a big giver
In the last two years, Romney donated more than $4 million to the Mormon church. That's $2.6 million in 2011, and $1.5 million in 2010. Including his church contributions, Romney donated more than $7 million to charity in the last two years. That's more than the $6.2 million he paid in federal taxes.
5. Romney had money in Switzerland and the Cayman Islands
The GOP hopeful has invested in funds based in the Cayman Islands, and held accounts in Switzerland and Luxembourg, countries "notorious for tax dodging," says Seitz-Wald. (Romney closed his Swiss account in 2010.) Hold on, says Jennifer Rubin a The Washington Post. These accounts are not as shady as they might seem. "The Cayman 'accounts' aren't accounts at all. They are funds that were fully taxed under U.S. law." Fair enough, says Benen. But in an election that will surely focus on "tax fairness and income inequality," these investments simply won't look good to voters.
6. Romney would benefit from his tax plan — and from Newt's
Both plans would slash Romney's taxes even more, says Seitz-Wald. Under Mitt's plan, his effective tax rate would be cut in half. And Romney would pay "almost nothing" under Newt's proposal, "since Gingrich has proposed cutting the capital gains tax rate to zero and Romney earns almost all his money from investments."
7. This is a coup for Obama
"President Obama won't be mentioning Mitt Romney by name on Tuesday night," says Amie Parnes at The Hill. "But the subtext of his State of the Union address will be all about him." Expect Obama to call Romney out by championing the middle class and criticizing the "wealthy few" and the "investor class" — two terms that will serve as euphemisms for "Mitt Romney." "I'm not sure the Obama campaign could have scripted this more perfectly," agrees Greg Sargent at The Washington Post. Romney "is the walking embodiment of everything Dems allege is wrong with our system and the ways it's rigged in favor of the wealthy and against the middle class." These tax returns make it all too easy to create an example out of him.

Continue reading for free
We hope you're enjoying The Week's refreshingly open-minded journalism.
Subscribed to The Week? Register your account with the same email as your subscription.