Orlando's 'confrontational' GOP debate: Winners and losers
Google and Fox News host a pitched battle in Florida between Rick Perry and Mitt Romney. And one candidate runs circles around the other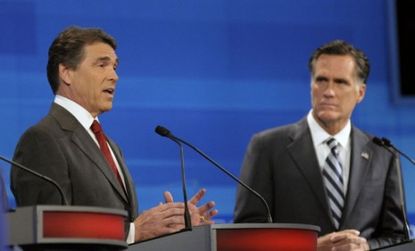 (Image credit: REUTERS/POOL New)
Thursday night's "confrontational" Republican presidential debate in Orlando, Fla., was once again dominated by the battle between dueling frontrunners Mitt Romney and Texas Gov. Rick Perry. And once again, the pundits declared Romney the victor. ("Texas toast?" read one headline at Politico.) But the debate, sponsored by Fox News and Google, also featured seven other Republican presidential hopefuls, including long-shot libertarian candidate Gary Johnson. Here's a look at the big winners and losers in the latest GOP smackdown:
WINNERS
Mitt Romney
Subscribe to The Week
Escape your echo chamber. Get the facts behind the news, plus analysis from multiple perspectives.
SUBSCRIBE & SAVE
Sign up for The Week's Free Newsletters
From our morning news briefing to a weekly Good News Newsletter, get the best of The Week delivered directly to your inbox.
From our morning news briefing to a weekly Good News Newsletter, get the best of The Week delivered directly to your inbox.
At the risk of sounding like a broken record, says Chris Cillizza at The Washington Post, Romney again ended up in the middle of the winner's circle. The former Massachusetts governor "was steady, presidential, and, gasp, funny." He was also "entirely unflappable" in his confrontations with Perry. "Romney is, without question, the best debater in this GOP field and this may well have been his best showing to date." Yes, "Romney did so much better than Perry," says Erick Erickson at RedState. But the flip-flopping, left-leaning Romney is still such a soft target — why is he "getting a free pass" from his rivals?
Rick Santorum
"Of the fighters on the undercard, Santorum was last night's winner," says Maggie Haberman at Politico. He isn't polling all that well, but he's effectively seizing every chance he gets to make a splash, and Thursday night "he dominated during the parts of the debate when Romney didn't." Santorum "aggressively challenged Perry over the border fence issue" in Texas. And perhaps most importantly for Santorum's dark horse bid to be the socially conservative alternative to Perry, Santorum "outshone [Rep. Michele] Bachmann."
Gary Johnson
For the quirky former New Mexico governor, even being invited to his second GOP debate was a win of sorts, says Politico's Haberman. And it turns out "Johnson was ready for his close-up." Playing a "libertarian Tonto to Lone Ranger Ron Paul," Johnson clearly "got off the best line of the night," says Jon Holley in the Houston Chronicle: "My next-door neighbor's two dogs have created more shovel-ready jobs than this administration." Yes, that "heck of a zinger" will be "the most replayed line of the night — without question," says The Washington Post's Cillizza. But "Johnson still has no chance to be the Republican nominee."
The Right's anti-government crusade
There was "a whole lot of abolishing going on" at the debate, says Andrew Sullivan at The Daily Beast. On the list of things the candidates pledged to get rid of: All public sector unions (Santorum), unemployment benefits (Newt Gingrich), the EPA (multiple candidates), gays in the military (again — Santorum), all foreign aid (except to Israel — Perry), the income tax (Herman Cain), and all federal taxes (Bachmann). Ron Paul even make a "a rousing defense of a de facto abolition of the federal government."
LOSERS
Rick Perry
"With each successive debate," says John Dickerson at Slate, Perry's "performance gets worse." He flubbed some important questions and mangled a pre-scripted attack on Romney's flip-flopping. Indeed, as the night wore on, Perry began looking "tired and was barely able to finish a two-hour debate," says Taegan Goddard in Political Wire. More damaging, he didn't look at Romney when attacking him — "big mistake." It's obvious that Romney has done this before and Perry is a rookie, say Jonathan Martin and James Hohmann at Politico. In fact, "the first line of Rick Perry's campaign obituary may have been drafted Thursday night: He got in too late."
Michele Bachmann
The one-time top-tier candidate and "darling of the Tea Party was virtually non-existent in Thursday's debate," says CBS News. And when she did have a chance to shine, Bachmann gave a "nonsensical answer" suggesting that Americans shouldn't be forced to pay any taxes, and told a "whopper" about never saying the HPV vaccine causes retardation, even after a moderator read her statement verbatim. "I can't wait for the post-election reporting," says Paul Begala at The Daily Beast, to learn how Bachmann has gone from such "an electrifying presence on the stump" to a "remarkably low-wattage" also-ran.
The Orlando audience
"The audience in the Fox News/Google debate stole the show" — and not in a good way, says The Daily Beast's Begala. When a gay soldier serving in Iraq asked a question via YouTube, "the audience booed." And not one of the "gutless" candidates spoke up for a "man who is risking his life for their freedom." It was "downright disgusting." In fact, Santorum said that letting gays serve in the military is a "special privilege," and one he'd revoke, says Igor Volsky at ThinkProgress. Santorum owes the soldier, and all gay soldiers, "an immediate apology," says gay Republican group GOProud.
Google
We applaud Google for adding a "nice interactive touch to the proceedings" through its YouTube-generated questions, say CBS News, but too many of the "submissions shown were softballs." And the noise Google and Fox chose to let the candidates know their time was up — "the notification you get when you have a waiting instant message in Gchat" — was a terrible choice, says The Washington Post's Cillizza.

Continue reading for free
We hope you're enjoying The Week's refreshingly open-minded journalism.
Subscribed to The Week? Register your account with the same email as your subscription.