Government shutdown averted: Winners and losers
After weeks of tense negotiations, Democrats and Republicans agree to $38 billion in spending cuts, and avoid a government shutdown. Who got the better end of this deal?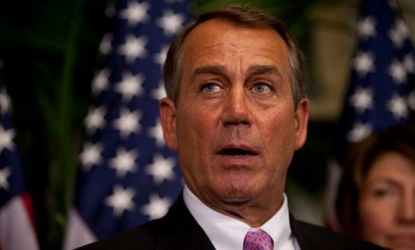 (Image credit: Getty)
Sign up to our 10 Things You Need to Know Today newsletter
A free daily digest of the biggest news stories of the day - and the best features from our website
Thank you for signing up to TheWeek. You will receive a verification email shortly.
There was a problem. Please refresh the page and try again.
An 11th-hour deal between the White House, House Speaker John Boehner (R-Ohio), and Senate Majority Leader Harry Reid (D-Nev.) narrowly averted the first government shutdown in 15 years. The details of the final deal will be hashed out in the next few days, but the outline is clear: $38.5 billion in spending cuts and a handful of policy amendments, but not the Republican proposal to strip funding for Planned Parenthood, health care reform, NPR, PBS, and environmental regulations. President Obama said each side made painful concessions. But who really comes out looking best (and worst) in the deal? (Watch The Week's Sunday Talk Show Briefing about the deal.)
WINNERS
John Boehner
Subscribe to The Week
Escape your echo chamber. Get the facts behind the news, plus analysis from multiple perspectives.
SUBSCRIBE & SAVE
Sign up for The Week's Free Newsletters
From our morning news briefing to a weekly Good News Newsletter, get the best of The Week delivered directly to your inbox.
From our morning news briefing to a weekly Good News Newsletter, get the best of The Week delivered directly to your inbox.
In terms of who won the showdown, "it wasn't even close," says Carl Cameron at Fox News. Boehner started out asking for $32 billions in cuts, versus the Democrats' zero, and he ended up with $38.5 billion. That's a rout. "Perhaps more important, Boehner proved he can keep his caucus mostly in line when it counts," passing his first big test as House speaker, says Meredith Shiner at Politico. Boehner was also a "clear winner" because "had there been a shutdown, his party would have suffered," says Mark Mardell at BBC News.
Barack Obama
"President Obama, by stepping in late to avoid a government shutdown, dodged a potentially devastating blow to his standing," says Paul West in the Los Angeles Times, especially among "independent voters who don't favor the deeply conservative Republican social agenda." Independents also "want to see compromise and government trimmed with balance," says John Dickerson at Slate, and Obama's role as "the reasonable man in the middle" was "probably appealing" on that front, too. Let's just say he "made the best of a bad job," says the BBC's Mardell.
Tea Party
"There is no doubt that the real winner of this near debacle was the Tea Party," says Alex Spillius in The Telegraph. The grassroots movement has shifted the Washington conversation to spending cuts, not spending. It's also "hard to argue with the tactical success of of the Tea Party position," says Slate's Dickerson: "Ask for the moon, act like you're willing to do anything to get it — including harm yourself and all around you." The results speak for themselves. And Tea Partiers have certainly "stiffened the steel in their leadership's spine," says the BBC's Mardell, but they can still spoil their victory by griping that they've been "betrayed" by Boehner.
Planned Parenthood
A GOP attempt to defund Planned Parenthood "almost sabotaged the whole deal," says Politico's Shiner, before being scrapped in the final deal. Planned Parenthood also won on the PR front, says David Weigel at Slate. The GOP may think the organization is "synonymous with 'abortion,'" but the facts aren't in their favor, and "Democrats — and reporters — started saying things that never usually make it into the press." For instance, Planned Parenthood can't use federal dollars on abortions — a tiny 3 percent of what it does, says Ezra Klein in The Washington Post.
LOSERS
Liberals
The Left was generally pleased that there was a deal to keep the government open, but don't see "much cause for celebration in the substance of that deal," says Abby Phillip at Politico. They say the economy is still too fragile for the cuts Republicans want, especially when such cuts target the most vulnerable Americans. "Poor and middle-class families have already received more than their fair share of pain in this economy, while the wealthy and special interests have paid no price," says Rep. George Miller (D-Calif.).
Conservatives
"Those Republicans who are in high-five victory-lap end-zone-dance mode" over the deal need to get a grip, says Robert Stacy McCain at The Other McCain. The GOP has to prove its fiscal bona fides, and cutting $38.5 billion won't be nearly enough. "'The GOP sucks, but Democrats are worse' isn't much of a campaign slogan" to rally fiscal conservatives. "It's a lousy deal for social conservatives," too, says Slate's Weigel. The Planned Parenthood fight was their "very first test of strength in the new Washington," and "they have been bargained away, yet again."
Congressional Democrats
"The Democrats as a whole don't come off well," says Mardell at BBC News. They may end up looking like "realists, but they've given a lot of ground," both in political and policy terms. Reid and the Senate Democrats especially didn't seem up to the fight, and ended up positioned as "defenders of a status quo that most Americans say is unsustainable," says Chuck Raasch in USA Today. But even they came out looking better than House Minority Leader Nancy Pelosi (D-Calif.), who has become a "legislative irrelevancy."
Washington, D.C.
Tourists were pleased that Washington's museums and monuments stayed open for business, but local residents got thwacked, says Politico's Shiner. The D.C. government is "often financially beholden to the whims of Congress," and against the district's wishes, Republicans managed to ban it from spending its own funds on abortions or needle exchanges. Yet somehow "the GOP did find the necessary funds to restart the city's controversial school voucher program," says Charles Lemos in MyDD, which is both a "boondoggle for religious schools" and a pet issue for Boehner.
Continue reading for free
We hope you're enjoying The Week's refreshingly open-minded journalism.
Subscribed to The Week? Register your account with the same email as your subscription.
Sign up to our 10 Things You Need to Know Today newsletter
A free daily digest of the biggest news stories of the day - and the best features from our website