Kagan's controversial moments: A timeline
What Kagan said and when she said it. A life of revealing—and occasionally controversial—moments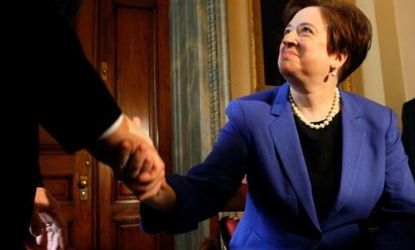 (Image credit: Getty)
Sign up to our 10 Things You Need to Know Today newsletter
A free daily digest of the biggest news stories of the day - and the best features from our website
Thank you for signing up to TheWeek. You will receive a verification email shortly.
There was a problem. Please refresh the page and try again.
Elena Kagan's career has provided scant evidence of her judicial beliefs—the Supreme Court nominee is not a judge, so there are no rulings to suggest how she'll rule on the issues that divide Americans. But journalists and opponents have still managed to dig up moments from her past that appear likely to ignite debate at her confirmation hearings. Here's a list of what could be used against her, or for her, and when it happened:
Kagan's 'liberal principles,' December 1980:
"I absorbed liberal principles early," Kagan writes in The Daily Princetonian newspaper in 1980, a few weeks after Ronald Reagan's election to the presidency. "More to the point, I have retained them fairly intact to this day." Her call for a more "leftist Left," says Daniel Foster in the National Review, is a "revealing glimpse" at her liberal political beliefs.
Subscribe to The Week
Escape your echo chamber. Get the facts behind the news, plus analysis from multiple perspectives.
SUBSCRIBE & SAVE
Sign up for The Week's Free Newsletters
From our morning news briefing to a weekly Good News Newsletter, get the best of The Week delivered directly to your inbox.
From our morning news briefing to a weekly Good News Newsletter, get the best of The Week delivered directly to your inbox.
Her musings on socialism, 1981:
Kagan writes her senior year thesis on the history of the socialist movement in New York City from 1900 to 1933. "Americans are more likely to speak of a golden past than of a golden future, of capitalism's glories than of socialism's greatness," she writes. She calls the demise of socialism "sad but also... chastening." Some critics have picked up on this 28-year-old piece of academia: America's financial troubles indicate "the chickens of socialism are coming home to roost," says Jeffrey Lord in The American Spectator. And yet we're nominating to the Supreme Court an "on the record believer in the philosophy that is behind all of this."
Kagan on gun rights, 1987:
During her clerkship in Justice Thurgood Marshall's office, the young Kagan writes a memo saying she was "not sympathetic" toward a man convicted for carrying an unlicensed pistol in violation of a Washington, D.C., gun law. The man, Lee Sandidge, had argued the conviction violated his constitutional rights. Kagan said the Second Amendment right to bear arms was "strong" but not "unlimited." The White House now says Kagan's view "reflected the prevailing view of the law at the time" — she based her argument on a legal precedent the Supreme Court didn't overturn until 2008. Nevertheless, says Brian Darling at The Heritage Foundation, this "should open up an inquiry about Elena Kagan's views on gun rights."
The 'defective' original Constitution, February 1993:
In a Texas Law Review obituary piece about Thurgood Marshall, the Supreme Court justice for whom Kagan clerked in 1987, Kagan wrote that Marshall had "declared that the Constitution, as originally drafted and conceived, was 'defective.'" RNC Chairman Michael Steele says Kagan's apparent endorsement of Marshall's view raises questions about her legal philosophy. Others say this is to Kagan's credit, because Marshall was referring to the Constitution's language on slavery. "Presumably the RNC agrees this was a defect that needed to be corrected," says Greg Sargent in The Washington Post.
Kagan's article went on to endorse the belief that the Supreme Court should "show special solicitude" toward the "despised and disadvantaged." Sargent, in the Post, says that "seems like Civics 101." But Doug Heye says at GOP.com that the majority of Americans want justices who base their decisions on the Constitution, not some personal agenda or "empathy standard."
The nominee as a Clinton policy advisor, March 1997:
As a deputy domestic policy advisor to the Clinton administration, Kagan's response to proposals relating to the president's race commission was "sarcastic and dismissive," says Josh Gerstein in Politico. In a memo, Kagan and her then-boss, Bruce Reed, categorize a suggestion to create a council on race as too "touchy-feely" and "unserious." It's this kind of memo that senators will have to examine closely, says Sen. Jeff Sessions (R-Ala.), given Kagan's lack of experience as a judge.
Kagan's record on diversity at Harvard, 2003:
Kagan becomes dean of Harvard Law School, and in the six years that follow she recruits 32 faculty members. Just seven are women, and only one a minority. This should "raise eyebrows in the 21st century," says Salon.com, which revealed the story. "Where were the people of color? Where were the women?" The White House has defended Kagan's record, claiming several female and minority candidates turned down jobs at Harvard, but civil-rights groups have voiced concerns that Kagan lacks "a clearly identifiable record on our nation's civil-rights laws."
'Don't ask, don't tell', October, 2003:
Kagan writes an e-mail to students describing her "deep distress" over military recruitment on the law school campus. Like many academics, Kagan believes the "don't ask, don't tell" ban on openly gay soldiers violates Harvard's discrimination policies. In her e-mail, she calls the ban "a profound wrong — a moral injustice of the first order."
Banning military recruiting on campus, November 2004:
Although constitutionally unable to expel military recruiters from her campus, Kagan bans the military from using the law school's office of career services to recruit students. She signs a letter opposing "don't ask, don't tell."
Permitting military recruiting on campus, September 2005:
Under threat of federal sanctions, Kagan reluctantly allows military recruiters back into Harvard Law School. "I have said before how much I regret making this exception to our anti-discrimination policy," she writes. "I believe the military's discriminatory employment policy is deeply wrong—both unwise and unjust." Sen. James Inhofe (R-Okla.) has said Kagan's opposition to military recruitment "demonstrated poor judgment," and he will not vote for her nomination.
Continue reading for free
We hope you're enjoying The Week's refreshingly open-minded journalism.
Subscribed to The Week? Register your account with the same email as your subscription.
Sign up to our 10 Things You Need to Know Today newsletter
A free daily digest of the biggest news stories of the day - and the best features from our website