The drive for faster trains
President Obama has pledged $13 billion to 'jump-start' a high-speed rail system. Is it too little, too late?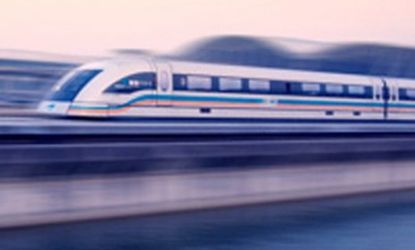 (Image credit: Corbis)
Sign up to our 10 Things You Need to Know Today newsletter
A free daily digest of the biggest news stories of the day - and the best features from our website
Thank you for signing up to TheWeek. You will receive a verification email shortly.
There was a problem. Please refresh the page and try again.
What's the state of train travel?
In the U.S., it's grim. In the golden age of railways, prior to World War II, passengers traveled in luxury, enjoying fine dining, valet service, and even manicures on what was then the fastest mode of transportation available. But after trains lost favor to air travel and the Interstate Highway System, passenger train travel in the U.S. regressed dramatically. In recent years, schedules have been slashed, and many train cars and tracks have fallen into a state of disrepair. In fact, some train routes today take several hours longer than they did during the Great Depression. As quality has deteriorated, so has quantity. In 1930, the U.S. had 260,000 miles of rail. By 2000, that total had been reduced to 100,000 miles—the same as in 1881. High-speed rail travel in the U.S. will be impossible without expensive new trains, tracks, signals, crossings, and gates. "We wouldn't have an interstate [highway] system if there weren't an involvement from the government, and it still took us three decades to do it," says Secretary of Transportation Ray LaHood. "That's how you should look at high-speed rail."
What is Obama's goal?
Subscribe to The Week
Escape your echo chamber. Get the facts behind the news, plus analysis from multiple perspectives.
SUBSCRIBE & SAVE
Sign up for The Week's Free Newsletters
From our morning news briefing to a weekly Good News Newsletter, get the best of The Week delivered directly to your inbox.
From our morning news briefing to a weekly Good News Newsletter, get the best of The Week delivered directly to your inbox.
To make the U.S. more like France. On a trip to France this spring, Obama said he was "jealous" of French trains, which move passengers at speeds in excess of 200 miles per hour. Indeed, high-speed rail travel in Europe is now so fast, convenient, and comfortable that it has largely supplanted air travel between Madrid and Barcelona and between Paris and Lyon. "In any coherent world, using airplanes to fly 300 miles makes absolutely no sense at all," says former Massachusetts Gov. Michael Dukakis, a onetime board member of Amtrak. A European-style high-speed rail system in the U.S. would mean travelers could make the 350-mile trip from Los Angeles to San Francisco in just two hours and 40 minutes. Such a system, advocates say, would be an economic boon, spurring travel and commerce among several cities positioned along a string of prospective rail "corridors."
Where would those corridors be?
The Transportation Department has identified 10 regions it deems ripe for a rail renaissance. These include Florida (Orlando-Tampa-Miami) and the "Chicago Hub Network," which consists of Chicago, Milwaukee, St. Louis, and nine other Midwest cities. Notably absent is the nation's most heavily trafficked train route, the Northeast Corridor from Boston to Washington, where existing infrastructure, steep grades, and winding track cannot accommodate high speeds. But none of the states along the proposed corridors appears ready to supply the enormous funds necessary to build high-speed lines, and the federal government's slated contributions fall woefully short.
How much would this cost?
As much as $100 billion, perhaps more. As a sort of down payment, President Obama earmarked $8 billion for high-speed rail in this year's stimulus package and committed the feds to another $1 billion a year over the next five years. The House has added another $4 billion. But that's merely a fraction of the cost of just one line; the proposed high-speed line linking Los Angeles and San Francisco, for instance, is expected to cost $34 billion. Advocates point out that the
U.S. has invested $1.8 trillion in highways and aviation over the past 60 years, so it's not as if the alternatives are cheap. Skeptics such as Sam Staley of the libertarian Reason Foundation warn that high-speed rail could be "a black hole for government finance." But if high-speed trains ever get beyond the drawing board, they'll probably do so first in California.
Why California?
Because California transit experts have been working for years on a high-speed rail plan, and last November voters approved a $10 billion bond referendum to begin funding it. By any measure, the proposed link between Los Angeles, San Francisco, and Sacramento would be a daunting undertaking. Since no rail line exists along those routes, it would require all new construction. Then again, new construction is basically the only way to accommodate high-speed rail, which requires straight track, subtle grades, and new infrastructure and safety features. But advocates say that with rapid population growth expected throughout California metropolitan areas, high-speed rail may be the only way to ease pressure on the state's congested freeways and airports, and to begin to meet the nation's aggressive goals for cutting greenhouse gas emissions.
Is this an environmental issue?
Absolutely. Transportation currently accounts for 70 percent of the oil we consume, and contributes 28 percent of the nation's greenhouse gas emissions. "We're going to have a tough time meeting any reasonable standards of pollution control if we continue to rely upon automobiles and short-hop airlines for our transportation needs," says Rod Diridon of the California High-Speed Rail Authority. Intercity passenger rail service consumes a third less energy per passenger mile than automotive travel. Indeed, the White House estimates that if all 10 proposed high-speed corridors come to fruition, together they would reduce annual CO2 production by 3 million tons. Obama insists that achieving such results is a realistic goal. "It is happening right now. It's been happening for decades," he said. "The problem is, it's been happening elsewhere—not here."
Japan's bullets
Japan introduced its first "bullet" train in 1964, linking Tokyo and Osaka, Japan's largest cities. Since then, high-speed rail has spread throughout the country, connecting Japan's major cities at speeds of up to 186 miles per hour and selling nearly 7 billion tickets. One leg of the system, the Tokaido Shinkansen, is the world's busiest high-speed rail line, transporting 151 million passengers annually. It's been estimated that high-speed rail has saved Japanese travelers 400 million hours, while it has reduced the nation's CO2 pollution by millions of tons. Japan remains strongly committed to train travel, and is testing magnetic levitation ("maglev") trains that can go even faster than conventional high-speed rail. But Japan's dominance in high-speed rail is now challenged not only by Europe but also China. Shanghai already boasts the world's only commercial maglev train, which connects the city to its Pudong International Airport. Now China's Ministry of Railways is upping the ante, ramping up its investment in high-speed rail throughout the country. The price tag? A whopping $175 billion.
Continue reading for free
We hope you're enjoying The Week's refreshingly open-minded journalism.
Subscribed to The Week? Register your account with the same email as your subscription.
Sign up to our 10 Things You Need to Know Today newsletter
A free daily digest of the biggest news stories of the day - and the best features from our website