If Mitt Romney insists on running for president, then he needs to be trounced
In contemplating a third run, Mitt Romney is begging for some humble pie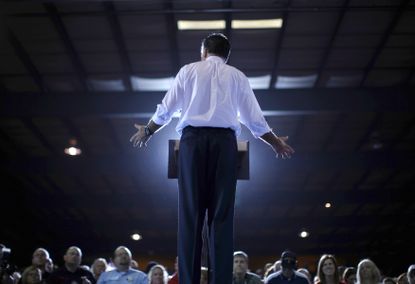 (Image credit: (REUTERS/Brian Snyder))
The main reason democracy works is not the ballot box. It is accountability.
Humans are weak and prone to corruption, and one problem with authoritarian regimes is that there is no mechanism for holding people accountable when corruption inevitably occurs. In a democracy, there is. It's far from perfect, but in the long run accountability leads to democratic countries being more prosperous, peaceful, and powerful. Just look at the rampant corruption and pollution in China, or Russia's slide into fascism.
The ballot box is just a mechanism for accountability. I suspect that the U.S. would more or less achieve the same results if it had a computer that replaced one clique of megalomaniacal Ivy League graduates with another clique of megalomaniacal Ivy League graduates every time GDP growth and unemployment hit a certain number — this is essentially what the ballot box does.
Subscribe to The Week
Escape your echo chamber. Get the facts behind the news, plus analysis from multiple perspectives.
SUBSCRIBE & SAVE
Sign up for The Week's Free Newsletters
From our morning news briefing to a weekly Good News Newsletter, get the best of The Week delivered directly to your inbox.
From our morning news briefing to a weekly Good News Newsletter, get the best of The Week delivered directly to your inbox.
Accountability is a different phenomenon. If you have the ballot box without a culture of accountability, you get Iraq's chaos or Hugo Chavez's bread lines. Only culture generates and sustains accountability — the rules of the game are the product of a culture that is willing to enforce them. Such a culture creates secular saints like John Profumo, who, after resigning from the British government over a sex scandal, didn't join a private equity firm, but instead spent years mopping toilets at a charity.
All of which brings us to Willard Mitt Romney.
In the political realm, you want a culture that says you can only be a major party's presidential nominee once (unless you win the presidency, of course). Why? Because. Because it allows new blood to emerge. Because otherwise you risk becoming a place like France, where the same politicians have been playing musical chairs for decades. Both Jacques Chirac and François Mitterrand ran for president twice on a major party ticket before being elected to the top job, and the country would have been better off if their parties had held them accountable instead. Party machines run like feudal systems, doing everything to protect the Boss, including tolerating a culture of corruption. Healthy political parties realize that the cemeteries are full of indispensable men and rotate their troops.
This means that if Mitt Romney is to run for president, which it increasingly looks like he will do, he must not merely lose — he must be humiliated. This is not only because he would be a terrible standard bearer for the GOP (although that's certainly true), but also because an example must be made of him. He must suffer a defeat so stinging that it will deter anyone else who might try that trick in the future.
Romney's candidacy is clearly an exercise in self-delusion. For the GOP to nominate a painfully wooden private-equity baron — at a time when its biggest problem is its image as the party of rich white men — was excusable the first time; a second time, it would be a joke. No American would take the party seriously. And if Romney thinks talking about poverty — an issue on which no mainstream journalist would give him the benefit of the doubt — will change his public perception, he clearly has departed from reality. Even without the accountability aspect, a Romney candidacy would be a disaster.
I personally find it impossible not to have sympathy for Mitt Romney, the man. But there seems to be two Romneys. There's "Mitt," the fair-dealing businessman, the talented technocratic governor, the Christian man deeply involved in his church, the devoted husband and father. And then there is "Candidate Romney," a man who seems to be so consumed by his self-regard, his unshakeable faith in his own world-historical significance, that he is willing to say anything, and do anything, to reach the highest office in the land. The question was always which one would end up at 1600 Pennsylvania Avenue if elected. But now it is moot.
What was most endearing about Mitt Romney was what seemed like a genuine, basic human decency. But this selfsame decency should have told him that, no matter how great a president he thinks he would be, he could not run again, for the good of his party and country. Since he seemingly does not understand this, the country must make him understand.

Continue reading for free
We hope you're enjoying The Week's refreshingly open-minded journalism.
Subscribed to The Week? Register your account with the same email as your subscription.