If the GOP wants to replace ObamaCare, it will need the courage of an Obama
A review of Philip Klein's Overcoming ObamaCare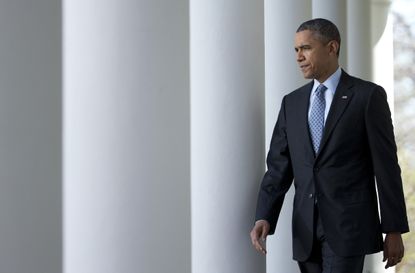 (Image credit: (AP Photo/Manuel Balce Ceneta))
We've been waiting for years — where is the Republican alternative to ObamaCare? Well, there is no single Republican alternative to ObamaCare. The party that just charged back into complete control of the legislative branch has several alternatives to the Affordable Care Act. But it is sitting on them.
When Sen. Ted Cruz tried to force the party into choosing one strategy — full repeal before the ACA went into full effect, through a government shutdown — the party balked. Without a president willing to sign a Republican alternative into law, the party prefers not to give too many targets to their partisan enemies and the media. Instead the GOP is allowing its variously aligned think tanks, wonks, and strategists to toil away on all the available alternatives.
Presumably the next GOP candidate for president will choose one of these options; then the next great health care fight begins. Even if Scott Walker or Jeb Bush or someone else sells himself as a union-buster or schools-fixer, the debate will be thrust on him. For as Philip Klein points out in his new overview of the Republican options, Overcoming ObamaCare, even with the ACA trying to "bend the curve" on medical costs, federal health care spending is going to gobble larger and larger shares of the nation's budget. "By 2024, one out of three dollars collected in federal tax revenue will be consumed by Medicare and Medicaid alone," he writes.
Subscribe to The Week
Escape your echo chamber. Get the facts behind the news, plus analysis from multiple perspectives.
SUBSCRIBE & SAVE
Sign up for The Week's Free Newsletters
From our morning news briefing to a weekly Good News Newsletter, get the best of The Week delivered directly to your inbox.
From our morning news briefing to a weekly Good News Newsletter, get the best of The Week delivered directly to your inbox.
Reading Klein's excellent review of the material, I've never been more convinced that conservative health-care reform is necessary. I've also never despaired more of it actually happening.
Klein divides the GOP alternatives into three overall camps, Reform, Replace, and Restart. It's worth going on a quick tour of them.
The Reform camp takes as a given that the GOP cannot pass a law that leads to lost coverage for millions who receive it through the various Rube Goldberg mechanisms of the ACA. Instead, the Reform camp, represented best by health-care wonk Avik Roy, works to keep the same amount of people covered but expands the market pressures within health-care exchanges by putting so many more people into them. Roy would simultaneously begin to push people out of Medicare and Medicaid and into the exchanges. It's a plan for lighter regulation, but not a completely free market.
The Replace camp is represented best by: 1) the 2017 Project and 2) the Patient Choice, Affordability, Responsibility, and Empowerment Act (or CARE), which had been cosponsored by Sens. Tom Coburn, Richard Burr, and Orrin Hatch (Coburn has since left Congress). Unlike other conservative alternatives, these plans do not go after the great white whale of tax-free employer-provided health insurance plans, partly because it would be too immediately disruptive and partly because doing so may weaken resistance to a single-payer system. Essentially the "Replace" camp leaves most of the pre-ACA health-care system in place, along with some popular features of ObamaCare, but changes the mechanisms for driving costs down, concerning itself mostly with reforming the private market for health insurance. These are plans for overhauling only what was irrevocably broken before the ACA.
Lastly, Klein considers the Restart school, embodied by Louisiana Gov. Bobby Jindal, whose premises are a bit different. Jindal doesn't worry about the exact number of people who will have insurance, saying that doing so plays into Democratic hands. Jindal's plan puts almost all its emphasis on reducing health-care costs. Jindal would extend the tax-preferred treatment given to employer plans to all plans.
All the Republican-supported plans are attempts to increase competition rather than cartelize a more regulated market. Almost all of them would allow insurers to charge older customers more, and younger customers less, than is currently allowed under the ACA.
For a book that is so detailed about policy, Overcoming ObamaCare is a brisk read. But it highlights the difficulty of political reform generally. Reform is like campaign coalition-building, but much tougher. It is more united around a person than a set of policies. As soon as health-care reform became "ObamaCare," spring-loaded partisan energies began driving down the popularity of its reforms. The same thing will happen with any of the proposals offered by the GOP.
But that's not all. Any GOP effort at reform would bring out larger institutional opposition. One of the key differences between ObamaCare and the 1990s attempt at "HillaryCare" is that Obama effectively recruited the big insurance companies to his side through the individual mandate and the subsidy portions of his reform. Now those same companies, whose collective stock prices have outpaced the market since the ACA passed, are outwardly fretting about the "uncertainty" stemming from an upcoming Supreme Court case that may change or scrap the ACA. By "uncertainty," they mean they fear their subsidies will go away. Similar dynamics are at play with hospitals and drug-makers.
If Republicans want to avoid the fate of other center-right parties in Europe that become mere budget-fixers on national health systems, they have to be much more united on their strategy than they are now. A gigantic GOP-led reform could lead to the same electoral disasters that befell Democrats after they passed the ACA, and fear of losing power could easily translate into a drift towards single-payer. ObamaCare required the incredible courage of President Obama, as well as many of his more awkward and embarrassing legislative buyouts, like the Cornhusker Kickback and Louisiana Purchase. Republicans are going to need a president and legislative leadership with at least as much mettle as he had.

Continue reading for free
We hope you're enjoying The Week's refreshingly open-minded journalism.
Subscribed to The Week? Register your account with the same email as your subscription.