You're probably richer than you think you are: How inequality screws with our perspective
How inequality screws with our perspective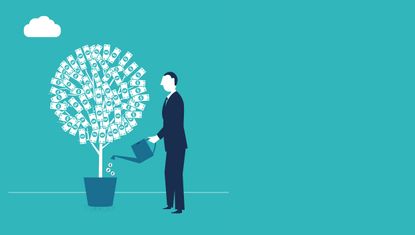 (Image credit: (iStock))
Sign up to our 10 Things You Need to Know Today newsletter
A free daily digest of the biggest news stories of the day - and the best features from our website
Thank you for signing up to TheWeek. You will receive a verification email shortly.
There was a problem. Please refresh the page and try again.
The political discussion around President Obama's proposed package of tax changes took an interesting turn last week, when one item earned the White House some flack from those who would normally be considered its supporters. The critics of the change are wrong, but what's more important is that the dust-up is indicative of a profound failure in America to understand class realities.
The change in question: so-called 529 accounts have traditionally allowed families to both accrue savings tax-free, and to withdraw funds from them tax-free, towards the purpose of paying for their children's college education. Obama's proposal would change the second step, so the withdrawal of funds would be taxable. (It would only apply to funds families deposit from here on out.)
This did not go over well in some circles. Various college savings experts and conservative tax policy people whacked the proposal in The Wall Street Journal and The New York Times as a betrayal of the president's middle-out economics. "In many ways [the proposal] is anti-middle class for families trying to afford college," Joe Hurley, founder of SavingforCollege.com, told the Times. "And so much of the emphasis in the Obama administration has been pro-middle class."
Subscribe to The Week
Escape your echo chamber. Get the facts behind the news, plus analysis from multiple perspectives.
SUBSCRIBE & SAVE
Sign up for The Week's Free Newsletters
From our morning news briefing to a weekly Good News Newsletter, get the best of The Week delivered directly to your inbox.
From our morning news briefing to a weekly Good News Newsletter, get the best of The Week delivered directly to your inbox.
The problem lies in calling the people who use the 529 accounts "middle class."
Working off a Government Accountability Office report, the Journal found that about 70 percent of the households using the 529 accounts made more than $100,000 a year, and just under half make over $150,000. Furthermore, because the sky's the limit in terms of how much families can save, and tax exemptions inherently benefit high earners more, roughly 70 percent of the benefits from the accounts go to families making more than $200,000 a year, and 80 percent go to families making over $80,000.
Meanwhile, the median income for U.S. households in 2013 was $52,250. Any household that made $100,000 or more was in the top 22 percent.
Also, consider this: a little less than one-third of Americans graduate college, making higher education a relative privilege in itself. Another relative privilege is the ability to save, and thus to be able to make use of the 529 accounts at all; surveys suggest that as much as three-quarters of Americans are too cash-constrained to put much of anything away in savings, and one-third don't even have a savings account.
The argument you'll often see is that many families who earn $100,000 or $150,000 or more also live in areas with really high housing prices and costs of living that eat up much of that money. So they're not as well off as one might think. Which is true in the technical sense, but the conclusion doesn't really follow. It's important to remember that buying a house in a high cost-of-living area means buying access to a whole ecosystem of benefits: good schools, good infrastructure, vibrant cultural and entertainment options, often a good public transit system, etc. Those families are getting a lot for that money that their poorer fellow citizens do not enjoy.
Furthermore, according to Census Bureau data, even in the country's most vibrant and costly urban hubs, $100,000 a year is a lot of money: the median household income for San Francisco was $79,624 in 2013, and in New York City it was under $70,000. Combining all the major metro areas gets you a median income of around $55,000. (Washington, D.C., was by far the richest, with a median household income of $90,149 — but inequality in the city is also remarkably high.)
In his book Twilight of the Elites, Chris Hayes hit on a helpful phrase: "fractal inequality." His point was that even within that top 20 percent who earn over $100,000, inequality is crazy-high. The top 10 percent make way more than the top 20 percent, the top one percent make way more then the top 10, and so on to the top 0.1, the top 0.01, etc. Hayes observed that this creates all sorts of baleful moral and psychological effects within the upper class. People reach a point where all they can see is the perpetually receding status ladder above them, and lose sight of how privileged they themselves are, and what vast numbers of Americans are far less fortunate than they.
Journalist Suzy Khimm observed much the same effect amongst people criticizing Obama's proposed 529 account change, and it's hard to argue the outrage isn't a prime example of what Hayes was talking about. Especially since the new tax revenue will be used to fund an increase in the American Opportunity Tax Credit, which — thanks to its increased refundability in the proposal — really will help the truly lower class.
One of the more subtle but insidious effects of inequality is that it screws with our sense of perspective: of where we sit in the economic ecology, and of how fortunate we are in comparison to others. That, in turn, messes with our sense of what is and isn't a justifiable trade-off in terms of taxing the rich to help the poor. In short, inequality messes up our society's collective ability to think morally about policy.
Continue reading for free
We hope you're enjoying The Week's refreshingly open-minded journalism.
Subscribed to The Week? Register your account with the same email as your subscription.
Sign up to our 10 Things You Need to Know Today newsletter
A free daily digest of the biggest news stories of the day - and the best features from our website
Jeff Spross was the economics and business correspondent at TheWeek.com. He was previously a reporter at ThinkProgress.