Lessons of the Reagan ranch: America must rediscover the simple, civil life
Sure, it's not Walden. But it's special in a stripped down sort of way.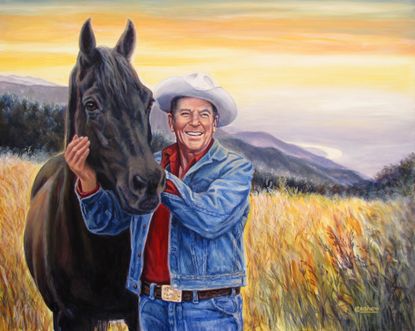 (Image credit: (AP Photo/Vicki Crone via the Rockford Register Star))
"It casts a spell. There's such a sense of seclusion. And, I suppose, it's the Scriptural line, 'I look to the hills, whence cometh my strength."
That's how Ronald Reagan described his beloved ranch in the mountains above Santa Barbara — Ranch of the Skies — to his close friend, British Prime Minister Margaret Thatcher.
More than three decades later, the spell still exists, instantly showing a visitor to the ranch why Reagan loved this place more than any other. A drive up a winding, narrow road, past other ranches, fruit groves, gullies, and arching trees suddenly opens up onto a beautiful vista of rolling hills and woods. Stepping out of the car, the air is so crisp, it's like biting into a thin lemon wafer.
Subscribe to The Week
Escape your echo chamber. Get the facts behind the news, plus analysis from multiple perspectives.
SUBSCRIBE & SAVE
Sign up for The Week's Free Newsletters
From our morning news briefing to a weekly Good News Newsletter, get the best of The Week delivered directly to your inbox.
From our morning news briefing to a weekly Good News Newsletter, get the best of The Week delivered directly to your inbox.
The Reagans lived here part time for more than two decades, then sold the ranch in the mid-1990s, after the president was diagnosed with Alzheimer's. The Young America's Foundation bought the entire property and restored it to the exact state as when the Reagans owned it, including only original items, many donated by Nancy Reagan. Closed to the general public, it now opens for special events and visits.
More than any other presidential site I've visited, Rancho del Cielo seems a living place, inhabited by the spirit of its owner. In fact, the site is so perfectly preserved, not as a museum, but as a home, that it seems to be waiting for him. Ronald and Nancy Reagan should be riding horses over its 688 acres, or walking the trails, staff and Secret Service bustling about, media lurking nearby. I kept expecting Reagan to appear from around the tack barn or tool shed.
The centerpiece of the ranch, at least for visitors, is the small house, up close by the interior gate. Outside of a Lincoln-era log cabin, it is hard to imagine a more modest setting for the leader of the free world. No Hyannisport or Kennebunkport or Oahu mansion. This is a small, intimate adobe house originally built in 1871. The efficiency kitchen is filled with 1970s Harvest Gold appliances, and the Reagans' master bedroom is downright tiny. A prefab shower stall with a Liberty Bell showerhead and a tiny, antique toilet sufficed for the nation's 40th president, and his creature comforts extended to a few stuffed armchairs and a small television set.
It would be easy to read too much into Reagan's character from this ranch. Yet the stubborn facts of how he chose to live his private moments cannot be denied. Whether or not he was emotionally distant from his family or the pawn of others in his administration, the reality of his ranch, its very ordinariness, must be a key, not only to his personality, but to his worldview, a man who preferred building telephone-pole fences and cleaning brush to celebrity gatherings.
Perhaps enough time has passed since his contentious and historic time in office that he can be seen in a less partisan light. Maybe some of the works of Peggy Noonan and the recently passed Martin Anderson and his wife Annelise have helped counter the once popular narrative of Reagan as an unintelligent actor, so that his deeply thought and long-held beliefs can be respected as genuine, regardless of whether one agrees with them or not. But even for someone who lived through the last two harrowing decades of the Cold War, the confused and frightening world since 2001 brings out perhaps Reagan's most enduring characteristic and legacy: his optimism.
We seem to be such a pessimistic people now. Nearly 15 years after 9/11, terrorism threatens us even more. The real economy, the one that most of us have to live in, is still struggling. The meanness of our politics cannot be denied. The unrest in Ferguson and the Boston Marathon bombing frighten us by what they say about the hidden cracks in our society. The telegenic elite scream and yell at each other while pocketing millions to live in enclaves, safely walled off from their fellow citizens.
Reagan's years were no panacea. But he had an unshakeable vision and optimism that itself created a hope to hold on to. How much hope do any of us have for today's politicians, or even for the country's future?
Congress is supported by 15 percent of the country, and nearly 60 percent say the nation is on the wrong track. A poll last year by CNN found that over 63 percent of Americans don't believe their children will be better off than their parents, and 59 percent said that the American dream is impossible to achieve. Smug elites may say "good riddance" to the American dream, and that it's time to redefine it, but the rest of us lament its passing because we know why it is good and why we want it for ourselves and our family. At the same time, we all know that crony capitalism rigs the game against those of us who play by the rules and don't get special treatment.
A visit to the Reagan ranch reminds us that there are other paths, and unearths long-buried optimism. Reagan had an immovable belief in citizens, not technocrats; in more freedom, not greater government control over our lives; in civility at all times. He did not achieve all his goals, and some things went terribly wrong, but when was the last time we had a real, not poll-tested or media-manufactured, beacon of hope? A leader who truly pulled himself up by his bootstraps and is content to be himself, to forgo ostentation and pomp, and find true comfort in what some may see as eternal truths?
"It's people, not government, who create wealth, provide growth, and ensure prosperity."
Some truths don't change, regardless of who's in office, how bad things get, or how powerful the voices lecturing to us become. A trip to the Reagan ranch revives a sense of American exceptionalism, reminding us that nothing is ordained, that self-dependence is empowering and noble, and that our future is worth fighting for.
Maybe that's where we should hold the next State of the Union address.

Continue reading for free
We hope you're enjoying The Week's refreshingly open-minded journalism.
Subscribed to The Week? Register your account with the same email as your subscription.