Jeb Bush, and the predictable arc of presidential primaries
The arc is long and it bends towards the establishment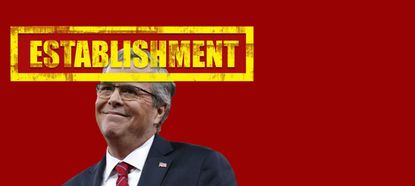 (Image credit: ((Illustration by Lauren Hansen | Image courtesy REUTERS/Kevin Lamarque))
I don't know if Jeb Bush is a naturally optimistic fellow, although if you asked him he'd surely say he is (every candidate has to proclaim their optimism, particularly about America). But in recent weeks he's had some cause for concern. Not long ago, an NBC News/Wall Street Journal poll found a full 42 percent of Republicans saying they wouldn't consider voting for him. Bush is the "establishment" candidate at a time when the Tea Party still dominates the Republican base.
And Republicans seem unusually taken with Wisconsin Gov. Scott Walker, who has all the correct positions for GOP primary voters, not to mention the glow that comes from being the Next Big Thing. After two elections in which older, familiar figures won the nomination then lost to Barack Obama, one might think the party is ready to nominate someone new.
But Bush may not have to worry. If the primaries go the way they usually do, he'll prevail.
Subscribe to The Week
Escape your echo chamber. Get the facts behind the news, plus analysis from multiple perspectives.
SUBSCRIBE & SAVE
Sign up for The Week's Free Newsletters
From our morning news briefing to a weekly Good News Newsletter, get the best of The Week delivered directly to your inbox.
From our morning news briefing to a weekly Good News Newsletter, get the best of The Week delivered directly to your inbox.
Nothing is guaranteed, of course. But despite all the ups and downs, the debates and ads, the attacks and gaffes, there's a predictable arc to presidential primary campaigns, one that almost always ends the same way.
Here's how it works. In most primary races there's one candidate who seems to be the obvious front-runner, like a sitting vice president or someone who ran before and almost won. In this year's GOP race, Jeb Bush is the closest thing. In the early stages of the "invisible primary," he raises gobs of money and secures the endorsement of key politicians and party leaders. Then someone else comes along, that "fresh face" who's novel and compelling — for a while. Once the voting actually starts, the establishment candidate turns out to have a deeper base of support than it seemed, and as he accumulates victories, the primary voters who months before thought he was old and tired now see him as their best option for winning the general election.
If that sounds familiar, it should. The current primary system in which voters, not backroom wheelers-and-dealers at the convention, choose the nominee was devised by the Democratic Party before the 1972 campaign and quickly adopted by Republicans as well, but it took a couple of elections for everyone to realize how it actually worked. Before 1976, no one thought Iowa was all that important; Jimmy Carter realized what a win there could do for him, and used it to slingshot past the field.
But if we look just since 1980, we see that there have been 12 contested primary races. In 10 of those 12, the candidate declared the early frontrunner held off the challenge from the upstart trying to defeat him. On the Republican side, Reagan beat Bush in 1980, Bush beat Dole in 1988, Dole beat Forbes in 1996 (noticing a pattern yet?), Bush beat McCain in 2000, McCain beat Romney in 2008, and Romney beat, well, a bunch of chuckleheads in 2012. The "establishment" candidates went six for six.
On the Democratic side, things have been slightly more open — but only slightly. The pattern held in 1984 (Mondale over Hart), 1992 (Clinton over Tsongas), 2000 (Gore over Bradley) and 2004 (Kerry over Dean first, then Edwards), while the 1988 race was more wide-open than any during this period, with no clear front-runner until Super Tuesday. And then there's 2008.
That year's remarkable primary campaign was the exception that proves the rule. Hillary Clinton was the only candidate over this period in either party who began the primary season as the clear frontrunner but ended up losing. While her campaign did plenty of things wrong, the real cause was the once-in-a-generation, maybe once-in-a-lifetime campaign of Barack Obama.
So why do things always seem to go this way? There are many reasons. First, being the choice of the "establishment" matters a lot, despite the fact that almost no one uses that word as a compliment. It usually means you can raise more money, the most skilled and experienced operatives will join your campaign, and the key party figures who can bring in votes — like that county party chair in Iowa whom few people have heard of but who can deliver on election day — will be much more likely to be on your side.
Second, the challenger candidates are often raised up by the media, then torn down just as quickly. Journalists desperately want a race, but one with as few candidates as possible. A coronation is boring, but a cacophonous jumble stretches their reporting resources and deprives them of a dramatic one-on-one narrative. Once that challenger rises, though, he or she will inevitably stumble, which can be its own thrilling story (even if it's largely media-created; you may recall that after the 2004 Iowa caucus, Howard Dean said "Yeeeah" to a crowd of supporters, which made reporters who a month earlier were marveling at his internet-driven campaign conclude that he was some kind of maniac who shouldn't be allowed within a mile of the White House).
Because the challenger is almost always not as well-known or funded, he has a smaller margin for error. One loss in an important state and journalists may declare his campaign over — after which he'll see his money dry up and his supporters desert him for a candidate who still seems to have a chance — while the frontrunner can come back from early defeats, as most of them do.
Of course, 2016 could be different. Scott Walker or Marco Rubio might turn out to be this election's Barack Obama, not this election's Gary Hart. But the odds are against it.

Continue reading for free
We hope you're enjoying The Week's refreshingly open-minded journalism.
Subscribed to The Week? Register your account with the same email as your subscription.