How Rand Paul can win: Stop making concessions and start attacking Hillary
The senator from Kentucky is undermining his rationale for running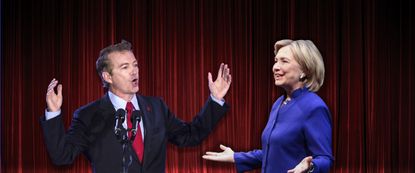 The beginning of Rand Paul's presidential campaign should have inaugurated a long-overdue debate about America's foreign policy, and what the position of our nation should be in the world. Instead Rand Paul has launched a debate over what Rand Paul's foreign policy views even are, and what his position is relative to the median Republican voter. This is a losing proposition.
I know I wasn't the only Paul-symp who started rolling his eyes when his announcement speech went to foreign policy:
Oh, yawn. I suppose calling them nasty names is better than trying to teach these cutthroats about Madisonian republicanism by bombing them into moderate democratic self-governance. But why bother? Every moment Paul spends talking up an Islamo-fascist threat, is a moment he could have used to lead his party and country away from paranoia and toward peace. He finished this section by saying:
Subscribe to The Week
Escape your echo chamber. Get the facts behind the news, plus analysis from multiple perspectives.
SUBSCRIBE & SAVE
Sign up for The Week's Free Newsletters
From our morning news briefing to a weekly Good News Newsletter, get the best of The Week delivered directly to your inbox.
From our morning news briefing to a weekly Good News Newsletter, get the best of The Week delivered directly to your inbox.
It seems Paul has narrowed his "no searching for monsters" foreign policy down to one that is merely against nation-building. Bomb the monsters, then let them sort through the rubble.
Paul should stop making policy concessions to hawkish Republicans. Concessions like signing Sen. Tom Cotton's letter to Iran. Or his newfound desire to pair massive decreases of federal spending in other areas with increases to the Pentagon's budget. This game dispirits his most ardent allies. It undercuts his credibility, which makes it harder for him to sell himself as a different kind of Republican.
He should probably stop most of the rhetorical concessions, too. It's not like they're endearing him to the hawks. Paul's still getting strafed with attack ads by those whose preferred Iran policy is war. Tom Cotton thinks it can be accomplished in a week.
Ted Cruz must be smiling at this dynamic between Paul and the hawks. Paul gives up his authenticity and integrity — and gets attacked anyway.
It's obvious that Paul had to develop a more mature non-interventionist policy. Such a project requires recruiting realists into a foreign policy coalition with more traditional America Firsters. Paul seemed to be heading that direction last fall with a major foreign policy speech. But since then, he has found himself scrambling, as polls showed Americans in an ever feistier mood. However, if anyone should understand how fickle popular hawkishness can be in America, it should be Paul.
Paul has always done best by attacking Democrats for foreign policy decisions that either have the tacit support of Republican hawks, or resemble policies that GOP hawks would make worse. So instead of trying to blur the distinctions between his views and the views of other Republicans, Paul should criticize the Obama-Clinton foreign policy that did little to stabilize the Middle East. This would be a way to kill two birds with one stone.
He should say outright that America needs a new way of thinking about foreign policy, one that doesn't implicate the nation in the enormities that follow intervention in Somalia, Kosovo, or Libya. He should say that the "Washington Machine" he runs against produces foreign policy confusion.
After all, Obama wanted to arm the Syrian rebels, many of whom have joined ISIS or at least given up their materiel to them. Now he wants to bomb the only rebels left on the field. He should say that the Clinton-Obama policy in Libya was launched as a mission to save that country from violence, but the result is a region with no stable government, and where radical terror-gangs flourish.
He should point out that his hawkish critics don't just want to blow up a war-averting deal with Iran, but also wanted more American troops in Iraq, and wanted more American involvement in Libya, Syria, and Ukraine — all at the same time. The hawks go from one panic attack to the next.
Maybe events over the next few months will bring that Rand Paul out. Maybe his concessions are a gambit to survive into the later rounds of the nominating contest before letting this flag fly. But a major shift in American foreign policy is one of the major rationales of his candidacy. It's time to embrace that.

Continue reading for free
We hope you're enjoying The Week's refreshingly open-minded journalism.
Subscribed to The Week? Register your account with the same email as your subscription.