The real problem with conservatives' unquestioning support of defense spending
Skepticism of bureaucrats wielding taxpayer money shouldn't turn off when they happen to be wearing uniforms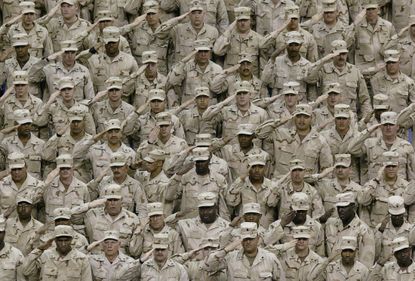 (Image credit: (ELLEN OZIER/Reuters/Corbis))
In this era where everyone at least pays lip service to budgetary responsibility, even the sacrosanct Pentagon budget does not seem to be immune. Just take the Budget Control Act, which envisions some very modest cuts to the Pentagon budget. Naturally, a number of Republican lawmakers are up in arms about it.
That Republicans favor small government except when it comes to the Pentagon budget is a familiar charge of hypocrisy against conservatives. To some extent it is unfair. The conservative philosophy is that government should be limited to certain roles, not that it should do nothing — and national defense has always been one of those critical roles. What's more, conservatives also believe that in the 21st century, American hegemony is good for U.S. interests and the world at large, and should be maintained. That costs some money. None of this is inconsistent with the conservative belief in limited government.
But the charge is only unfair to some extent. The Pentagon's requested budget for next year is $523 billion. That is bigger than at any time in the Cold War. That is bigger than in 2005, at the height of the Iraq War and when America had a much bigger footprint in Afghanistan. And is there anyone who doubts that the Pentagon budget is full of bloat and that there are many ways to cut it that would benefit both taxpayers' wallet and national security? If the Pentagon only had its 2005 budget to play with, would ISIS invade Florida?
Subscribe to The Week
Escape your echo chamber. Get the facts behind the news, plus analysis from multiple perspectives.
SUBSCRIBE & SAVE
Sign up for The Week's Free Newsletters
From our morning news briefing to a weekly Good News Newsletter, get the best of The Week delivered directly to your inbox.
From our morning news briefing to a weekly Good News Newsletter, get the best of The Week delivered directly to your inbox.
At some point, conservatives have to say something like: "Yes, we want a mighty military and we shouldn't be ashamed of wanting to pay what it takes, but we also want value for money. Our general skepticism of bureaucrats' capacity to be prudent stewards of taxpayer dollars doesn't turn off when those bureaucrats happen to be wearing uniforms."
Again, in this debate, we have to be wary of false dilemmas. For example, you sometimes hear it said that the U.S. spends more on its military than the rest of the world combined. The implication seems to be that the U.S. has gone insane, and that the defense budget is many orders of magnitude bigger than what it should be. But this shows an unawareness of the game theory of international politics. The reason why the U.S. budget is so large relative to anyone else isn't just because the U.S. spends a lot — it's also because other countries don't even try to catch up, because they know they can't. It's what's called an equilibrium: By spending so much more, the U.S. deters a global arms race, and surely that's a good thing. The Pentagon budget should be trimmed, not hacked to pieces.
No, the real false dilemma we need to worry about — and one that conservatives, in particular, should be utterly allergic to — is the idea that more spending equals better service. The problem with the Pentagon budget, and the debate around it, is not "more" versus "less," it is that the only voices we have are those who say we must do more with more, and those who say we must do less with less. The possibility of doing more with less is simply ignored.
Take the almost comically awful, wasteful, and insane F-35 fighter program. The history of the program reads like a conservative parody of government procurement gone haywire. The program was doomed from the start, since it was supposed to make one fighter that would give every force of the military everything it wants, the most surefire way of making an engineering program impossible. Its overruns, in terms of cost and delay, are Homeric. And now it is literally the single most expensive weapon in the history of the world.
The program costs well over $300 billion in development and procurement, or three times the cost of the Apollo program in today's dollars. Do we really believe the taxpayers got their money's worth? Do we really believe it would be impossible to build a good strike fighter for the low, low cost of just $100 billion instead of $300 billion?
These, not grand philosophical debates about how China or ISIS will invade if we shave three cents off the Pentagon budget, are the sorts of questions conservatives need to be asking about the defense budget. Given that conservatives believe in a strong national defense, that makes them more, not less, obliged to go down in the weeds and question the efficacy of bloated defense programs, and to demand a military that is not only mean, but lean.
And, speaking as a conservative, shame on us if we don't.

Continue reading for free
We hope you're enjoying The Week's refreshingly open-minded journalism.
Subscribed to The Week? Register your account with the same email as your subscription.