Marco Rubio's greatest strength: He's the anti-Hillary
The GOP needs someone who can counteract Hillary Clinton's strengths. Marco Rubio is that man.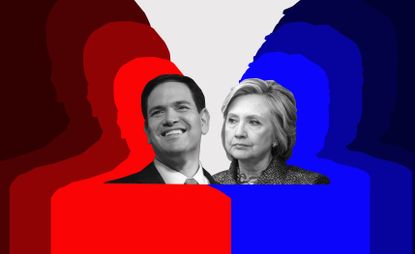 The conventional wisdom is that Hillary Clinton is the favorite to win the presidency. The electoral map favors Democrats in presidential election cycles; the demographics also favor Democrats. The economy is steadily improving. Clinton is a household name. She has a formidable political and fundraising machine. And she is a woman, leading to expectations that many more women — a key swing constituency — will vote for her than a generic male Democrat.
I don't think the conventional wisdom is true, because it overlooks the fact that Clinton is a not a very good candidate. But 2016 won't be a cakewalk for the Republicans, and Clinton is certainly formidable. This makes nominating a candidate who can take away many of her advantages, real or perceived, an important priority for the GOP.
And if there is one candidate who is the anti-Hillary, it is Marco Rubio. Let me list the reasons.
Subscribe to The Week
Escape your echo chamber. Get the facts behind the news, plus analysis from multiple perspectives.
SUBSCRIBE & SAVE
Sign up for The Week's Free Newsletters
From our morning news briefing to a weekly Good News Newsletter, get the best of The Week delivered directly to your inbox.
From our morning news briefing to a weekly Good News Newsletter, get the best of The Week delivered directly to your inbox.
Youth
This is the most obvious contrast — one that Rubio is pushing to the hilt. Rubio is young. Clinton is not. At CPAC, when asked to say the first word that came to mind when he thought of Clinton, he said, "Yesterday." His slogan, "New American Century," doesn't just strike neocon notes, but also highlights his youth.
In his presidential announcement, one of Rubio's leitmotivs was to draw a contrast between yesterday's leaders and those of today and tomorrow. This is an obvious dig at Clinton (it also does double duty as a dig at Jeb Bush).
Historic-ness
You can already hear the left-wing inevitability noise machine: Oh, how historic it would be to elect the first female president!
It's unclear whether the historic aspect matters to voters or if it is made up by the media. But it probably plays some role. It would be historic to elect the first woman president of the United States.
But of course, there is also something historic about Rubio's candidacy: he would be the first Latino president of the United States. This blunts another big weapon in Hillary's arsenal and levels the playing field in a way that the GOP will be unable to do if it nominates Yet Another Rich White Dude. (What? It wouldn't be historic to elect the brother and son of a president?)
Wealth
Clinton is running a populist campaign. She is also quite rich. And she did not get rich by starting her own business, the American way. She got rich through — is there a polite way to say this? — her husband's post-presidential influence-peddling.
Now, Hillary was not born to money, a fact that her campaign is planning on relentlessly highlighting to deflect this problem. But Americans know that this was a billion years ago, and that Clinton has long been living in a bubble of privilege, power, and wealth that us mere mortals cannot even imagine.
Meanwhile, Rubio was still paying off his student loans when he got to the Senate. For all the talk of Clinton's middle class roots, it only rings false from someone who hasn't driven a car since 1996. Rubio still remembers what the real world is like, and can talk about it in a much more credible way. This makes him a better candidate in general, but particularly in an election season in which the GOP's biggest problem is the perception that it's a party of the rich, by the rich, for the rich.
Policy
Speaking of which — the Republican Party's single biggest predicament is that it is perceived as no longer caring about the concerns of the middle class. In this respect, Rubio is exactly the sort of candidate the party needs: a true conservative who nonetheless understands the GOP's greatest weakness. His ambitious reforms — his tax plan and its child tax credit, his wage subsidies plan, his proposals for higher education — are all aimed squarely at this problem, as is his opportunity rhetoric. On both the politics and the merits, this is the right response.
Voters aren't stupid. Convincing them that the GOP cares about the middle class will require more than a better bumper sticker or a better slogan. In 2012, Mitt Romney couldn't even say "middle class" without blinking, but that's not why people didn't buy what he was selling. To reverse the party's biggest problem, the GOP must nominate a candidate who doesn't just talk a good game but actually puts forward and prioritizes actual policies to help the middle class. Rubio has done that.

Continue reading for free
We hope you're enjoying The Week's refreshingly open-minded journalism.
Subscribed to The Week? Register your account with the same email as your subscription.