Hillary Clinton just cornered the GOP on immigration
The GOP's 2016 candidates now face a quandary: How can they appeal to Republican primary voters without alienating the general electorate?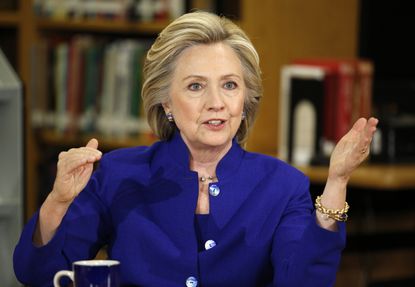 (Image credit: (AP Photo/John Locher))
Sign up to our 10 Things You Need to Know Today newsletter
A free daily digest of the biggest news stories of the day - and the best features from our website
Thank you for signing up to TheWeek. You will receive a verification email shortly.
There was a problem. Please refresh the page and try again.
Yesterday in Nevada, Hillary Clinton announced her support for a path to citizenship for undocumented immigrants, and she made a point of contrasting herself with the candidates on the other side. "Not a single Republican candidate, announced or potential, is clearly supporting a path to citizenship," she said. "Not one. When they talk about legal status, that is code for second-class status." Is that an accurate representation of what Republicans have actually said? The answer is, sort of. But they've left themselves just enough room to be hard-edged conservatives in the primaries, and more moderate in the general election.
For now, Republicans would rather talk about Barack Obama's executive actions on immigration, which allows them to issue full-throated denunciations that appeal to the Republican base without addressing the substance of the issue, particularly what they plan to do if they succeed in winning the White House.
All are surely aware of what happened to Mitt Romney four years ago: In the midst of a competition to see who could be the toughest on the undocumented, he suggested a policy of "self-deportation," which translates as making life so miserable on those immigrants that they retreat to the countries they fled. Romney lost Hispanic voters in the general election by 44 points.
Subscribe to The Week
Escape your echo chamber. Get the facts behind the news, plus analysis from multiple perspectives.
SUBSCRIBE & SAVE
Sign up for The Week's Free Newsletters
From our morning news briefing to a weekly Good News Newsletter, get the best of The Week delivered directly to your inbox.
From our morning news briefing to a weekly Good News Newsletter, get the best of The Week delivered directly to your inbox.
The 2016 candidates face a quandary: They don't want to repeat Romney's mistake, but they also need to appeal to a primary electorate that still wants to hear how tough they're going to be on illegal immigration. So if you look closely at what they've said on the topic, you find that the phrase "path to citizenship" does come up; it's just wrapped in a lot of talk about securing the border and rescinding Obama's orders.
For instance, when asked what he would do with the estimated 11 million undocumented immigrants now in the country, Marco Rubio will outline a lengthy process they would have to go through — background checks, learning English (more on that in a moment), paying a fine, then getting a temporary work permit, then an extended period which culminates in permanent residency (i.e. a green card), and finally being permitted to apply for citizenship. It sounds like it would take decades.
Other candidates say similar things. None are calling for rounding up all the undocumented, and all favor something that looks like what Rubio proposes: an extended, even difficult process that culminates in the possibility of citizenship. Even Scott Walker, who has gone so far as to suggest the possibility of cutting back legal immigration, has been almost impossible to pin down on whether he still supports a path to citizenship as he has in the past. The only one who has ruled out citizenship is Ted Cruz, who still supports a more limited legal status for the undocumented.
All of them, however, are united in their commitment to "secure the border first." Whether it's a genuine sentiment or a way to just put the issue of comprehensive reform aside, it has become the standard GOP position. The trouble with elevating "secure the border first" to an inviolable principle is that no one knows precisely what it means for the border to be "secure." Though spending on border security has ballooned in recent years — we have nearly twice as many Border Patrol agents as we did a decade ago — as long as a single person can sneak over, someone will be able to say the border is not yet secure.
For the moment, all the Republicans sound tough on immigration. But don't be surprised if the nominee — whether it's someone like Rubio or Jeb Bush, both of whom have devised comprehensive reform plans, or someone like Scott Walker — moves back toward the center in the general election, sounding much more open to that path to citizenship.
After all, that's where the majority of American voters are, even if polling on what to do with undocumented immigrants is complicated. Asking simply whether there should be a path to citizenship will yield a majority in favor, but not an overwhelming one (often in the area of 55 percent or so). But the more hurdles you put in that path — long waiting periods, passing background checks, paying back taxes, etc. — the higher support goes. And there's one requirement that sends support rocketing up: making sure such immigrants learn English. In some polls, support for a path to citizenship that includes that requirement exceeds 80 percent.
As it happens, immigrants learning English isn't really a problem. Those in the current wave of immigration are following the same pattern as every wave before them: the ones who immigrated as adults don't gain English fluency, their children are bilingual, and their children's children speak mostly or entirely English. But the idea of making immigrants learn English — even if in practical terms it's completely unnecessary — builds a bridge across the ambivalence so many people feel about immigration. Millions of Americans are sincerely torn on this topic: they know that this is a country built by immigrants, some of whom are in their own family trees, but they also don't like the idea of change and are uncomfortable when they walk into a store in their home town and hear foreign tongues spoken. So the idea of forcing immigrants to learn English offers them reassurance that the new arrivals will become American, instead of changing the America the native-born want to remain the same.
If the presidential candidates' pollsters know what they're doing, they'll make this crystal clear to their clients, and you'll hear the phrase "make them learn English" whenever a question about undocumented immigrants comes up. For the next year or so until the Republican nominee is determined, the GOP candidates will be talking mostly about border security so primary voters won't suspect them of being soft on illegal immigration. But once we get to the general election, my guess is that the differences between the two candidates will get smaller and smaller.
That's not to say there's much of a chance that a Republican president would actually pass comprehensive reform, because the members of his party in Congress just don't want it, "secure" borders or not. But that's a whole other problem.
Continue reading for free
We hope you're enjoying The Week's refreshingly open-minded journalism.
Subscribed to The Week? Register your account with the same email as your subscription.