The GOP wants to cut the social safety net — but only for young and poor people
Entitlements for me and mine but not for thee and thine!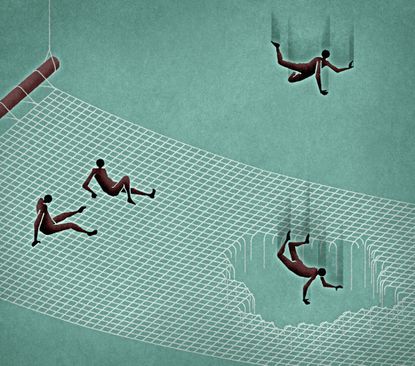 (Image credit: Ikon Images/Corbis)
Newly minted 2016 presidential candidate Mike Huckabee is selling himself to older Republicans as the guy who will keep Washington's grasping hands off their government-provided Medicare and Social Security. In his recent announcement speech, the former Fox News host and ex-governor of Arkansas attacked rivals who "propose that to save the safety nets like Medicare and Social Security, we ought to chop off the payments for the people who have faithfully had their paychecks and pockets picked by the politicians." For that and similar statements, Huckabee's candidacy is being portrayed as some radical departure from GOP economic orthodoxy and, as The New York Times put it, is supposedly "exposing growing fault lines in the party over an issue that has long been considered a political third rail."
Not so much, actually. Huckabee's do-(almost)-nothing stance on entitlement reform reflects the GOP consensus. He's just more explicit about it than most. It's really only potential 2016er Chris Christie — with his call for cutting retirement pay for wealthier seniors — who seems to be the odd man out.
There was a time, of course, when Republicans were pushing hard to fix the fiscal problems of Medicare and Social Security. Rep. Paul Ryan's 2010 "Roadmap for America's Future" probably marked Peak Reform. That budget blueprint called for allowing pre-retirement workers to divert part of their payroll taxes into private retirement accounts and to receive vouchers to buy private health insurance when they finally called it quits. Such sweeping changes were needed, Ryan and other Republicans argued, to prevent these programs from "bankrupting" America.
Subscribe to The Week
Escape your echo chamber. Get the facts behind the news, plus analysis from multiple perspectives.
SUBSCRIBE & SAVE
Sign up for The Week's Free Newsletters
From our morning news briefing to a weekly Good News Newsletter, get the best of The Week delivered directly to your inbox.
From our morning news briefing to a weekly Good News Newsletter, get the best of The Week delivered directly to your inbox.
But by the 2012 presidential election, Republicans were backtracking from those big ideas. In his convention speech, GOP presidential nominee Mitt Romney attacked President Obama for wanting to cut future Medicare spending. Vice presidential nominee Paul Ryan explained how important Medicare was for his grandmother with Alzheimer's. Social Security wasn't mentioned by name at all. Likewise, the Ryan budgets stopped calling for specific Social Security reforms.
Things went even further in the 2014 midterms, when GOP groups ran ads against some Democratic candidates accusing them of wanting to cut Social Security benefits and raise the retirement age. And today, the new Republican House-Senate budget drops the "premium support" Medicare reform that had been a staple of the Ryan budgets, although it does include some $400 billion in unspecified, 10-year Medicare savings also requested by Obama.
So what happened? The long-term federal financial picture hasn't miraculously turned around since 2010. The Congressional Budget Office projects that federal spending on Medicare and Social Security over the next 25 years will rise by roughly three percentage points of GDP, from 8 percent to 11 percent. The debt deluge that prompted calls for radical reform is still on its way. What has changed is that Republicans are wising up to just how much they depend on older voters. Those 65 and over gave 56 percent of their votes to Romney in 2012 and were critical to congressional victories in 2010 and 2012.
Another big change since 2010: ObamaCare. The passage of the the president's Affordable Care Act — opposed by older, tea party Republicans — has affected how GOP politicians view and talk about the safety net. They now clearly differentiate between "earned" entitlement benefits such as Medicare and Social Security and "unearned" welfare benefits such as ObamaCare subsidies, Medicaid, and food stamps. As Wall Street Journal columnist Holman Jenkins accurately predicted back in 2013, "The new 'conservative' position will be to defend Social Security and Medicare, those middle-class rewards for a life of hard work and tax-paying, against Mr. Obama's vast expansion of the means-tested welfare state for working-age Americans." Republican voters get the "good" entitlements, Democratic voters the "bad," dependency-creating ones.
Huckabee clearly intends seniors to be the rock upon which he builds his candidacy. In the "Seniors" section of his campaign website, he promises to fight for the "earned benefits" of Social Security and Medicare — perhaps forgetting that a typical middle-class, one-earner couple retiring in 2030 will receive $1.3 million in lifetime Medicare and Social Security benefits, having paid in just under $500,000. Huckabee then attacks ObamaCare as a welfare program that diverts $700 billion from Medicare and fosters "government dependency." Entitlements for me and mine but not for thee and thine.
The politics of this strategy are debatable. (Though it surely doesn't help attract younger voters!) But regardless, it makes for simply awful public policy. Future safety net spending increases on older Americans need to be reduced. Republicans should continue the earlier work of Ryan in building the case for those changes. Moreover, more of what is spent will need to shift to lower-income Americans. At the same time, some kinds of safety net spending for the poor will need to be increased, such as the Earned Income Tax Credit. And turning Medicaid into a program that uses tax credits to buy private insurance, as some on the right want to do, would also likely cost more money.
If today's GOP-leaning seniors want their grandkids to grow up in an America that can better take care of the truly needy — young and old — and pay its bills, they'll reject Huckabee's selfish populism.

Continue reading for free
We hope you're enjoying The Week's refreshingly open-minded journalism.
Subscribed to The Week? Register your account with the same email as your subscription.