The Iowa caucuses are a big fat joke — and Jeb Bush is the only one laughing
Jeb is skipping the Iowa Straw Poll. No matter your politics, this is worth applauding.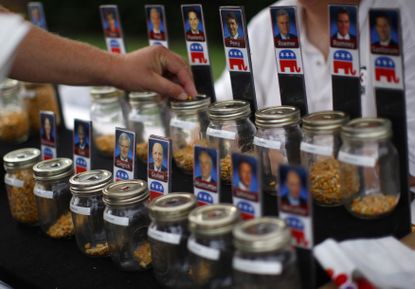 (Image credit: (JIM YOUNG/Reuters/Corbis))
Sign up to our 10 Things You Need to Know Today newsletter
A free daily digest of the biggest news stories of the day - and the best features from our website
Thank you for signing up to TheWeek. You will receive a verification email shortly.
There was a problem. Please refresh the page and try again.
Jeb Bush's heartless betrayal has sent shockwaves through the presidential race. I'm not talking about his advocacy for Common Core educational standards, or his disturbing habit of talking about undocumented immigrants as though they were human beings. No, it's the news that broke Monday: Bush will not be competing in the upcoming Iowa Straw Poll this August.
The chairman of the Iowa Republican Party was predictably contemptuous of Bush's excuse that he'll be going instead to a different gathering of Republicans in Georgia: "We don't buy this excuse and neither will Iowans," he said. Et tu, Jeb?
How on earth could Bush ignore the Straw Poll, an event whose winner four years ago was future non-president Michele Bachmann? It may be because Bush is lagging in the Iowa polls and he's worried he'll do poorly. Or it may be because the Iowa Straw Poll is a pointless exercise.
Subscribe to The Week
Escape your echo chamber. Get the facts behind the news, plus analysis from multiple perspectives.
SUBSCRIBE & SAVE
Sign up for The Week's Free Newsletters
From our morning news briefing to a weekly Good News Newsletter, get the best of The Week delivered directly to your inbox.
From our morning news briefing to a weekly Good News Newsletter, get the best of The Week delivered directly to your inbox.
In fact, everything about Iowa's role in the presidential election process is absurd, and I say that as not only someone who reads, thinks, and writes more about politics than any sane person ought to, but also as one who counts actual Iowans among my friends.
Iowans are, as a whole, fine people — as much as any other state's residents. But do they really deserve the power we give them every four years? Granted, some state has to hold the first presidential contest, but the fact that it's in a state with a comical election system and where the overwhelming majority of voters can't be bothered to make it to their state's contest is particularly maddening.
You'd expect that with a dozen or so presidential candidates practically moving to the state so they could meet each and every voter in all of Iowa's 99 counties, turnout in the caucuses would be high. No such luck. In 2012, turnout was a measly 6.5 percent, meaning 14 out of 15 Iowans didn't vote in the caucuses. While it's true that only one party had competitive primaries that year, even in 2008 when there were tight contests in both parties, it topped out at 16 percent. Not exactly an inspiring show of their commitment to democracy.
Part of the explanation may lie in the fact that caucuses are time-consuming and involve standing around in a high-school gym while people give speeches, then moving about in little gaggles according to your favored candidate. Whatever old-timey nostalgic thrill that might give you, it's undeniably a hassle compared to just pulling a lever or punching a chad. Nevertheless, don't you think that if multiple candidates had literally shown up to your house to beg you in person to choose them, you'd manage to make it out on caucus night?
That's not to mention that the event next February is actually merely the first step in a ridiculously baroque multi-stage process. What Iowans will be selecting on that evening is precinct caucus delegates, who will later go to the county convention (remember how there are 99 counties? Yeah, that means 99 conventions), and from there to the district convention, after which it's on to the state convention (can you feel the excitement building?) where they'll actually select the delegates who'll go to the national convention next summer.
You'd be hard-pressed to offer a persuasive explanation for why they bother with all that, and more importantly, why the rest of us should care. But Iowa is first (and will stay that way, because there's a state law mandating it has to be), so candidates will continue to troop through the state, testifying to their affection for the "heartland" and their love of ethanol, and heading to the Iowa State Fair to consume food on a stick.
(Permit me a brief digression: Sadly, deep-fried butter on a stick — in which, yes, an entire stick of butter is battered and deep-fried, then stuffed down your food hole — is for some reason no longer on offer at the Iowa State Fair as it was for a brief but glorious period. Last year's fair did, though, feature no fewer than 69 food-on-a-stick options.)
You can understand why politically involved Iowans are so protective of this process. After all, if you're a Republican precinct captain in Oklahoma or Rhode Island, you'd no doubt love to have Scott Walker and Marco Rubio sit at your kitchen table and tell you how important you are to their campaign. But the real fault lies with the news media, which looks at the results of this bizarre contest and decides that it's actually freighted with meaning about the will of the electorate.
Perhaps it's because after months and months of covering a campaign without any concrete results, they can't help but go a little nuts over the first actual votes anybody casts. But they play an inane game of expectations — setting them, interpreting them, and spinning them — to try to enhance the uncertainty and drama. At the end of it, some candidates will be said to have failed to meet expectations and thus be consigned to permanent loserdom, their campaigns no longer worthy of attention, while others will be elevated on high (only to be pulled down soon after). Imagine if we reported sports that way: "Analysts are calling the Red Sox the clear winner in last night's contest after they came within two runs of beating the Yankees, whom most had expected to coast to an easy victory. Hard questions are now being raised within the Yankees organization about what the failure represented by this narrow win means for their chances in the fall."
The only redeeming factor in this whole exercise is that for all the importance the political press puts on Iowa, winning seems to have little relationship to whether a candidate wins his or her party's nomination, let alone the presidency (as Rick Santorum and Mike Huckabee, winners of the last two GOP caucuses, can attest). Just don't get me started on New Hampshire.
Continue reading for free
We hope you're enjoying The Week's refreshingly open-minded journalism.
Subscribed to The Week? Register your account with the same email as your subscription.
Sign up to our 10 Things You Need to Know Today newsletter
A free daily digest of the biggest news stories of the day - and the best features from our website
Paul Waldman is a senior writer with The American Prospect magazine and a blogger for The Washington Post. His writing has appeared in dozens of newspapers, magazines, and web sites, and he is the author or co-author of four books on media and politics.