Why Republicans should kill the Export-Import Bank
The battle over Ex-Im is a battle for the soul of the GOP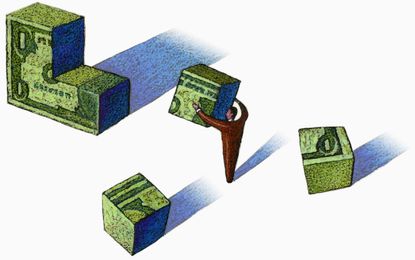 (Image credit: Illustration Works/Corbis)
Sign up to our 10 Things You Need to Know Today newsletter
A free daily digest of the biggest news stories of the day - and the best features from our website
Thank you for signing up to TheWeek. You will receive a verification email shortly.
There was a problem. Please refresh the page and try again.
A once obscure government agency known as the Export-Import Bank ("Ex-Im") has been in the news lately, because conservatives want to kill it. The agency is up for reauthorization by Congress, and it looks like House Republicans may not take it up. We should hope that they succeed in the endeavor.
What is Ex-Im? In theory, it sounds harmless enough: a government agency that's supposed to provide subsidized loans to American exporters whose client base is too risky for private-sector banks to get involved — typically these clients are countries in the developing world. Since we're mostly talking about very large exports, this almost always involves a certain amount of credit; after all, nobody pays for a fleet of jumbo airplanes in cash.
Ex-Im advocates think of it as a success story. It boosts American exports. It addresses a market failure. There's also a development component, since it helps underdeveloped countries buy important goodies. And it's not a straight handout, since it is a loan that must be paid back.
Subscribe to The Week
Escape your echo chamber. Get the facts behind the news, plus analysis from multiple perspectives.
SUBSCRIBE & SAVE
Sign up for The Week's Free Newsletters
From our morning news briefing to a weekly Good News Newsletter, get the best of The Week delivered directly to your inbox.
From our morning news briefing to a weekly Good News Newsletter, get the best of The Week delivered directly to your inbox.
The problem with all this is that it's mostly bunk. Does Ex-Im address a market failure? It's impossible to know, since Ex-Im and similar bodies have priced out any would-be competitors by using the U.S. government's credit rating to offer below-market rates.
And a market "failure" isn't always a failure — sometimes it's a signal. Up until 2008, the fact that some people couldn't get credit for a house mortgage was considered an injustice, a barrier against the American Dream erected by greedy bankers. Look how the push for universal homeownership turned out. Sometimes a dearth of private-sector credit is a sign that a loan shouldn't happen.
Is Ex-Im for American exporters? That is by no means clear. Ex-Im is good for the companies that can access it, sure, but not so much for their rivals that can't. Economically, export subsidies are harmful, because they can shift resources in the economy from places where they would have been more productive toward less productive endeavors.
As the Congressional Research Service wrote, reflecting a consensus among economists: "Subsidized export financing merely shifts production among sectors within the economy, rather than adding to the overall level of economic activity, and subsidizes foreign consumption at the expense of the domestic economy."
But this is all a bit academic. If you understand human nature, I don't even have to tell you the biggest problem with Ex-Im.
Whatever its theoretical virtues, in practice Ex-Im has become a taxpayer-subsidized piggy bank for very large, government-connected companies.
As the Mercatus Center's Veronique de Rugy has pointed out, Boeing and General Electric together rake in over 40 percent of the total loans handed out by Ex-Im.
As The Washington Examiner's Tim Carney, a tireless foe of Ex-Im, recounted in an article whose title — "The Export-Import Bank is a petri dish of corruption and graft" — says it all, several officials and employees were arrested for corruption related to Ex-Im, including former Rep. William J. Jefferson (D-La.), notorious for being found with cash stored in his freezer. As Carney pointed out, this is simply to be expected when you create a government agency whose job is to steer government dollars to select companies.
It's probably for these reasons that then-presidential candidate Barack Obama called Ex-Im "little more than a fund for corporate welfare."
House conservatives now look ready to kill Ex-Im. And this is another reason why they need to plunge the knife: The battle over the fate of Ex-Im is really a battle over the soul of the Republican Party.
Is the conservative movement pro-market or pro-business? Those positions have some overlap, but even back in the 18th century, Adam Smith noted how often the interests of big business can be against those of the market and of the little guy, since big business can use cartels or government patronage to prevent competition from eroding profits.
In theory, the conservative movement supports markets, not businesses as such. But in practice, the movement's political party, the GOP, has tended to be much more pro-business.
Ex-Im is a paradigmatic issue in which being pro-business and pro-market is incompatible. It requires taking a stand: angering big business to do the right thing — or caving. The traditional GOP would have caved. But the Tea Party insurgency has put some spine into Republican lawmakers.
If Ex-Im dies, it wouldn't just be sound public policy. It might be the beginnings of an astonishing new chapter in American politics.
Continue reading for free
We hope you're enjoying The Week's refreshingly open-minded journalism.
Subscribed to The Week? Register your account with the same email as your subscription.
Sign up to our 10 Things You Need to Know Today newsletter
A free daily digest of the biggest news stories of the day - and the best features from our website
Pascal-Emmanuel Gobry is a writer and fellow at the Ethics and Public Policy Center. His writing has appeared at Forbes, The Atlantic, First Things, Commentary Magazine, The Daily Beast, The Federalist, Quartz, and other places. He lives in Paris with his beloved wife and daughter.