Can light rail save American sprawl?
The best hope for the American suburbs could also doom it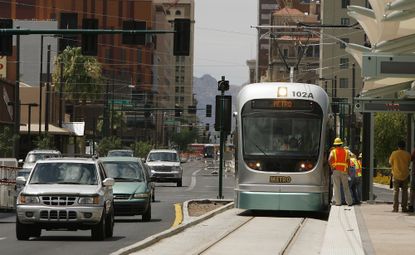 (Image credit: AP Photo/Ross D. Franklin, File)
Earlier this year, the federal Department of Transportation unveiled a glimpse into the future. It was a draft of a report called "Beyond Traffic 2045" and it tried to highlight both trends and challenges for the country's overworked transportation grid in coming decades.
Read the report and a few things become clear: America's roads are largely in disrepair, the American population will likely continue to spike in the warmer Southern and Western regions of the country, and millennials are increasingly reliant upon public transit and ride-sharing rather than cars they own themselves.
But a few big questions still linger. Perhaps the biggest is how a projected 70 million new Americans will get to work, run errands, and travel from city to suburbs in the next 30 years, especially with more residents flooding into cities in the American South and West with already limited public transit options.
Subscribe to The Week
Escape your echo chamber. Get the facts behind the news, plus analysis from multiple perspectives.
SUBSCRIBE & SAVE
Sign up for The Week's Free Newsletters
From our morning news briefing to a weekly Good News Newsletter, get the best of The Week delivered directly to your inbox.
From our morning news briefing to a weekly Good News Newsletter, get the best of The Week delivered directly to your inbox.
If growth continues the way it has in past decades — with 68 million new residents added to the South and the West from 1980 to 2010 — congestion and breakdowns will follow, the report said.
This is nothing new to Eva Olivas, a lifelong Phoenix resident and director of the Phoenix Revitalization Corporation, a non-profit which works in some of the city's low-income neighborhoods. Maricopa County, which is home to Phoenix and outlying cities, was the second fastest growing county in the country last year, but Olivas said the city still struggles to maintain a robust public transit system.
"This is Arizona, where it can reach 110 degrees," she said. "But we have seniors waiting in the heat."
Add to that lagging street repairs, lack of shade over bus stops, and missing street lighting over stops in poorer neighborhoods and the system can be a burden for low-income residents who rely upon it the most, she said.
"Equity is a big thing for me. How does this transportation system truly support every corner of the city?" she said.
Part of the challenge of running a public transit system in a city like Phoenix comes down to sheer size. The city alone spreads out over 517 square miles, and residents drive an average of 27 miles per day and spend roughly 27 hours per year stuck in traffic, according to data from Smart Growth America.
"I understand when people migrate here that they feel that there are other systems in other parts of the country that work better, but we're just too broad," Olivas said. "There's no way we can have a mass transit system covering 500 square miles."
Despite its size, Phoenix has made headway in recent years. In 2008, the city unveiled a new 20 mile light rail system which it has been expanding ever since, with the goal of covering 66 miles throughout the county by 2034. The system saw a record 73 million rides in 2013, according to Valley Metro, which runs the service.
And a new transit strategy could go even further. In August, voters will have the opportunity to approve a plan designed to accommodate the more than two million residents who are expected to call Phoenix home by 2050. The plan is based on recommendations from Phoenix leaders, including Olivas, who came together to discuss how the city can cope — and improve — in the face of growth.
But mainly, its driven by what average Phoenix citizens are asking for, which is more public transit and commuting options, said Matthew Heil, a spokesperson for the Phoenix Public Transit Department.
"People see transit isn't something we have to put up with, it's something that really adds value," he said.
Among the plans are longer hours for buses, an additional 'circulator' bus system, a tripling of the light rail coverage, a 70 percent increase in bus arrivals, and an additional thousand miles of bike lanes.
Heil said the city has already come a long way since 2000, when residents first pushed city government to improve a public transit system that did not even run on weekends. Now, he said, light rail has become a popular alternative and more residents are clamoring for bike lines.
Bike commuting is one plan that few city planners had on their radar until they heard from residents, Heil said. Now, they plan to enact their cycling "master plan" for the city on the heels of a successful citywide bike share program.
"This is really another sign of how Phoenix is changing to add more options," he said. "We would have never considered that element if we hadn't heard from the very beginning that folks wanted that option."
For her part, Olivas is optimistic that her concerns were heard in the recommendations, and that Phoenix's lower-income residents won't be neglected in the planning process. Mostly, she says, the city has reached a point where failing to adapt isn't an option.
"Whether this passes or doesn't pass, something has to improve because of what we're going to see in the future," she said. "It has to."
Nationwide data isn't always so rosy when it comes to public transit improvements. A 2014 analysis from New Geography argued that so-called "legacy cities" — that is, cities with already existing strong public transit systems, such as New York, Chicago, San Francisco, and Washington, DC — accounted for 77 percent of public transit commuting in urban areas nationwide. Newer, less transit-friendly cities accounted for only 12 percent.
So where does that leave cities like Phoenix, whose residents are steadily pushing for additional public transit options?
"The trends are all good," according to Art Guzzetti, the vice president of policy at the American Public Transportation Association. More cities are enjoying the benefits of an influx of new residents, he noted, which means a new dependence on their public transit system.
And many of those cities that have previously seen sprawl as the answer are rethinking.
"A lot of these communities have been sprawling, but that doesn't mean that's the future they want," he said. "No one seems to want the sprawl scenario, to be honest. If this isn't what you want, then you have to plan for something different."
Salt Lake City, which opened four new rail lines in a single year, and Denver, which refocused their downtown around the city's train station, are two examples of cities that have begun to move away from car-dependent sprawl, he said.
Back in Phoenix, the changes might be slowly working.
Much of the change, it seems, has been driven by Phoenix's residents who want to move beyond highways. And it looks like the city government is listening, according to Heil, the public transit spokesperson.
"People have said we're changing the way we want to behave and you need to catch up to us," he said.

Continue reading for free
We hope you're enjoying The Week's refreshingly open-minded journalism.
Subscribed to The Week? Register your account with the same email as your subscription.