Millions of Americans still embrace the Confederate flag. Don't dismiss them all as racists.
Plenty of decent people sincerely believe the flag is an important part of their heritage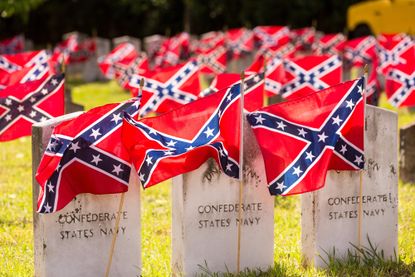 (Image credit: Richard Ellis/ZUMA Press/Corbis)
After the horrific, racially motivated massacre last week of nine black Bible study participants at a church in Charleston, South Carolina, there has been a righteous rush to remove the Confederate flag from government property and the goods of many national retailers. And it seems we've reached a landmark tipping point: After decades of defending the Confederate flag, many conservative lawmakers have publicly and aggressively joined the fight against this longtime symbol of the South.
However, there are still millions of Americans in the South who (probably quietly, these days) remain deeply invested in the Confederate flag. I am not one of them. But I do believe their concerns and beliefs are worth considering without dismissing them wholesale as a bunch of backwards racists, as much of the American left seems eager to do.
Some defenders of the flag worry about a slippery slope. They oppose its removal from state capitols and insignias because they think there's no logical stopping point.
Subscribe to The Week
Escape your echo chamber. Get the facts behind the news, plus analysis from multiple perspectives.
SUBSCRIBE & SAVE
Sign up for The Week's Free Newsletters
From our morning news briefing to a weekly Good News Newsletter, get the best of The Week delivered directly to your inbox.
From our morning news briefing to a weekly Good News Newsletter, get the best of The Week delivered directly to your inbox.
First came the calls to take down the Confederate flags flying over state property. Then Virginia moved to scrap a small license plate program for the Sons of Confederate Veterans. Before long, private companies said they would discontinue selling Confederate-themed products. Now everything from roads to statutes commemorating Confederate figures could wind up on the chopping block.
It won't stop with the Confederacy, the argument goes. Many of the Founding Fathers owned slaves, including George Washington and Thomas Jefferson. The original Constitution allowed slavery and counted the slaves as three-fifths of a person. Racists have marched underneath the Stars and Stripes too. And how should Native Americans feel about the U.S. flag?
Rush Limbaugh is already on the record saying this.
Now, there obviously are meaningful distinctions that can be drawn. The preservation of slavery really was the proximate cause of Southern secession; the American Revolution wasn't fought over the Wilberforce Act. The three-fifths compromise was actually pushed by slavery opponents who didn't want slave owners to maintain the institution by padding their congressional representation.
"Slavery and white terrorism happened under the Confederate flag," writes the former "Southern Avenger" Jack Hunter. "It also happened under the American flag. But the actions taken to fight these injustices also happened under the American flag. The Confederate flag has no such alternative history."
It is nevertheless worthwhile to discuss when symbols or names that are cherished by some Americans should be abandoned because they give offense to other Americans. I think the answer shouldn't be "always," but it also shouldn't be "never."
As a Massachusetts native, my only connection to the Confederate flag is watching Dukes of Hazzard as a child and having a toy General Lee car (Warner Bros. will no longer license Dukes-related products with the battle flag). I also lived on Lee Highway during my first decade in the Washington, D.C. area. The Stars and Bars don't speak to me.
But I've met plenty of decent people who sincerely believe the flag is an important part of their heritage. They are not racists or monsters, even if the same symbol is celebrated by many who indisputably fit that description. They prefer Tim Scott and Ben Carson to David Duke and the ghost of George Wallace. While the Confederate flag's detractors have a much stronger historical case, Jonah Goldberg is right to point out that there is more to these questions than reason alone.
People have a natural affection for hearth and home, friends and neighbors, history and ancestors, the places where they grew up and the accents of their parents and grandparents. That affection exceeds what we can rationally defend and causes us to play up virtues and sometimes to whitewash even horrible crimes. We don't love our families because they are the most righteous people, but because they are ours. We remember the good things we experienced more clearly than the sins of long-dead forebears.
Unless, of course, our ancestors were the victims of those sins and the consequences are still visible today. Black Southerners have a history, too, of course. It was one of slavery and segregation, feeling the sting of racism and white supremacy. To ask that a flag that symbolizes all of this be barred from flying over a building supported by their tax dollars is hardly an unreasonable request.
Honest discussions based on mutual respect, letting understanding and decency be our guide, trump boycotts and political threats. It should not take a shooting to make this clear. That doesn't mean always rejecting continuity with the past, either. When South Africa holds state funerals for officials from the old white minority governments, the black leaders who attend aren't downplaying the injustices of apartheid.
Maybe that's too much to ask. But in a diverse society where one man's heritage is another man's hate, it is a much better ending point than re-fighting the Civil War 150 years later.

Continue reading for free
We hope you're enjoying The Week's refreshingly open-minded journalism.
Subscribed to The Week? Register your account with the same email as your subscription.