Why the GOP's threat to shut down the government over Planned Parenthood will fail
Republicans have tried this trick before — without much success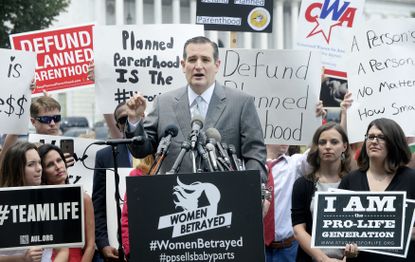 (Image credit: Olivier Douliery/Getty Images)
So here we are again: Republicans want to make a policy change, but since doing so will be difficult through the ordinary legislative process, they are threatening to shut down the government to get what they want.
This time it's about Planned Parenthood, long a target of conservative loathing. Galvanized by selectively edited videos made by conservative activists trying to make it seem as though the organization is profiting from the sale of fetal tissue, Republicans in Congress are now trying (as they have before) to "defund" Planned Parenthood. The White House says it will veto any budget bill that does that.
In response, at least some conservatives have reverted to a time-worn tactic: Shutdown! Ted Cruz says if that is what it takes to eliminate funding for Planned Parenthood, so be it. Some of his allies in the House seem to agree. Conservative pundit Erick Erickson demands, "If Republicans are not willing to make this their hill to die on...the Republican Party needs to be shut down."
Subscribe to The Week
Escape your echo chamber. Get the facts behind the news, plus analysis from multiple perspectives.
SUBSCRIBE & SAVE
Sign up for The Week's Free Newsletters
From our morning news briefing to a weekly Good News Newsletter, get the best of The Week delivered directly to your inbox.
From our morning news briefing to a weekly Good News Newsletter, get the best of The Week delivered directly to your inbox.
For the record, most of the money Planned Parenthood receives from the federal government comes from reimbursement for health care services through Medicaid. Precisely zero goes to abortion services; by law, no federal funds can go to abortions. So when Republicans say they want to "defund" Planned Parenthood, what they're talking about is taking away medical services — breast cancer screenings and the like — from poor women.
I'm not going to go too deeply into the videos, other than to say that nothing in them shows that the organization did anything illegal. The worst anyone has been able to say is that the "tone" used by Planned Parenthood officials was callous. You can object to fetal tissue research if you like, even though it's done with the consent of patients and can yield valuable medical insights, but there's no evidence that Planned Parenthood isn't complying with the laws that cover how that tissue can be used.
Until Barack Obama became president, most government shutdowns happened for one reason: because Congress and the president couldn't agree on a budget. Sometimes the issues were broad, like cuts to domestic spending, and sometimes they were more specific. But they were usually connected in some rational way to the perceived necessity for a shutdown, in that there was disagreement on how to spend the money that will keep the government operating.
But Republicans in the Obama era have been nothing if not creative thinkers when it comes to policy procedures and norms. And in this area, their innovation was to say, "We have a policy disagreement with the other side, but we can't get our way through the normal channels. So how about if we shut down the government until we get what we want?"
There's one important fact about this threat that you'd think Republicans would have learned by now: It always fails. The public doesn't rally around the shutdowners' cause, because it violates a basic sense of how policy-making ought to operate. Congress can bicker and fight, but the way it makes decisions is that legislators vote on things, and the side with more votes wins (except for proposals that are filibustered, but that's a different story), subject to the presidential veto. If you lose through that process, you've lost, period. Even if you were right on the merits, the system's rules are longstanding and familiar enough that they seem fair, since everyone understands the rules and agrees to live under them.
But relying on a shutdown is like a baseball team that's trailing at the start of the ninth inning, so they hide all the balls and say they won't return them until they're declared the victor. It just doesn't seem right.
And it isn't just that Republicans can't get enough public support for the shutdowns — more importantly, they don't actually get what they want. In 2013, they shut down the government in an attempt to repeal the Affordable Care Act. The Affordable Care Act, you may have noticed, is still around. In 2014, they nearly shut down the government in an attempt to stop Obama's executive actions on immigration. That failed there, too (though some of those actions have been held up in the courts).
It should be noted that the congressional GOP leadership is smart enough to say they're not interested in another shutdown psychodrama. But if they're in a tough spot, besieged by their more conservative members — not to mention outside groups and pundits — there's no denying the part they've played in making this a regular demand of conservatives. It was the congressional leaders who devised the strategy of opposing Barack Obama on everything and filibustering every bill of any consequence. They've happily gone along with the hysteria on the right that says that Obama isn't just a president they disagree with, but an enemy of America who seeks to destroy everything we hold dear. They've encouraged the belief that compromise is always, and by definition, an act of betrayal.
Given all that, is it any surprise that whenever a new issue comes up, at least some on the right think it's a hill worth dying on? Shutting down the government might be doomed to fail, but I suppose it feels like fighting.

Continue reading for free
We hope you're enjoying The Week's refreshingly open-minded journalism.
Subscribed to The Week? Register your account with the same email as your subscription.