The glaring hypocrisy of the pro-life movement
If pro-lifers are serious about reducing abortions, why don't they support more birth control?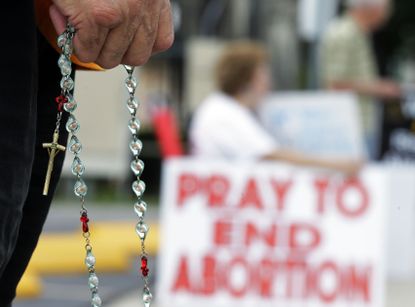 (Image credit: AP Photo/Eric Gay)
I'm never more dumbfounded by my fellow liberals than when they profess not to be in the least bit morally troubled by abortion. Which means that I've been dumbfounded a lot over the past few weeks.
Come on, admit it — you've heard variations on it, too:
Those videos of Planned Parenthood employees nonchalantly discussing killing unborn human babies, dismembering them, and selling the parts for medical research — how could anyone object to that? What should really make us angry is that these pro-life activists filmed the videos in the first place. And if you want to see something truly despicable — a genuine moral outrage — there's this dentist who hunted down and shot a lion in Africa...
Subscribe to The Week
Escape your echo chamber. Get the facts behind the news, plus analysis from multiple perspectives.
SUBSCRIBE & SAVE
Sign up for The Week's Free Newsletters
From our morning news briefing to a weekly Good News Newsletter, get the best of The Week delivered directly to your inbox.
From our morning news briefing to a weekly Good News Newsletter, get the best of The Week delivered directly to your inbox.
This series of moral judgments makes no sense to me. That's because I'm convinced that abortion indisputably kills a human being, that human beings possess greater intrinsic worth than any other form of life (even when that form of life is an impressive and endangered animal), and that treating the body of a human victim of lethal violence as material to be harvested for its parts is a form of barbarism.
Sounds like I'm pro-life, doesn't it?
Well, I'm not. Part of the reason is that, as much as I'm appalled by the death of the baby in an abortion, I also think that women should be recognized by the government as sovereign over their own bodies — at least prior to fetal viability, when things get even trickier.
But there's a second, related reason for my deep suspicion of the pro-life movement: its lack of devotion to the cause of lowering the abortion rate.
Yes, you heard that right: Pro-lifers are insufficiently anti-abortion. Allow me to explain.
Sure, organized opponents of abortion want fewer babies to die. But if that were their sole concern, they would pursue different strategies than simply trying to make it harder for women to have abortions. From toiling tirelessly for decades to overturn Roe v. Wade to proposing a wide range of state regulations to force clinics to close, pro-life activists have focused almost exclusively on what might be called the supply side of the equation. This is also the side of the equation that curtails the reproductive rights of women.
But what about the demand side? Why not fight to make birth control much more widely and cheaply available, and support educational programs that advocate its safe and effective use? Wouldn't this lead to fewer unwanted pregnancies and therefore fewer abortions — and all without challenging the constitutional rights of women or depriving them of access to vitally important medical services?
This is a line of argument that Slate's Will Saletan has been pressing for years against Ross Douthat of The New York Times, a leading Catholic opponent of abortion. (Their debate began when Douthat was writing for The Atlantic.) Douthat's response has consistently amounted to saying that making contraception more widely available (even when coupled with teaching people how and why to use it responsibly) would at best move the abortion rate downward by a couple of percentage points — far less than we'd be likely to see from a reversal of Roe. Hence the need to focus exclusively on the supply side.
There's just one problem with Douthat's position: We now know that it's wrong. For this we can thank the state of Colorado, which since 2009 has in effect been conducting an experiment to test the validity of Douthat's claim. Over the objection of Republicans and using funds provided by a private organization, the state offered free intrauterine devices and implants to teenagers and poor women. The results, as the Times put it in a front page story from early July, were "startling."
That's right: A concentrated focus on the demand side for just four years led to a dramatic decline — or more accurately, collapse — in the abortion rate.
If the pro-life movement's sole aim was to shrink the number of abortions, you would have heard its leading activists proclaiming this happy news on every sympathetic website, radio program, and cable outlet in the country. "Historic Breakthrough in the Battle Against Abortion!" the headlines would have screamed. Meanwhile, in Washington, D.C., and in statehouses across the country, pro-life legislators would have dropped their opposition to the contraception mandate in the Affordable Care Act and announced support for expanding it, realizing that this one provision of the ACA promised to do far more to lower the abortion rate than four decades of railing against Roe.
But of course we saw none of this. The question is why.
And the answer is that the pro-life movement, which consists largely of conservative Catholics and evangelical Protestants, doesn't just want to lower the abortion rate. It also wants to win a culture war in the name of "traditional values" — and encouraging the widespread use of birth control doesn't fit with its conception of tradition, which holds that women are first and foremost meant to be mothers, children are a gift from God, pre-marital sex should be strongly discouraged, both husband and wife should be "open to life" during sexual intercourse, abortion should never be considered an acceptable choice, and the government should enforce all of this by outlawing the procedure.
I have faith that Douthat's honesty and intelligence will lead him to concede that he's lost his debate with Saletan and that making birth control much more widely available could do enormous good. But that's a concession that the pro-life movement, with its broader cultural agenda, is unlikely ever to make.
Which is why people like me — deeply troubled by abortion and yet supportive of women's reproductive freedom (along with a good bit of the rest of the sexual revolution as well) — will never lend it our support. No matter how many barbaric videos its activist wing makes public.

Continue reading for free
We hope you're enjoying The Week's refreshingly open-minded journalism.
Subscribed to The Week? Register your account with the same email as your subscription.