The real irony of Scott Walker's messy personal finances
The presidential candidate is (kind of) just like us. So why is he so hell-bent on gutting ordinary workers?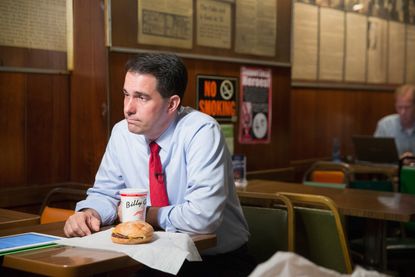 (Image credit: Scott Olson/Getty Images)
Sign up to our 10 Things You Need to Know Today newsletter
A free daily digest of the biggest news stories of the day - and the best features from our website
Thank you for signing up to TheWeek. You will receive a verification email shortly.
There was a problem. Please refresh the page and try again.
The finances of Wisconsin Gov. Scott Walker got a rather stern once-over from National Journal on Monday.
"Walker has two credit-card debts of more than $10,000 apiece on separate cards and is paying an eye-popping 27.24 percent interest rate on one of them," the Journal harrumphed, before quickly lasering in on the irony. "The Republican presidential candidate has cast himself as both a fiscal conservative leader and a penny-pinching everyman on the campaign trail, often touting his love of Kohl's, the discount department store."
Walker isn't the first Republican presidential hopeful to get this treatment either. Back in June, The New York Times took Sen. Marco Rubio of Florida to task for a "strikingly low savings rate" and some household purchases of questionable wisdom.
Subscribe to The Week
Escape your echo chamber. Get the facts behind the news, plus analysis from multiple perspectives.
SUBSCRIBE & SAVE
Sign up for The Week's Free Newsletters
From our morning news briefing to a weekly Good News Newsletter, get the best of The Week delivered directly to your inbox.
From our morning news briefing to a weekly Good News Newsletter, get the best of The Week delivered directly to your inbox.
This is a deeply silly genre of journalism. It treats troubles the vast majority of Americans grapple with as vaguely scandalous. And it implicitly assumes the same rules of thumb that should guide household budgets should also guide the federal budget, which is catastrophically wrong.
More to the point, other details in the Journal piece offer a brief look at a presidential candidate of relatively modest means.
"Walker listed only six investments worth between $1,000 and $15,000, a whole life insurance plan worth between $15,000 and $50,000, and a deferred compensation plan from Milwaukee County worth between $15,000 and $50,000," the Journal continued. Walker received a $45,000 advance for a book in the last year, and it looks like his annual salary since assuming the governorship in 2011 has been around $140,000. That's certainly a lot of income compared to most Americans — it puts Walker just below the threshold for the top 10 percent — but it's obviously nothing compared to the fortunes Jeb Bush and Hillary Clinton have amassed.
This gets at something poignant about Walker the politician, and by extension Walker the man. While most all presidential candidates and politicians have a significant amount of socioeconomic distance from the median American, Walker has less than most. Besides his income and wealth, Walker came from modest beginnings as a preacher's kid in a small Wisconsin manufacturing town. He attended Marquette University in Milwaukee, but didn't finish his degree — passing on one of the key status symbols that American elites use to separate themselves from the pack.
And yet few Republicans, and certainly no other Republican presidential candidate, has been so ferociously focused on grinding everyday workers into the ground.
Like any good conservative, Walker pushed massive tax cuts for the well-to-do through Wisconsin's state budget, creating a hole he's now trying to fill by slicing education spending. But he also drove a blistering and brutally successful push to crush Wisconsin's public-sector unions, followed by "right to work" laws that will likely cripple the state's private unions as well.
Nor does it look like Walker did this because Republican and business interests were demanding it — he did it because he wanted to, as a matter of ideology.
An explanation probably lies in the unique and poisonous way the history of race and class intersected in the Milwaukee political milieu Walker came from. In the early 20th century, large numbers of black Americans migrated from the South to northern urban centers. But no sooner had they put down roots than the mid-century collapse of manufacturing arrived, sucking away jobs and bringing poverty to the cities.
Black Americans had never been permitted to build up the wealth that white Americans had: Along with the aftereffects of slavery and the social consequences of segregation, they were initially excluded from policies like Social Security and the G.I. Bill, which helped build the white middle class. And racist policies like redlining and the construction of the highway system destroyed many of their neighborhoods and prevented them from accessing areas of economic vibrancy.
So when the white middle class fled to the suburbs, the poorer black populations could not follow. That set up Reaganite white suburbs, which surrounded and disdained the urban interiors of impoverished African-Americans, and all the vicious politics that followed. The funny thing, as Alec MacGillis laid out in a 2014 profile of Walker, was that this process came a few decades late to Milwaukee. The future governor cut his political teeth as a member of Milwaukee's fleeing white upper-middle class, just as this conflict was reaching its apex.
So it should come as no surprise that those public-sector jobs Walker helped crush have also been one of the great economic havens where black Americans can actually earn a decent living.
For decades, American macroeconomic policy has done a terrible job providing enough work to keep everyone employed. That's introduced a bottom-up desperation that's trickled higher and higher over the years. On top of that, while America has a hidden welfare state for the rich and the upper-middle class, its explicit social safety net is skimpy and targeted at the poorest Americans. This creates a perverse circumstance in which many Americans in the middle of the pack feel left behind, while they see people with different skin colors and alien cultural habits — habits often shaped by poverty — receiving aid (however grossly inadequate).
More and more, American society is becoming a brute contest, in which the groups of varying power must trample one another for the scraps that fall from the elite table. This sort of divide-and-conquer effect, in populations that should be uniting over common interests and common foes, has a long history in U.S. labor struggles.
When people find themselves outside the elite inner circle, and see themselves as in a zero-sum economic game with impoverished subcultures that look and act different from them, the likes of Scott Walker is often what emerges from the ferment.
Continue reading for free
We hope you're enjoying The Week's refreshingly open-minded journalism.
Subscribed to The Week? Register your account with the same email as your subscription.
Sign up to our 10 Things You Need to Know Today newsletter
A free daily digest of the biggest news stories of the day - and the best features from our website
Jeff Spross was the economics and business correspondent at TheWeek.com. He was previously a reporter at ThinkProgress.