Trump'd: How words became louder than actions in the 2016 race
Meet this election's defining feature: the utterance-umbrage cycle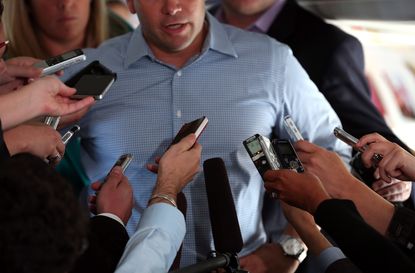 (Image credit: Chip Somodevilla/Getty Images)
Sign up to our 10 Things You Need to Know Today newsletter
A free daily digest of the biggest news stories of the day - and the best features from our website
Thank you for signing up to TheWeek. You will receive a verification email shortly.
There was a problem. Please refresh the page and try again.
This week is like almost every other week during a presidential campaign, in one particular way.
The biggest story concerns whether Donald Trump made a crack about Fox News host Megyn Kelly having her period. In his defense, Trump criticized Kelly for some things she has said, while also striking out at Jeb Bush for questioning the amount we spend on women's health. Speaking of women's health, Scott Walker and Marco Rubio are being forced to answer questions about what they said about abortion during last week's Republican debate. And President Obama is being criticized by Republicans for being mean in his comments about their opposition to the nuclear deal with Iran; he has even been charged with anti-Semitism because he said senators are under pressure to reject the deal (don't ask about the idiotic train of logic necessary to get to that place).
What do all these things have in common? They're all about what someone said, and what their statement is supposed to reveal to us about their awful motives, their dangerous plans, or their twisted heart. Sometimes it seems that in presidential campaigns we talk about little else.
Subscribe to The Week
Escape your echo chamber. Get the facts behind the news, plus analysis from multiple perspectives.
SUBSCRIBE & SAVE
Sign up for The Week's Free Newsletters
From our morning news briefing to a weekly Good News Newsletter, get the best of The Week delivered directly to your inbox.
From our morning news briefing to a weekly Good News Newsletter, get the best of The Week delivered directly to your inbox.
Every four years I intend to keep a running list of all these utterance-based controversies, but by the time I remember to begin there have usually been so many already that it's too late. If you haven't had people express umbrage at something you said when speaking off the cuff, then you probably aren't much of a candidate. People got mad at Hillary Clinton for saying she and her husband were "dead broke" after leaving the White House; people got mad at Jeb Bush for a series of awkward statements on whether the Iraq War was a mistake, and for saying Americans need to work more hours; people got mad at Scott Walker for saying that he can take on terrorists because he took on labor unions; people just got mad at Rand Paul for saying inequality happens because some people don't want to work hard. And then, of course, there's Trump, whose campaign has been little more than a string of offensive statements.
You'll notice that, just as with every "gaffe," what was supposedly revealed by the statements at which people are pretending to be outraged is exactly the thing everyone thought about that candidate all along. Indeed, if a candidate says something completely out of character — or out of caricature — everyone will probably ignore it.
That isn't to say that there's never a real issue underlying the utterance-umbrage cycle. For instance, when Jeb couldn't quite say whether the Iraq War was a mistake, the real question was not what label he would pin on it, but what lessons he learned from that catastrophe that might inform his own foreign policy. Yet most of the discussion was about how skillfully he answered the question and what else he could have said.
When the campaign is over, we ascribe large effects to the offending utterances, when it's much more likely they were a symptom of a candidate's problems than their cause. It didn't help in 2012 when Rick Perry couldn't remember which three federal departments he wanted to eliminate, then said "Oops," but at the time his campaign was already headed downward fast. Mitt Romney's comments about the "47 percent" got him lots of bad press, but the Obama campaign had already succeeded in painting him as a representative of the rich; the controversy just reinforced it. Republicans made Barack Obama's out-of-context quote that "you didn't build that" when talking about businesses the theme of their convention and for a time the centerpiece of Romney's campaign — they even wrote songs about it, I kid you not — and were surprised when it didn't turn the entire electorate against Obama.
If there's any justification for all this attention to the impolitic statement, it would have to be that politicians spend much of their time talking, so we might as well judge them on their words. Campaigns are essentially all talk: the candidates talk about who they are, they talk about what they want to do, and they talk about why their opponents are jerks. The biggest events of the campaign are debates, where candidates talk together, and conventions, where everybody in the party talks, culminating in the candidate him or herself giving a long talk.
The job they're auditioning for certainly involves plenty of talking; for instance, in his first year in office, Barack Obama gave 411 speeches, had 42 news conferences, sat for 158 interviews, and conducted 23 town hall meetings. But what really matters isn't what the president says, it's what he does. There are lots of people who are very good at talking, but that makes them better suited to having their own radio shows than running the country. It may be an unfortunate reality that only talkers can make it to the presidency, but at the very least we shouldn't forget that the doing is more important.
There's an irony here too, in that everyone from voters to members of the media complains that politicians are too careful and too rehearsed in their speaking, when what we supposedly want is someone who's "real" and "authentic." Yet those who are unrehearsed enough to make mistakes get mercilessly punished for even the slightest extemporaneous stumble.
So the next time you read that a candidate said something outrageous and everyone else is outraged, ask yourself whether the statement really tells you something you didn't already know — or whether it tells you anything at all. Chances are it won't.
Continue reading for free
We hope you're enjoying The Week's refreshingly open-minded journalism.
Subscribed to The Week? Register your account with the same email as your subscription.
Sign up to our 10 Things You Need to Know Today newsletter
A free daily digest of the biggest news stories of the day - and the best features from our website
Paul Waldman is a senior writer with The American Prospect magazine and a blogger for The Washington Post. His writing has appeared in dozens of newspapers, magazines, and web sites, and he is the author or co-author of four books on media and politics.