How sex work explains the economy
Amnesty International's recent call to decriminalize sex work reveals some uncomfortable truths about how the market works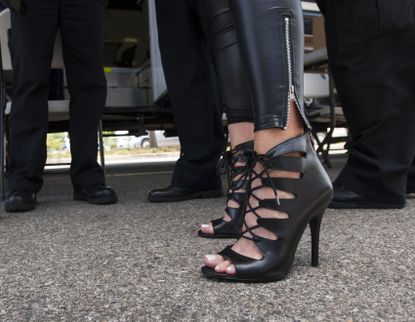 (Image credit: David Bro/ZUMA Press/Corbis)
Earlier this month, Amnesty International made headlines by officially declaring its support for decriminalizing sex work involving consenting adults. It's opposed by some major players, including the Coalition Against Trafficking In Women, which is in turn supported by some major American female celebrities.
With the wisdom of decriminalization under debate, it's worth examining a few examples of how it could work. Germany and the Netherlands have legalized sex work wholesale. The "Swedish model" makes selling sex legal but keeps buying it illegal — Norway, Iceland, and France have followed that framework. And here in America, brothels are famously legal in Nevada.
But probably the most interesting example is when the state of Rhode Island accidentally legalized sex work in 1980 with a statutory language screw-up. The hiccup was discovered in 2003, and the language wasn't changed until 2009. The intervening six years provided one of those rare and weird natural experiments economists and social scientists love. In 2014, a study found remarkable drops in the rates of gonorrhea and rape in the state — by 39 percent and 31 percent, respectively — during the period of legalization. Even more strikingly, another study, published in 2015, found a 30 to 40 percent drop in the rates of rape and sexual abuse in the first two years after the Netherlands legalized sex work in 1994.
Subscribe to The Week
Escape your echo chamber. Get the facts behind the news, plus analysis from multiple perspectives.
SUBSCRIBE & SAVE
Sign up for The Week's Free Newsletters
From our morning news briefing to a weekly Good News Newsletter, get the best of The Week delivered directly to your inbox.
From our morning news briefing to a weekly Good News Newsletter, get the best of The Week delivered directly to your inbox.
"We conducted our study completely independently of knowledge of the [Rhode Island study]," Stephen Kastoryano of the University of Mannheim, and a co-author of the Netherlands study, told Vox's German Lopez. "It's too much of a coincidence to not think about looking into more."
On the drop in gonorrhea, one aspect of the Rhode Island mix-up was it only legalized indoor sex work. For obvious reasons, street prostitution tends to be more harried, risky, and involve a lot less condom use. By accidentally creating a regular market in the safety of physical establishments — which is presumably what you'd also get with intentional legalization — Rhode Island probably gave sex workers more space and opportunity to vet clients and control the encounters without worrying about falling afoul of the cops.
As for what caused the drops in rape and sexual abuse, that's harder to tease out. But Lopez observed that, when sex work is legal, sex workers aren't just free to not worry about the cops, they're free to go to the cops if anything goes wrong. Furthermore, because sex workers no longer had to fear prosecution, the potential for police corruption (i.e. cops demanding sex from workers) also dropped. Sex workers also had a much easier time accessing and investing in security like locks, cameras, and guards. And then there's the uncomfortable possibility that men with a predilection to rape will rape less if prostitution is a legal alternative.
But what this all amounts to, big picture-wise, is that legalization brings sex workers into the social fabric of legitimate economic exchange. That means normalized relationships with the police, with economic regulators, and with all the other physical and bureaucratic infrastructure other workers and businesses take for granted. It means the ability to interact with the government without fear, and thus a much greater opportunity to access social aid like Medicaid, Social Security, and the like. There's also the harder-to-define, but very real way the law interacts with culture. Criminalization means stigma, which in turn carries social and psychological costs.
What this all boils down to, for sex workers themselves, is at least some measure of power — over when they will do their work, how they will do it, under what conditions they will do it, and who they will do it with.
But what's really crucial to realize is how widely this logic maps out to the rest of the economy. Plenty of jobs in the legitimate business realm can still be exploitative, harmful, or degrading. As Charlotte Shane, a sex worker herself, told Lopez, "Coal mining is extremely dangerous, drilling for oil is extremely dangerous. We don't outlaw them. We don't say, 'Oh, you pathetic poor people who have to work in a mine.'"
Perhaps we should at least consider the possibility that many people in such lines of work would choose different options if they had the power to genuinely do so. Even workers in the legal realm still face the most basic form of coercion in a free market economy: filling the everyday human needs of food, shelter, water, medical care, and so forth. In a society where the overwhelming majority of the income to buy those things comes from having a job, workers are everywhere and always at the mercy of their employers to at least some degree. The potential for exploitation is always there. That's true of coal miners, warehouse workers, white collar offices, surrogate mothers, and everyone in between.
Organizations like unions can help sex workers and coal miners alike, by giving them some bargaining power with their employers as a cohesive pool of labor. Some kind of guaranteed income, through policies like a universal basic income, or a universal child allowance, or other policies that provide cash aid for people in the various positions of vulnerability would help, too, by alleviating the desperation that robs people of power over their work. And full employment policies would help ensure that any worker who objects to their job could hop to another one with minimal cost or fuss.
This all adds up to giving people more space to fill their own needs without being forced to cater to the market's every whim. It's a slow, slogging project that involves the social safety net, regulation, and efforts in broader culture. And we've been at it for some time — at least since the Industrial Revolution — in broad swaths of the economy. Criminalizing any particular sector, as we've long done with sex work, runs the risk of excluding it from the benefits of those efforts.
Opponents of decriminalizing sex work often argue that all prostitution is inherently exploitative. But both the Netherlands study and a separate study in Germany found no evidence of increases in human sex trafficking related to legalization. Moreover, calling it inherently exploitative proves too much: All labor in a free market economy is exploitative at some basic level. The question is to what degree we as a society have provided all sorts of resources — form the cultural to the communal to the governmental — to every sort of worker, to give them power over the terms of their work.

Continue reading for free
We hope you're enjoying The Week's refreshingly open-minded journalism.
Subscribed to The Week? Register your account with the same email as your subscription.