Joe Biden is not the antidote to Hillary Clinton
The vice president's ascendancy in the 2016 race is mostly a media fabrication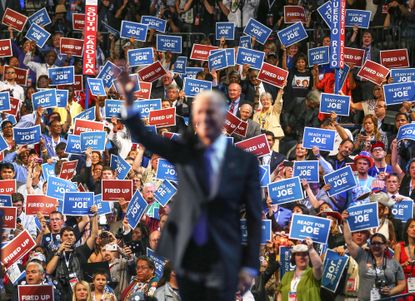 (Image credit: Joe Raedle/Getty Images)
Sign up to our 10 Things You Need to Know Today newsletter
A free daily digest of the biggest news stories of the day - and the best features from our website
Thank you for signing up to TheWeek. You will receive a verification email shortly.
There was a problem. Please refresh the page and try again.
From the way the political press is acting, you'd think that millions of Americans, or millions of Democrats anyway, were sitting up nights fretting about whether their beloved Joe Biden would finally heed the call of a desperate nation and jump in to the presidential race.
Reporters are writing profiles of the people around Biden, looking desperately for clues to his intentions, asking people like Dick Cheney whether they think he should run, and interpreting everything he does through the frame of a possible presidential campaign. On Wednesday, The New York Times ran a story entitled "Biden trip to Florida raises speculation about presidential run," in which we learn that...Biden is going to Florida. Though the story admits that Biden has made 30 trips to the state since he became vice president, "this time is different," not because of anything he's doing but because it comes at a time when people (like that very reporter!) are speculating about whether he'll run for president.
Now I have nothing in particular against the idea of Joe Biden running for president. If he wants to, he should go right ahead. This is America, where even little Joey from Delaware can grow up to believe he could be the leader of the free world. But let's not get too excited.
Subscribe to The Week
Escape your echo chamber. Get the facts behind the news, plus analysis from multiple perspectives.
SUBSCRIBE & SAVE
Sign up for The Week's Free Newsletters
From our morning news briefing to a weekly Good News Newsletter, get the best of The Week delivered directly to your inbox.
From our morning news briefing to a weekly Good News Newsletter, get the best of The Week delivered directly to your inbox.
The fact is that for better or worse, the Democratic contest is probably going to stay pretty boring from now until the party chooses its nominee, which is almost certainly going to be Hillary Clinton. Biden entering the race is unlikely to change that.
That's not only because in his previous two runs for the White House, in 1988 and 2008, he proved himself to be a pretty poor candidate, at least if your measure is whether he convinced people to vote for him. It's also because people are misunderstanding Clinton's position.
In recent months, Clinton's approval ratings have declined, first because she became a presidential candidate and thus a partisan figure (ensuring that everyone who even leans Republican will say they don't like her), and also, perhaps, because of the large amount of negative press coverage she has received around the issue of her emails. This has led commentators to say that she's suddenly "vulnerable" in a way she wasn't before; indeed, many have pointed to the 2008 race, when she was the front-runner and seemingly inevitable nominee until Barack Obama came along and knocked her down.
But if Hillary Clinton is vulnerable, one has to ask: vulnerable to whom? To Joe Biden? Really?
She may in fact be no less vulnerable now than she was in 2008, but back then she ended up facing a candidate who couldn't have been better positioned to capitalize on her every weakness. He was young, black, dynamic, new, and, unlike Clinton, had opposed the Iraq War, the single most important policy issue to primary voters.
Obama represented the perfect confluence of the candidate and the moment. After eight years of George W. Bush, Democrats yearned for someone who they believed would usher in a rebirth of liberalism, someone who could inspire them and excite them. Clinton derided his appeal as too airy and emotional, but it was just what Democrats wanted at the time.
And what do Democrats want today? It's a question we haven't spent much time considering, since the Republican race has been so entertaining and the Republican electorate so restive. But what Democrats probably want right now is this: the Obama administration, but, you know, more and better.
In other words, they want to see what the administration has accomplished — like health care reform, progress on climate regulations, and new measures to protect working people — solidified and protected from Republican attacks. They'd like to see more progress on those issues and many others. But they aren't crying out for dramatic change, which is completely natural after holding the White House for two terms. Even the rise of Bernie Sanders represents feelings about the inherent corruption of the American political system much more than it does a rejection of Clinton.
Which is why Clinton remains extremely popular among the Democratic base. According to a new Washington Post poll, she's viewed favorably by 80 percent of Democrats. Biden comes in at 70 percent.
So why all the talk about Biden? It doesn't have much of anything to do with his great strengths as a candidate, of which there aren't too many, nor is there much evidence that if he did run he'd get much support. If you're looking for a rationale for his candidacy and the only one you can come up with is, "This email stuff is really hurting Clinton," then you've answered a question that actually has nothing to do with Joe Biden himself.
There might be a Democratic politician out there who could beat Clinton in the primaries, a candidate better attuned to his or her party's sentiments and hopes. But nobody else is going to run, and that's the real reason reporters are talking so much about Biden: he's the only prominent Democrat out there who might still enter the race.
As I said, if Biden wants to take one more shot at running for president, he should have at it. But there's no particular reason to think that he's what Democrats are waiting for.
Continue reading for free
We hope you're enjoying The Week's refreshingly open-minded journalism.
Subscribed to The Week? Register your account with the same email as your subscription.
Sign up to our 10 Things You Need to Know Today newsletter
A free daily digest of the biggest news stories of the day - and the best features from our website
Paul Waldman is a senior writer with The American Prospect magazine and a blogger for The Washington Post. His writing has appeared in dozens of newspapers, magazines, and web sites, and he is the author or co-author of four books on media and politics.