Ben Carson is rising. How long until he falls?
We've seen this show before — and we know how it ends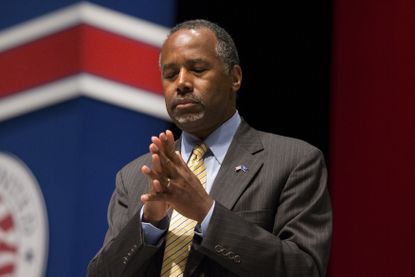 (Image credit: REUTERS/Chris Keane)
Sign up to our 10 Things You Need to Know Today newsletter
A free daily digest of the biggest news stories of the day - and the best features from our website
Thank you for signing up to TheWeek. You will receive a verification email shortly.
There was a problem. Please refresh the page and try again.
How long can Ben Carson last?
If history is any judge, the answer is "not long." That's what happens to candidates like him: They receive a surge of interest, get subjected to media scrutiny, don't fare too well under that scrutiny, and fade away in short order. One might argue that this is the year that proved historical precedents are meaningless, but that may only apply to Donald Trump, a unique candidate if ever there was one. So while politics is always unpredictable, chances are strong that Ben Carson's elevated status will be temporary.
Nevertheless, he deserves some credit for managing to push himself toward the front of the pack without the benefit of a Trump-like wave of news coverage. In the latest RealClearPolitics poll average, Carson has 20 percent, firmly in second place behind Trump at 30 percent and well ahead of Jeb Bush at only 8 percent. What explains his rise?
Subscribe to The Week
Escape your echo chamber. Get the facts behind the news, plus analysis from multiple perspectives.
SUBSCRIBE & SAVE
Sign up for The Week's Free Newsletters
From our morning news briefing to a weekly Good News Newsletter, get the best of The Week delivered directly to your inbox.
From our morning news briefing to a weekly Good News Newsletter, get the best of The Week delivered directly to your inbox.
It's rooted in the fact that he's one of the "outsider" candidates, which proves that no matter how many times candidates tell voters, "Support me because I have no experience in a job like this and barely any idea what it involves," some voters will buy it. Nevertheless, it turns out that Republicans who express dissatisfaction with the political system are only slightly more likely to support Carson than those who don't express that dissatisfaction, which is a stark contrast with Donald Trump's supporters. Carson's fans are looking for an outsider, but they aren't so mad about it.
He also scores particularly well with religious voters, who are attracted to the devout Seventh-Day Adventist's invocations of God and quoting of scripture — and who must love it when a renowned neurosurgeon tells them he shares their belief that evolution is a myth (I guess those biology prerequisites for med school somehow didn't sink in).
In many ways he's a kinder, gentler Donald Trump. Like Trump, Carson says that every problem has a simple, easy solution, one that requires no particular understanding of public policy. While Trump leads with bombast, Carson speaks slowly and quietly, and even expresses humility at times. But if you listen to what he says, you quickly realize his ideas are even more dangerous than Trump's. While Trump lashes out seemingly at random, Carson's beliefs come straight from a chain email your uncle sent you, full of bizarre conspiracy theories and dark insinuations linking Barack Obama to Adolf Hitler to Vladimir Lenin to Saul Alinsky.
And Trump, for all his ridiculousness, is actually telling a coherent story about the state of the country, one that provides a rationale for his candidacy. The problem, as he sees it, is stupid and ineffectual leadership, and once we elect him, he'll use his "yuge" brain, his superhuman negotiating skills, and his unparalleled management expertise to not just whip government into shape but force every other country to bow down before us. If you know the first thing about politics, government, or international relations, you'll find that story completely bonkers, but it's still a good story.
Carson, on the other hand, has an inspiring personal story, but he doesn't really have a story about his presidency. He'll be guided by strong Christian values and common sense, he'll tell you, but so would almost every other candidate. He waves away questions about his lack of experience, but unlike Trump he can't make much of a case, even a spurious one, that being president is a lot like the job he was so successful at.
Inevitably, the coverage Carson receives is going to focus at least in part on his lack of preparation for the presidency. And once voting begins, those kinds of practical considerations (along with electability) begin to push their way into voters' minds, displacing the simple, early calculus of which candidate seems the nicest. That's why people like Mitt Romney end up getting their party's nomination.
If you're behind Trump right now, you look at the rest of the candidates and see a bunch of losers, none of whom is anything like the guy you're supporting. If you're a Carson supporter, on the other hand, in the end you'd probably be willing to accept Ted Cruz or Scott Walker or Marco Rubio, or even, dare I say, Jeb Bush. If you begin thinking about things like getting conservative legislation through Congress or managing the government, one of the more traditional politicians might start looking a little better. And don't forget that for years, conservatives have been telling themselves that Barack Obama failed in part because as an inexperienced politician he just wasn't up to the job.
Ben Carson's supporters won't turn on him, but they may well decide that somebody else is better suited to be president. To Republicans, he's probably always going to be an admirable fellow with a gentle voice and an affable manner. But that doesn't make you a president.
Continue reading for free
We hope you're enjoying The Week's refreshingly open-minded journalism.
Subscribed to The Week? Register your account with the same email as your subscription.
Sign up to our 10 Things You Need to Know Today newsletter
A free daily digest of the biggest news stories of the day - and the best features from our website
Paul Waldman is a senior writer with The American Prospect magazine and a blogger for The Washington Post. His writing has appeared in dozens of newspapers, magazines, and web sites, and he is the author or co-author of four books on media and politics.