What the next speaker of the House could learn from John Boehner
Boehner was a great, if unappreciated, tactician. Will his successor be as adept?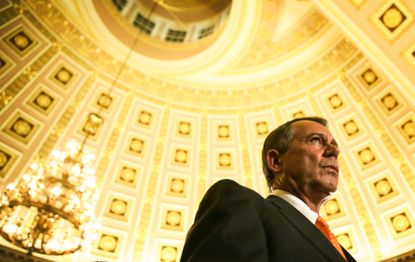 (Image credit: Alex Wong/Getty Images)
Sign up to our 10 Things You Need to Know Today newsletter
A free daily digest of the biggest news stories of the day - and the best features from our website
Thank you for signing up to TheWeek. You will receive a verification email shortly.
There was a problem. Please refresh the page and try again.
Cold, hard reality is never really popular. And neither was John Boehner. A full 72 percent of Republican primary voters said they were dissatisfied with the soon-to-be-former speaker of the House.
Boehner had the unenviable job of reminding his party colleagues that, even though many of them campaigned as Tea Party revolutionaries, President Barack Obama remained, well, president. (And, until recently, that Harry Reid's Democrats controlled the Senate.) He had the thankless task of leading a congressional majority at a time of record disapproval ratings for Congress. And he was in the unfortunate position of controlling a caucus full of back-benchers who won their elections in safe red districts by promising to be utterly reckless. They stretched John Boehner's leathery skin over a speed-bag, and let Sean Hannity, Rush Limbaugh, and every other conflict junkie take shots at it.
They're all going to miss him. Eventually.
Subscribe to The Week
Escape your echo chamber. Get the facts behind the news, plus analysis from multiple perspectives.
SUBSCRIBE & SAVE
Sign up for The Week's Free Newsletters
From our morning news briefing to a weekly Good News Newsletter, get the best of The Week delivered directly to your inbox.
From our morning news briefing to a weekly Good News Newsletter, get the best of The Week delivered directly to your inbox.
For all of their performed passion, the Republican House caucus is neither possessed of the power nor the zeal to do what the infamous 80th Congress did: actually shrink the government. That would require a willingness to lose their political careers. After all, being "conservative" is now an all-consuming identity for Republican back-benchers, and what use is that if it doesn't translate into a long-term career? They had the courage to create a mess for Boehner on the debt ceiling and let him clean it up. They had the courage to moan and try to stage a coup against him. To govern and actually take on risks? Not as much.
Boehner was a party man, dedicated to the institution of the GOP itself. He raised lots of money for the House caucus. He cleaned up the corrupt practices of his predecessors, who had, under a GOP president, turned the House leadership team into a nest-feathering operation. In that way, he did, as W. James Antle III points out, restrain the growth of government under Obama in a way that conservatives only could have dreamed when Dennis Hastert was the speaker and George W. Bush was president. This is actually what made Boehner a perfect fit for leading a House majority in a divided government. He strengthened the party with the skills he had, and he didn't weaken it with personal scandal.
Boehner was an institutional man in the House itself, caring deeply about the people's chamber. For this, and for his honesty, he won enormous respect from his opponents in the Democratic caucus, and even among his frustrated critics in the conservative back-bench. Because of those qualities and his circumstances, Boehner became one of the best bad-hand players in Washington's politics. He kept the government running, for the most part. He kept the back bench from inviting an even bigger backlash on his party over more shutdowns or defaults. And he mostly forced Obama into end-runs around Congress.
It also ought to be said that the House itself has been weakened in ways that were beyond Boehner's ability to fix. At times Congress seems more like a combination of a political think tank and cheerleading squad than a legislative body. It is not, as the Founders expected, jealous of its powers. Instead, it gives them away in fear of their attendant responsibilities. Even the laws Congress does pass are written in a way to deliberately minimize the influence of lawmakers. The mechanism of the law is punted over to the president's cabinet secretaries, and the hard decisions are often made by the courts.
It's this general refusal of the House to take responsibility that makes the Republican caucus so difficult to govern. The hard-core back-benchers have little incentive to make compromises, and will pay little price if their brinksmanship blows up in the faces of party leaders or fellow members who represent districts that aren't dead red.
Boehner's exit won't change that reality for Republicans. The next speaker will still have a restive and irresponsible back bench. What we do not know is whether he will have Boehner's high ethical reputation or his ability to keep a fractured caucus together after a fight. Over time, Boehner's reputation as a tactician will catch up to the reality.
Continue reading for free
We hope you're enjoying The Week's refreshingly open-minded journalism.
Subscribed to The Week? Register your account with the same email as your subscription.
Sign up to our 10 Things You Need to Know Today newsletter
A free daily digest of the biggest news stories of the day - and the best features from our website
Michael Brendan Dougherty is senior correspondent at TheWeek.com. He is the founder and editor of The Slurve, a newsletter about baseball. His work has appeared in The New York Times Magazine, ESPN Magazine, Slate and The American Conservative.