Us against them? Why globalization doesn't have to pit American workers against the world's poor.
Globalization doesn't have to be a zero-sum game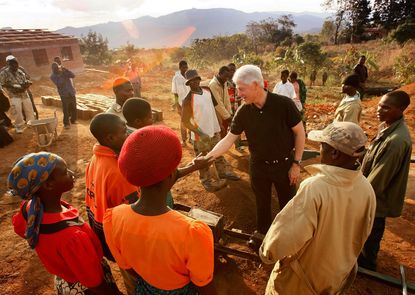 (Image credit: Win McNamee/Getty Images for the Clinton Foundation)
So here are two facts about the world that present us with something of a paradox.
One, global poverty is in massive retreat. Since 1993, the portion of the world living in extreme poverty dropped from 35 percent to 14 percent. Scourges like violence, war, childhood mortality, disease, and illiteracy are all falling like rocks.
Two, the American economy is hollowing out. Middle- and lower-class wages have stagnated or dropped, poverty isn't budging (in some ways it's increasing), and the job market has been dissolving for decades.
Subscribe to The Week
Escape your echo chamber. Get the facts behind the news, plus analysis from multiple perspectives.
SUBSCRIBE & SAVE
Sign up for The Week's Free Newsletters
From our morning news briefing to a weekly Good News Newsletter, get the best of The Week delivered directly to your inbox.
From our morning news briefing to a weekly Good News Newsletter, get the best of The Week delivered directly to your inbox.
The paradox is that both trends have probably been pushed along by the same forces: globalization and international trade.
In the developing world, where economic production per person is still incredibly low, the problem is not inequality but raw growth. Trade with the advanced world gives those people access to new technologies and more raw demand for their economies, allowing them to build their wealth. But here in America, globalization broke up the fragile web of industrial employment, union power, high wages, and job benefits that sustained our relatively egalitarian economy.
No alternative system was built. International trade was effectively weaponized by the elite to break up worker bargaining power and gobble up ever more of the national income, at the expense of other Americans.
This collision of interests between the global poor and U.S. workers can put people in a tough moral spot. Travel writer Paul Theroux implied in The New York Times that lifting 600 million people out poverty in China was not worth stripping the American working class of its jobs. He accepted that zero-sum logic.
But Theroux's fury at the immiseration of the Deep South, in particular, is palpable — an emotion that breaks into the comfortable bubble of Washington, D.C., all too rarely. And the pushback to Theroux failed profoundly in its own right. Here's New York Magazine's Annie Lowrey:
I don't know what the term is for the class-based equivalent of "mansplaining," but those last two lines exemplify it. I am all for placing the least of these at the center of our moral calculus — but not to shrug when the not-quite-least-of-these wind up under the bus.
Lowrey points out that the $30,000 per person Mississippi's economy generates every year is far higher than Zimbabwe's $1,700, which is a fair point. But this is also why inequality is of much greater importance in the developed world: That $30,000 is an average, and thus can hide vast differences in distributions. Mississippi's Gini coefficient — a measure of inequality — is one of the highest of any state in the country. Plenty of Mississippians get way less than $30,000 a year.
More importantly, these sorts of comparisons are part and parcel of the American preference for "absolute" poverty measures. But impoverishment is a social relation as much as an economic relation. As Adam Smith pointed out, a linen shirt is "strictly speaking, not a necessary of life." But day-laborers in Smith's day still couldn't interact in public or seek work without one. There are plenty of present-day examples of this same dynamic.
It boils down to what economic spaces and resources you can access. Because everyone's income is someone else's costs, that access is inevitably determined by the relative gap between incomes. This is precisely why calculating "real" incomes is such a fraught and tricky business. So yes, the poor in Zimbabwe are worse off than the poor in America. But that comparison between two utterly different social contexts is not as illuminating as one might think. And it certainly doesn't justify calling on Americans to ignore their own immediate experience in favor of viewing all economic matters from 30,000 feet.
Everyday voters — indeed, even everyday activists and journalists — are not wonks. They aren't deep policy thinkers, and they don't mentally experiment with utopian policy schemes. Their conceptual resources for understanding these issues are what's been provided by our politics. And when it comes to trade, our politics have focused either on the benefits to people around the world, or on the gains to U.S. economic growth (while ignoring that every last cent and more of those gains have been sucked up by the 1 percent). There is no third way. So of course everyday people come away thinking they have to choose between the Chinese poor or the U.S. poor.
Is it any wonder that, faced with this choice, people prefer protectionism? Nativism, tribal loyalty, and love for one's kin are certainly impulses with a moral dark side. But they're also part of our common humanity. A person who actually achieved the universalist call to value a child in Zimbabwe as much as their own, or a peasant farmer in China as much as their own neighbor, would strike most people as a bizarre figure. Any American worker who concluded their loss was worth it because the poor in Zimbabwe are doing better would qualify for sainthood. And sainthood should not be a baseline moral expectation for regular human beings.
What's infuriating is there is a third way. The mid-century socioeconomic order in the U.S. was not the only way to ensure the gains of economic growth are broadly shared. Strong unions, a large welfare state, universal health care, progressive taxation, monetary and fiscal policy focused on full employment, criminal justice reform, smarter benefits policy, and smarter trade policy would all combine to keep the American economy egalitarian while we open up to trade with the rest of the world. The zero-sum trade-off between the U.S. and China is not a fait accompli.
The smart and respectful way to carry out this conversation would be to acknowledge Theroux's anger (and the anger of his interview subjects) as justified, then move on to how their economic errors lead them to some morally queasy conclusions they don't need to hold. To his credit, Vox's Charles Kenny basically pulled this off, though even he couldn't resist beating Theroux for failing to be a good universalist. Lowrey merely waved at more education and moved on.
The point is to connect their anger and their mobilization to concrete ideas and proposals — in this case, to the third way of an egalitarian America helping to lift up the global poor. This will require respect and engaging people where they are, plus a recognition that we're all flawed. And it will require making sure the not-quite-least-of-these know that we're committed to their dignity and livelihoods, too.

Continue reading for free
We hope you're enjoying The Week's refreshingly open-minded journalism.
Subscribed to The Week? Register your account with the same email as your subscription.