The surprising conservatism of the first Democratic debate
From Bernie's defense of gun rights to O'Malley's embrace of tough policing, the stage became an unlikely forum for some right-wing policies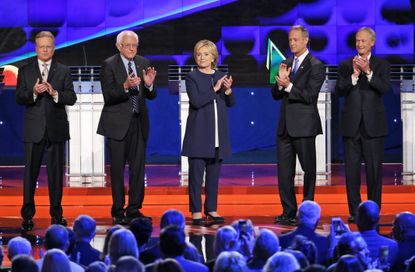 (Image credit: AP Photo/John Locher)
Sign up to our 10 Things You Need to Know Today newsletter
A free daily digest of the biggest news stories of the day - and the best features from our website
Thank you for signing up to TheWeek. You will receive a verification email shortly.
There was a problem. Please refresh the page and try again.
After a couple Republican free-for-alls where the focus was on personalities, not policies, there was something bizarre about watching a debate about the issues. But the way Democrats chose to spar about them revealed something even more freakish: the presence of some decidedly un-left-wing tendencies. In fact, not just one right-of-center streak runs through the party, but several. Game on.
With Obama headed out and no clear heir in the pack — as yet — that's a big deal. (Plus, as political junkies know, Joe Biden's own record has already infuriated progressives.) Although only one contender will wind up president, the multiple ribbons of rightward-tilting ideology that run through today's Democratic Party won't just float away in the years to come. And that ought to make Republicans nervous. Moving to the right on some issues gives Democrats — liberals included — the opportunity to lurch very far to the left on others, gratifying their base without losing mushy-middle voters who often pull the lever based on vibe and lack a principled, informed core.
Almost half of the candidates onstage were former Republicans, an affinity that showed. As The American Conservative's Daniel McCarthy observed, both Lincoln Chafee and Jim Webb boast GOP experience in office — Chafee as a senator (who voted against the Iraq War) and Webb as an assistant secretary of defense, and then secretary of the Navy, under Ronald Reagan. Despite their differences, both men harked back to a time when the GOP was flintier but less militaristic.
Subscribe to The Week
Escape your echo chamber. Get the facts behind the news, plus analysis from multiple perspectives.
SUBSCRIBE & SAVE
Sign up for The Week's Free Newsletters
From our morning news briefing to a weekly Good News Newsletter, get the best of The Week delivered directly to your inbox.
From our morning news briefing to a weekly Good News Newsletter, get the best of The Week delivered directly to your inbox.
Then there's Bernie Sanders. As McCarthy also noticed, the Bern "is for Social Security means testing, which ought to be a basic fiscal-conservative position." But even more remarkable was Sanders' intransigence on the topic of guns. Despite a D- rating from the NRA, Sanders struck a cultural chord better suited for the general election than a primary race, lecturing his rivals that they misunderstood the place of firearms in rural life at their peril.
Even Martin O'Malley, the pro-millennial technocrat who thinks internet access is a fundamental human right, displayed some Republican tendencies. Asked whether all lives or black lives matter, he opted for the latter, still smarting from the apology he had to issue this July after taking the opposite stance — and earning boos — at this year's progressive Netroots Nation conference. But Deray McKesson, a prominent figure in the Black Lives Matter movement, chided O'Malley for failing to disavow the so-called "zero-tolerance policing" policy he pursued as mayor of Baltimore. And just last month, O'Malley told ThinkProgress that spiking enforcement saved lives.
That leaves Hillary Clinton. Reason's Matt Welch summarized her posture best: "Snowden's not a whistleblower, no regrets for Patriot Act, no legal pot, Libya was a success." Who is this, Dick Cheney? Actually, Conor Friedersdorf noted recently at The Atlantic, "as a United States senator, she joined him in favoring an Authorization for Use of Military Force that significantly expanded executive power; an outside-the-U.S. detention facility at Guantanamo Bay; a preemptive war against Iraq;" and, to top it all off, "lethal drone strikes over civilian populations in Pakistan and Yemen."
For Democrats who just want to win, these "regressive" policies are among the easiest to tolerate. Yes, despite the fact that Barack Obama defeated Hillary Clinton because of his clear opposition to the war in Iraq, she remains the most likely to replace him because the base is so focused on identity-and-social-justice politics at home, not how fruitlessly the U.S. stomps around abroad. It gets worse. O'Malley might not be able to ride to the nomination on a wave of zero-tolerance fandom, but it's well within Clinton's power to turn the screws to the right with a law-and-order presidency, vowing that the only broken glass in her administration will be the ceiling above her head.
But Clinton's version of Order and Progress, to borrow the motto of Comtean positivists from Brazil to Basel, has little room for people like Jim Webb's or Bernie Sanders' rural constituents. These are, after all, white guys we're talking about, still-privileged losers who cling to their guns even more than their religion. In the church of the new left, regressive policies that strengthen the state are at worst a necessary evil; ones that strengthen the new loser class are to be torched.
It's heady stuff. Progressives love to think that the cultural changes they're codifying in law are sanctified by the march of history. But in selectively suppressing some of the Democratic Party's right-leaning instincts, they're making its weirdly reactionary logic of limitless statism look more inexorable than ever. If Republicans can solve their personality crisis, they just might come out looking like the moderate ones.
Continue reading for free
We hope you're enjoying The Week's refreshingly open-minded journalism.
Subscribed to The Week? Register your account with the same email as your subscription.
Sign up to our 10 Things You Need to Know Today newsletter
A free daily digest of the biggest news stories of the day - and the best features from our website
James Poulos is a contributing editor at National Affairs and the author of The Art of Being Free, out January 17 from St. Martin's Press. He has written on freedom and the politics of the future for publications ranging from The Federalist to Foreign Policy and from Good to Vice. He fronts the band Night Years in Los Angeles, where he lives with his son.